How Good are Callaway Golf Shoes? Review of Today's Models
Updated May 10, 2022
GolfLink is a participant in affiliate partnerships, and may receive a share of sales from links on this page. These partnerships do not influence our editorial content.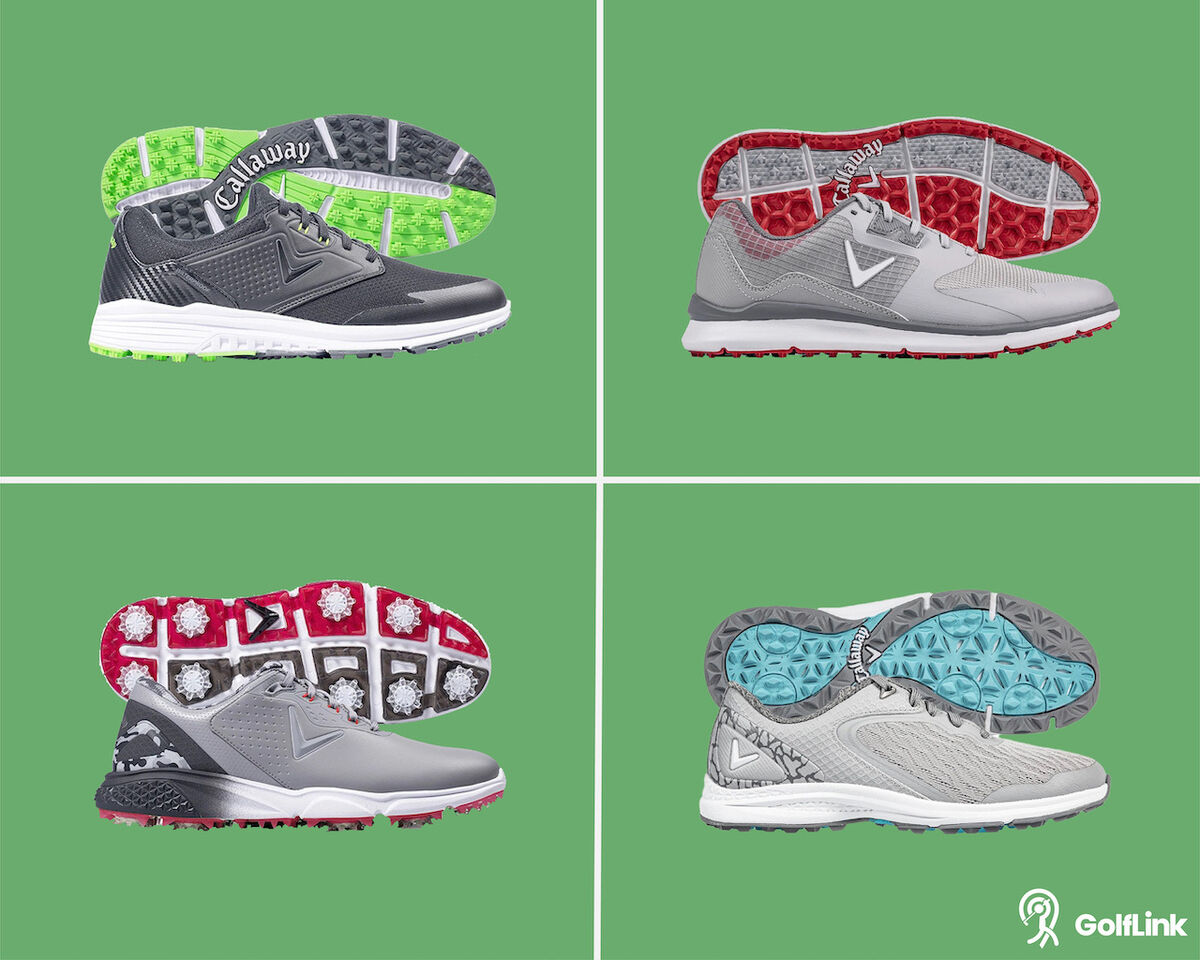 Callaway Footwear
Callaway Golf is synonymous with equipment, but its golf shoes receive far less praise than its clubs and balls. The current lineup of Callaway golf shoes caters to golfers with varying budgets, styles, and needs. How good are Callaway golf shoes, and are they worth your investment? Here's everything you need to know about spikes made by golf's famous chevron.
About Callaway Golf Shoes
Callaway released an entirely new shoe lineup for 2022 with updated styles, materials, and colorways. In total, the current Callaway golf shoe line includes six styles for men and two styles for women. Both lines include what we would call "safe" and "more eccentric" designs so you can likely find something no matter what your golf course style may be.
Callaway golf shoes have plenty of pros. Here are some good reasons to give them a look when shopping for a new pair of spikes.
Styles: Callaway does a great job providing golfers different styles. You can find a more traditional looking shoe or something with more of a casual look, comparable to Ecco or TRUE Linkswear.
Price: As you'll read below, Callaway offers golf shoes at price points ranging from $89 and $139.
Reputation: The Callaway name carries a lot of expectations, and the company seems to transfer the same care it gives to golf clubs to its golf shoes.
Materials: Whether you're in search of a good waterproof golf shoe or a light, breathable shoe, Callaway provides many different materials.
While Callaway golf shoes deserve plenty of attention, there are some knocks on them.
Availability: Callaway golf shoes are not available in every major golf retailer. You will find more styles in Dick's Sporting Goods, but the best place to research and purchase is from the Callaway footwear website. 
Competition: There are a lot of companies making high-quality golf shoes today, including household names such as FootJoy, Nike, and Adidas. The sheer number of competitors can make Callaway golf shoes a bit of a risk to a consumer who has never purchased them before.
Callaway Golf Shoes for Men
Here is the current line of Callaway golf shoes available for men.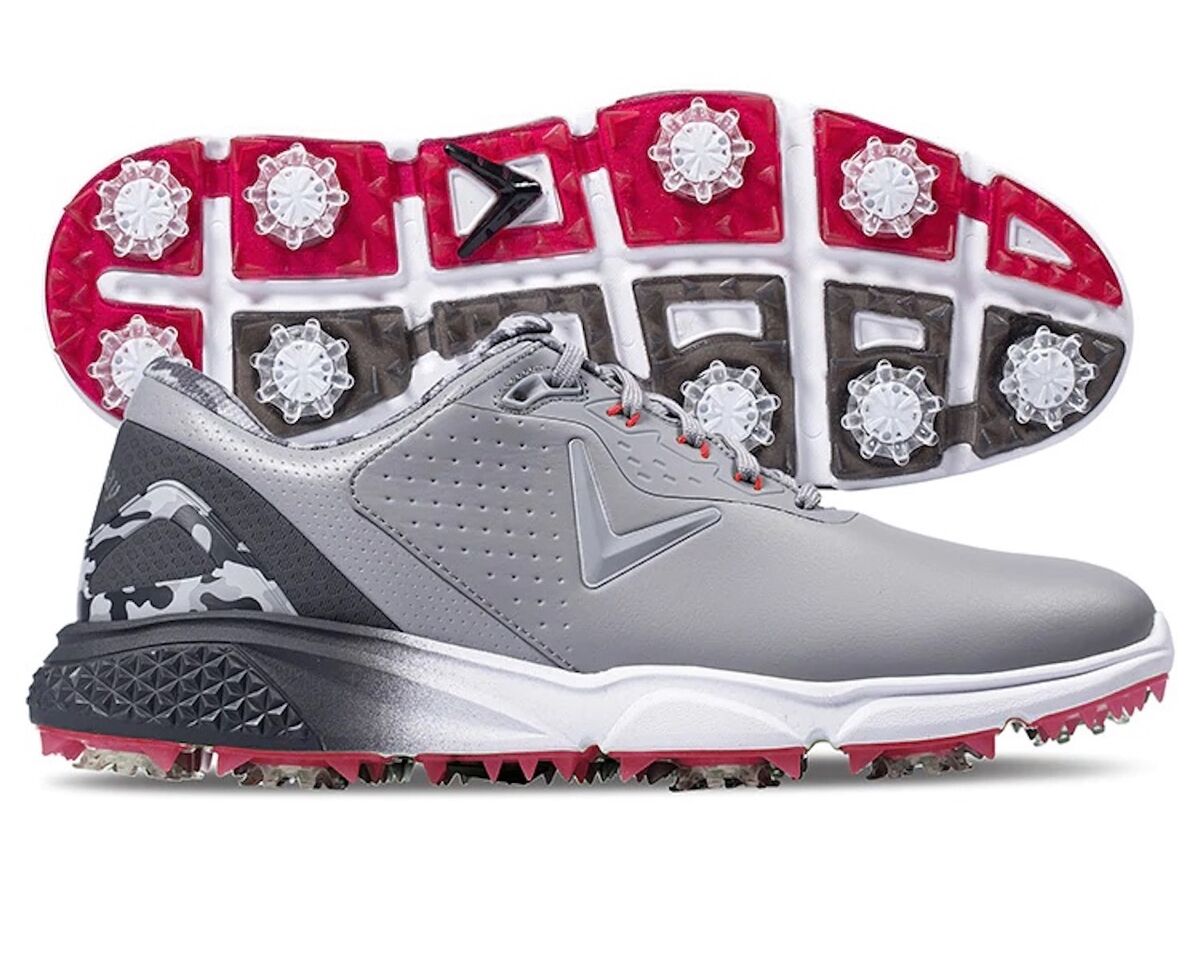 Callaway Footwear
The Coronado V2 has the highest price point of any golf shoe manufactured by Callaway, and for good reason. This is a high-end, tour quality golf shoe that appeals to players who demand the most from their spikes. The Coronado V2 blends together sleek styling with a more athletic looking golf shoe, making it an option for people who like both genres of shoe.
The Coronado V2 has a microfiber leather upper and a ForgedFoam EVA midsole, which is Callaway's most comfortable setup for your foot. It has nine spikes on the bottom, resulting in great traction. It also has an Opti-vent mesh liner so it breathes even in the hottest conditions, and includes a two-year waterproof warranty.
Price: $139.99
Color Options: 5 (Grey, Red/White/Blue, True Black, White/Blue/Red, White/Multi)
Biggest Pro: Heavier material but stays cool in the summer.
Biggest Con: Price puts it in competition with popular models from FootJoy and other big brands.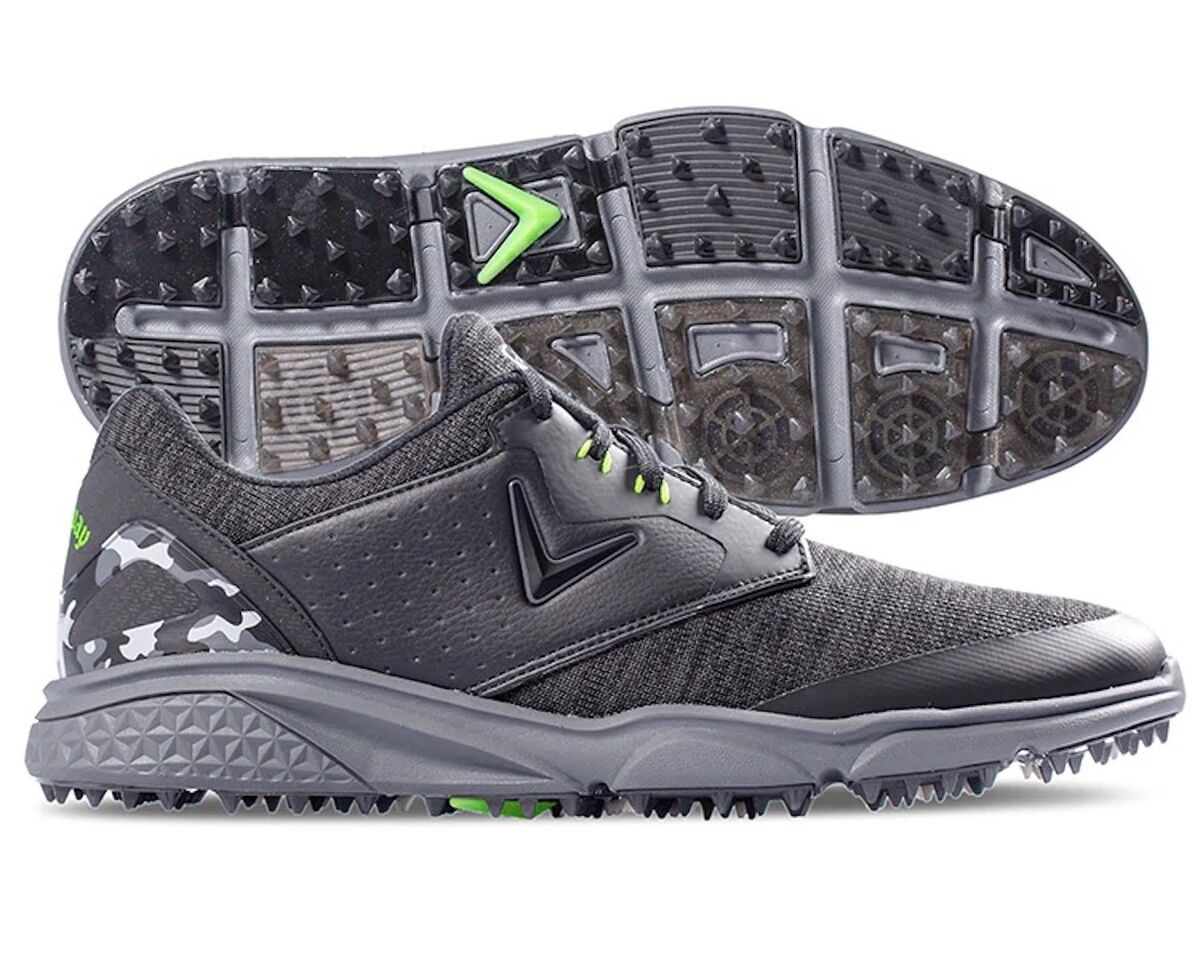 Callaway Footwear
If you like the design of the Coronado V2, but prefer a lighter shoe, the Coronado V2 SL is the shoe for you. This hybrid golf shoe brings together many of the great aspects of the standard V2 with added performance mesh material over the front of the shoe and around the ankle. This makes the V2 SL model a bit more flexible and would be the better choice if you're a walker.
The hybrid design continues to the bottom where you'll find a spikeless traction design, so if you're not into changing out spikes, the V2 SL is a good option. Just like the Coronado V2, the SL has a two-year limited waterproof warranty so you don't have to worry about trekking through sloppy course conditions.
Price: $129.99
Color Options: 3 (Black/Grey, White, Navy/Grey)
Biggest Pro: Super flexible and light to walk in.
Biggest Con: Only three color options.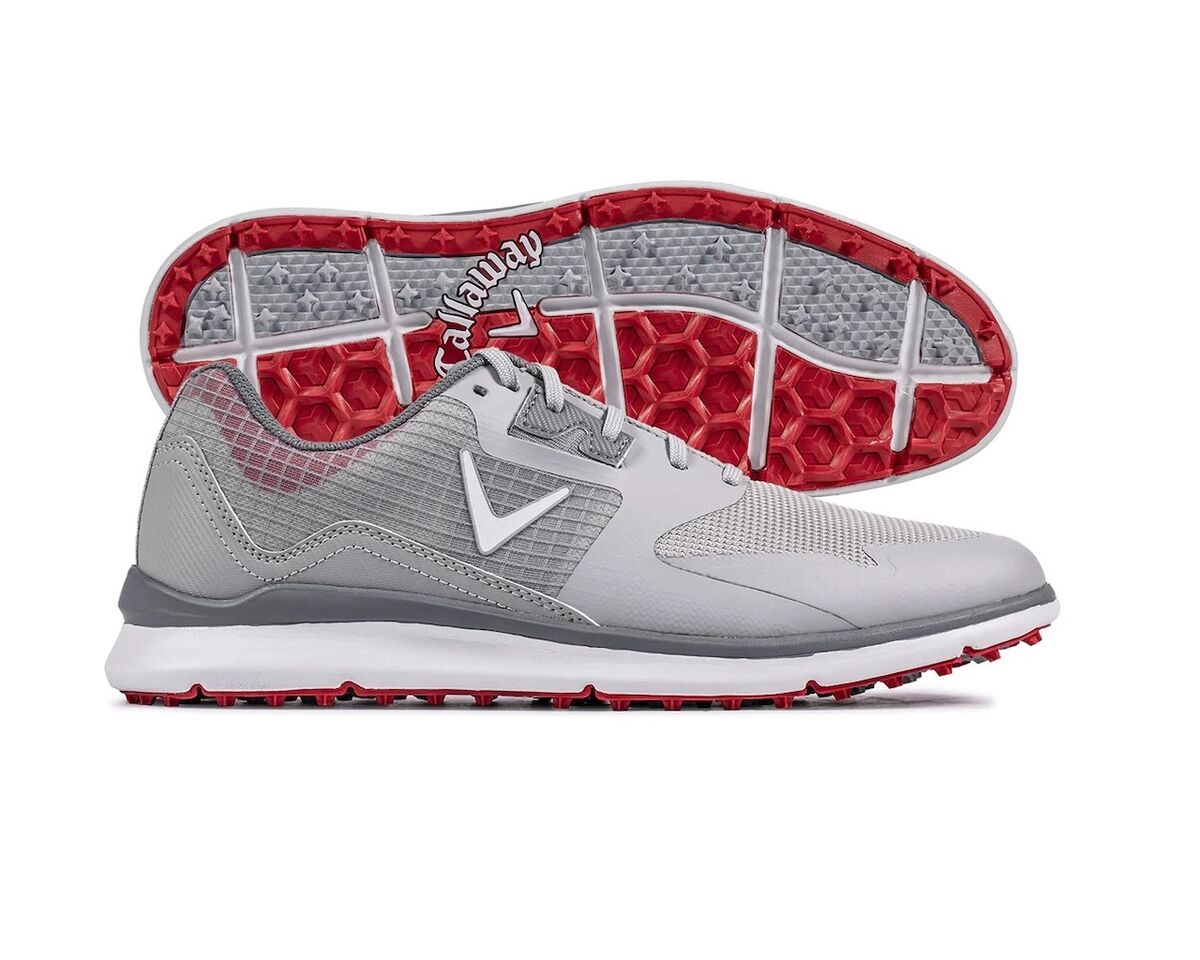 Callaway Footwear
As a light and breathable golf shoe, the Callaway Oceanside V2 is a step in the opposite direction from the Coronado models. It's a really nice option for those who want a comfortable golf shoe with a $100 budget.
This design incorporates a lot of the performance mesh from other Callaway golf shoes, with the same TPU upper with opti-dri protection. Even though it is lighter, the Oceanside V2 still provides great protection from the elements. Of the entire shoe lineup from Callaway, this model is the best for people who live in hot, dry climates such as Arizona because they won't weigh you down as the temperature rises.
Price: $99.95
Color Options: 2 (Grey/Red, White Black)
Biggest Pro: Very light and breathable.
Biggest Con: Traction is not ideal for wet climates.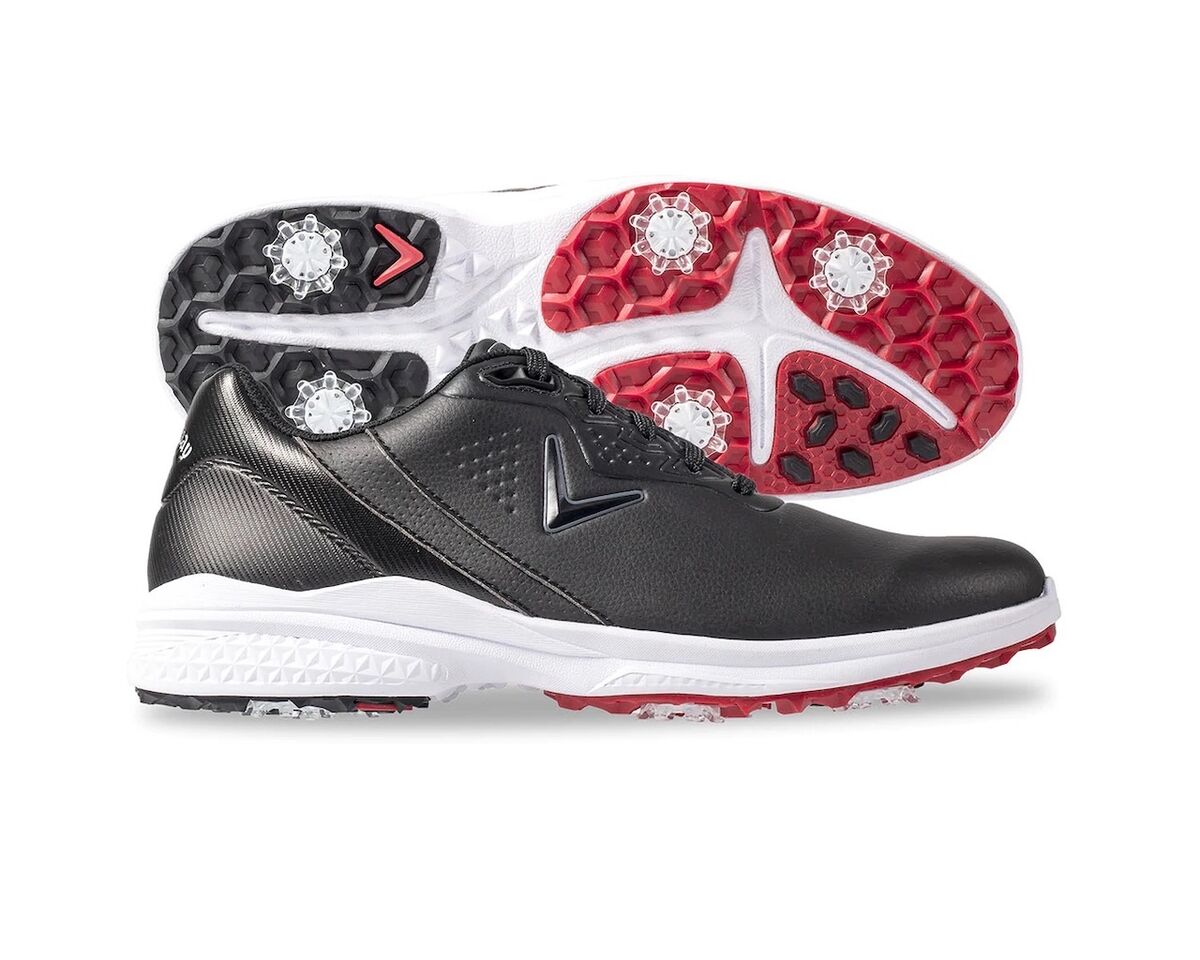 Callaway Footwear
The Solana TRX V2 brings a completely different type of shoe into the Callaway lineup. This model is designed for the player looking for a waterproof, traditional golf shoe but also appreciates a splash of modern styling.
The Solana TRX V2 has five Fast Twist 3.0 removable spikes so you'll have ideal traction. The 5mm PLUSfoam insole also makes this shoe incredibly comfy and is an ideal pick for anyone with back or foot pain.
Price: $99.95
Color Options: 3 (Black, Grey, White/Grey)
Biggest Pro: Caters to the traditional golfer.
Biggest Con: Younger crowd might not find them the most appealing of the Callaway line.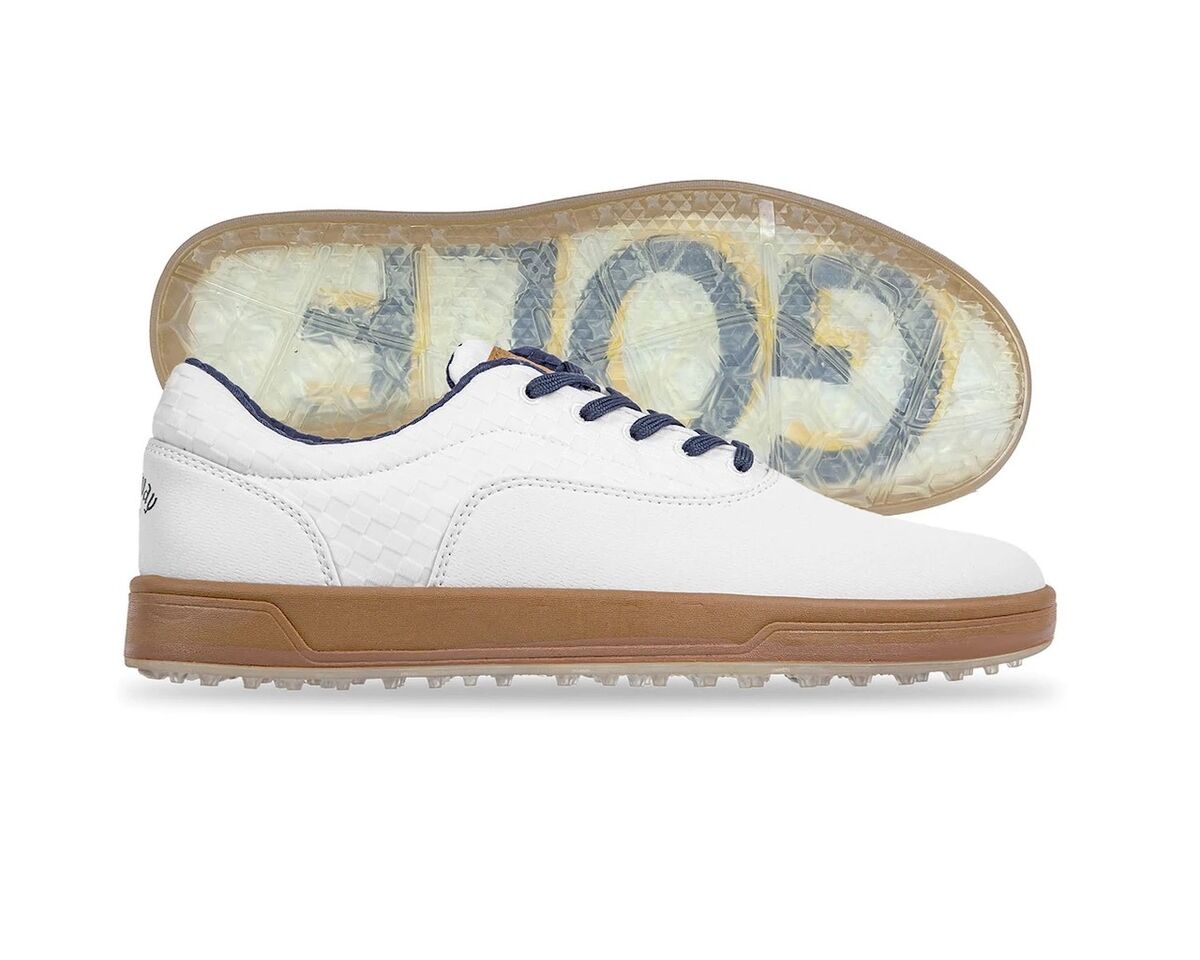 Callaway Footwear
The Callaway Del Mar Sunset golf shoe is true to its name in many ways. This casual golf shoe looks like it can be worn for 18 holes and then immediately head to a beach cafe. The epitome of a casual style golf shoe, the Del Mar Sunset has a Opti-dri™ performance textile upper, which is actually waterproof despite its suede look. The color detailing on the heel of the shoes and "GOLF" embedded into the sole of the shoe put this model over the top as far as looks go. Definitely appealing to a younger generation, the Del Mar Sunset kicks aside tradition and can be the focal point of any golf outfit.
Price: $99.95
Color Options: 2 (White, Grey/Blue)
Biggest Pro: Casual styling is eye-catching.
Biggest Con: Spikeless design won't provide the most traction.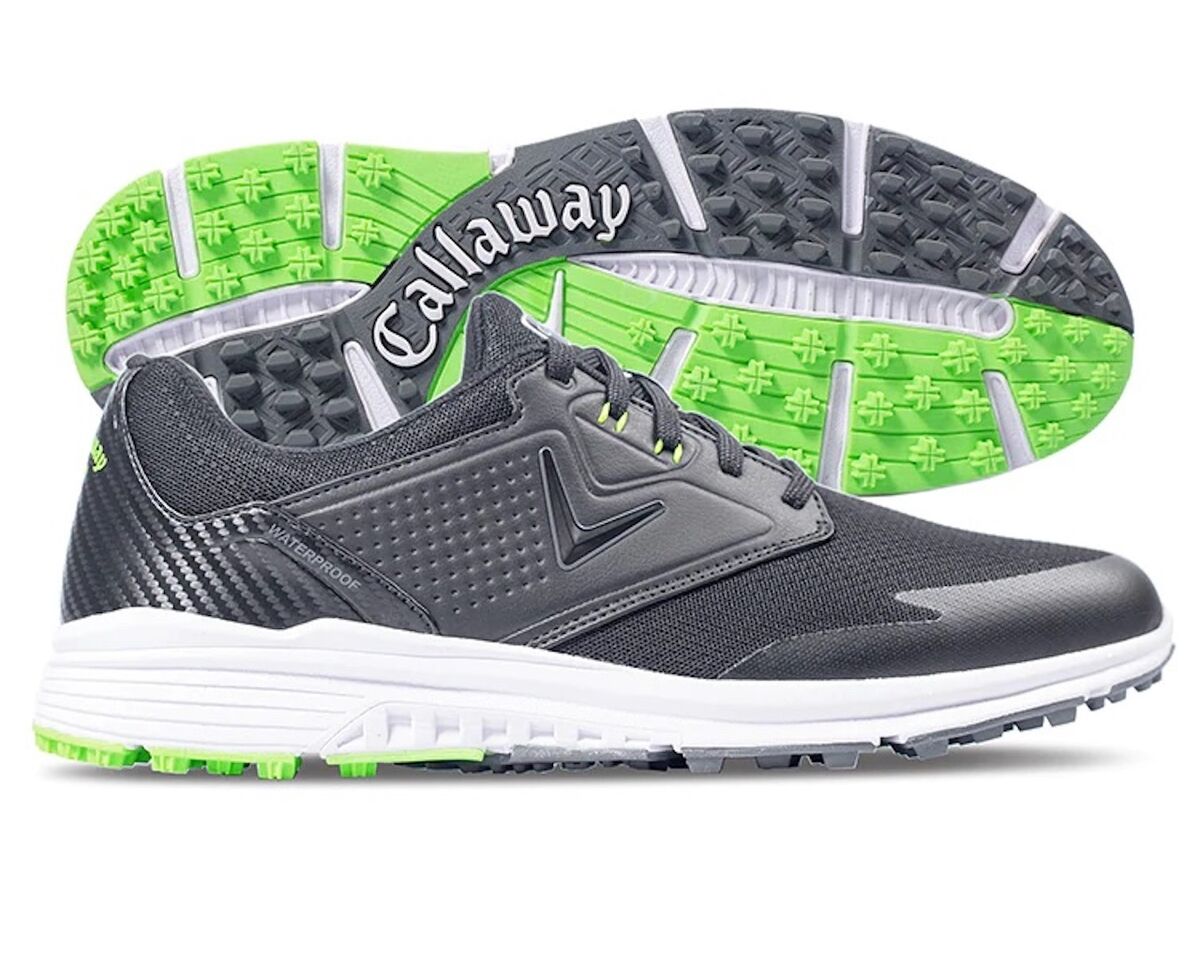 Callaway Footwear
The Solana SL is the most basic golf shoe in the Callaway family, but don't take that as a negative. This shoe is a perfect option for anyone just getting into the game of golf or for someone who needs a second pair of shoes. The Solana SL feels light as a feather on your feet and provides more than ample traction with Dura-Rubber multidirectional traction-control lugs. This shoe is not for players aspiring for tour cards, but for the lion's share of amateur golfers, they get the job done. Aside from the Coronado V2 SL, the Solana SL is the most comfortable walking shoe from Callaway. 
Price: $89.95
Color Options: 2 (Black/Lime, Grey/Blue)
Biggest Pro: More than serviceable at a friendly price point.
Biggest Con: Solid first golf shoe but won't be your choice for 100 rounds.
Callaway Golf Shoes for Women
Besides a solid men's line, Callaway also produces two shoes for women and are designed to fit specific design and performance criteria.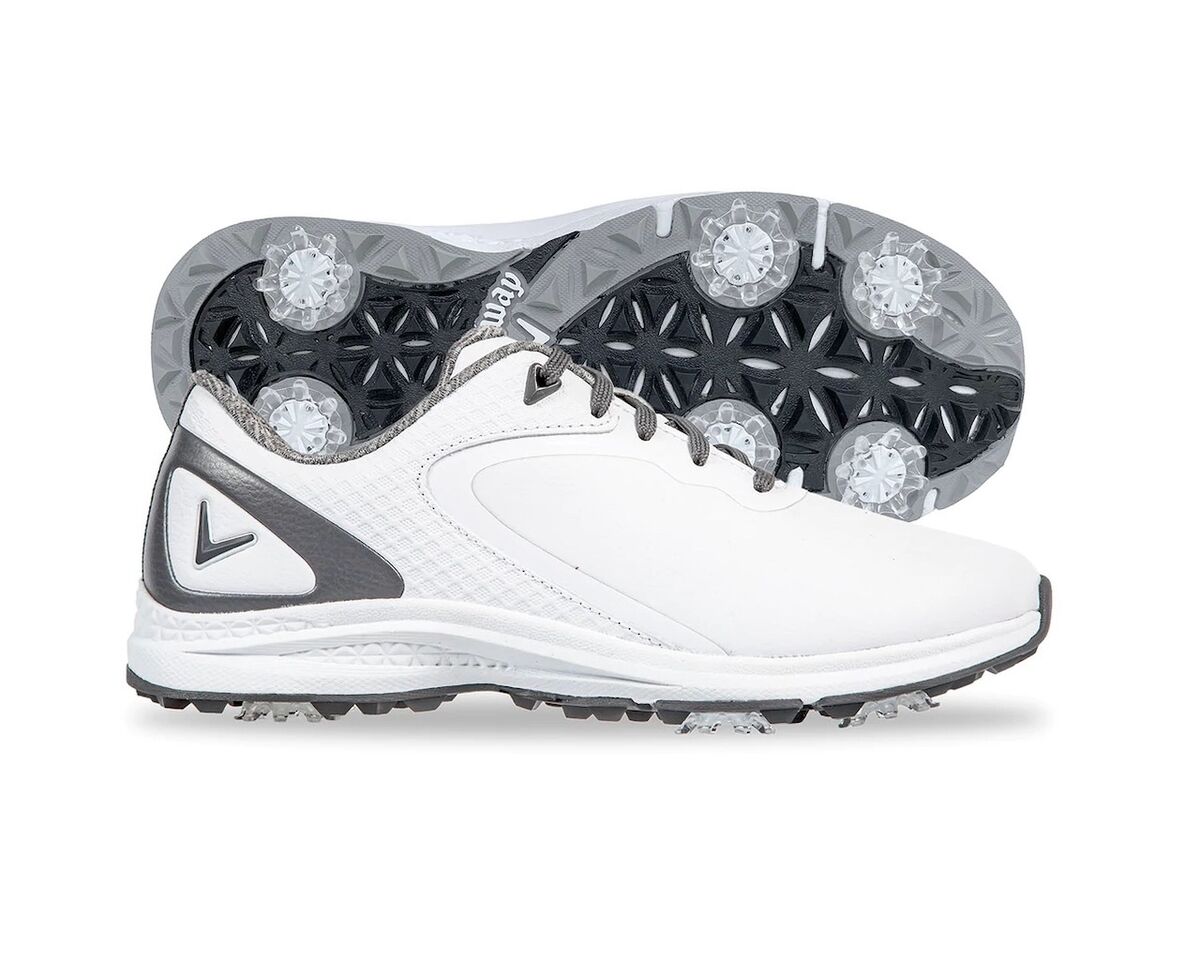 Callaway Footwear
Similar to the men's models, Callaway produces a Coronado V2 shoe that cater specifically to women. Designed to be worn by walkers and riders, this shoe has Fast Twist 3.0 removable cleats and a Dura-rubber outsole which delivers superior traction and comfort. Callaway's microfiber leather continues into its ladies line which makes this shoe a great choice for women who want a waterproof shoe that doesn't look like an old classic design. The Callaway chevron logo is placed on the heel so the contours of this shoe really pop.
Price: $99.95
Color Options: 2 (White, Black)
Biggest Pro: Modern design with classic aspects.
Biggest Con: Only two color options.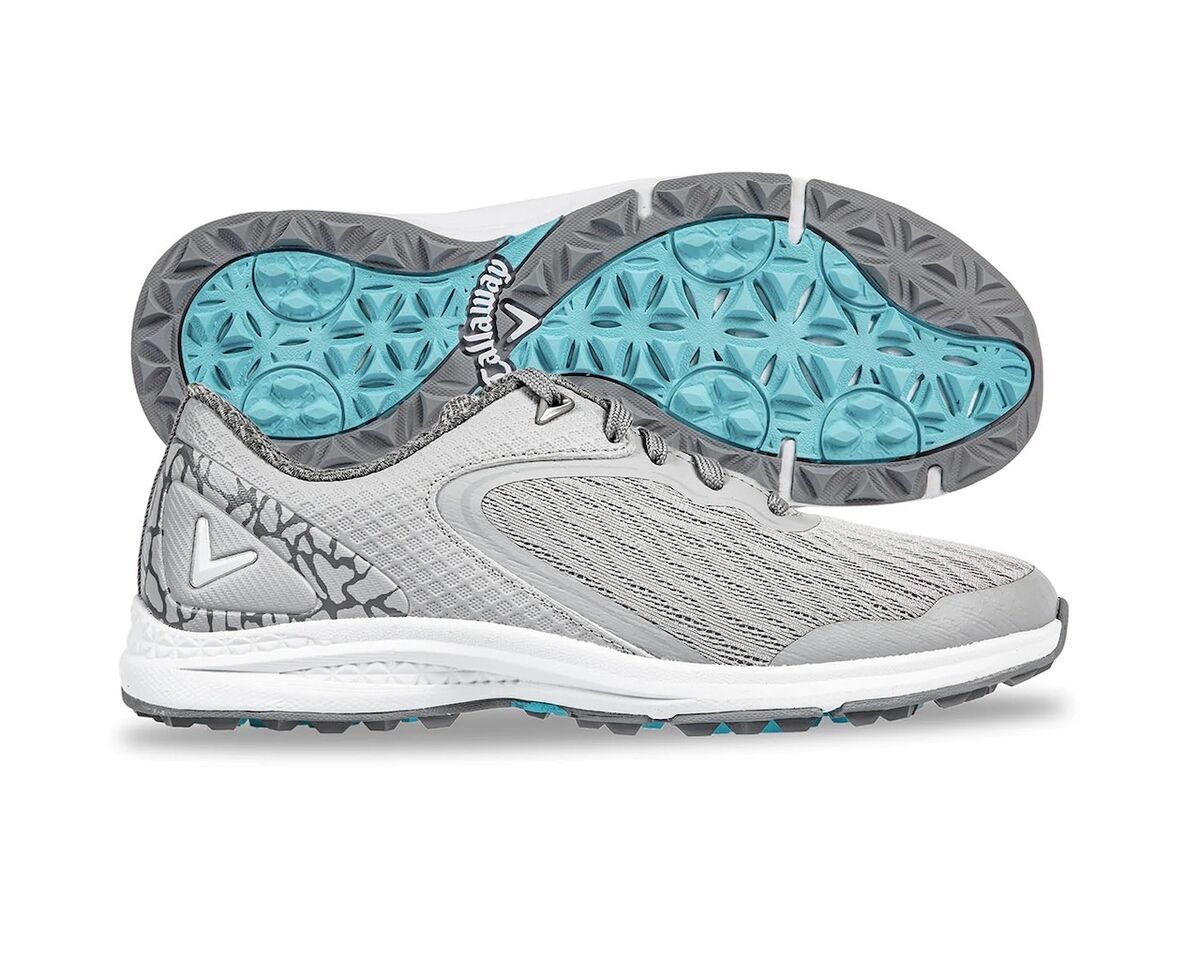 Callaway Footwear
Of the two women's shoe options from Callaway, the Coronado V2 SL is definitely the choice for the player who wants a more cutting edge style and design. Much like the men's version of the V2 SL, it's a really nice hybrid shoe that combines Callaway's microfiber material that has multiple flowing design traits throughout. This shoe is completely spikeless and has a dura-rubber outsole with multi-directional traction lugs. The sportier choice between the two women's design, the Coronado V2 SL is a can't-miss for any player.
Price: $89.95
Color Options: 3 (Grey, Blue/White/Red, White/Pink)
Biggest Pro: Sporty shoe that doesn't lack looks.
Biggest Con: Spikeless traction might not hold up in long grass.
Callaway golf shoes have come a long way not only in design but also materials and functionality on the golf course. There are more than enough options in the current Callaway shoe line that most players should give them a look when considering different brands. Whether you're in search of a tour-level golf shoe or something that's casual, Callaway offers a shoe for your game.