Scotty Cameron Special Select Squareback 2 Putter Review
Scotty Cameron is known for creating premium putters that golf pros love. He's spent thousands of hours studying the putting strokes of pros and regular golfers alike. The Special Select Squareback 2 Putter is one of eight putters in the Special Select Series. It's the largest of the four Special Select Newport putters in the group.
His brand got on the map when Bernhard Langer won the 1993 Masters with one of his putters and the year after, Scotty Cameron officially partnered with Titliest. It's a working relationship that continues to this day.
A Return to Traditional Design
What's the biggest change with the Special Select putters? A move away from a multi-piece construction and back to a more traditional one-piece construction. The stainless steel inlay has been removed and these putters feature a one piece head construction. The putter heads are hand milled in California.
One thing you'll notice about this putter, which may be it's only drawback, is that it doesn't have its own distinctive feel. Even with the return to one piece construction. In fact, the feel of this putter varies a lot depending on which golf ball you use.
Anser Style Putter with Larger, Boxy Shape
Scotty Cameron introduced a squareback putter as a solution for those who wanted great feel and forgiveness. It provides good feedback and a gentle click sound upon impact.The design of the Special Select Newport 2 Squareback follows the same look as a classic Newport putter, except it is larger with a more boxy profile. It's constructed out of 6169 Aircraft aluminum with 3030 stainless steel customizable sole weights.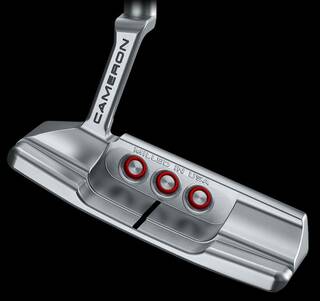 Design Features: Newport 2 Squareback Putter
This putter is an Anser-2, traditional mid-mallet putter. It's a bit more forgiving than the average Anser-2 putter given it's larger size, but you'll still want to avoid shots off the heel or toe. It's definitely less forgiving than a mallet.
Some of the other key features of the Special Select Squareback 2 putter are the plumbing style neck, one shaft of offset and a thinner topline. It has a Pistolini Plus grip (which you'll find throughout the line) and Scotty Cameron's signature cherry rings for alignment.
As with all Scotty Cameron putters, you can send your Special Select Squareback 2 to Scotty's Custom Shop and have it personalized with a specialty grip, headcover, stamp, paint fill, shaft band and sight line.
What Other Putters are in the Special Select Series?
The Special Select Series is made up of four blades (the Newport putters) and four mallets (Del Mar, Fastback and Flowback.)
Special Select Newport
Special Select Newport 2
Special Select Newport 2.5
Special Select Squareback 2
Special Select Del Mar
Special Select Fastback 1.5
Special Select Flowback 5
Special Select Flowback 5.5
If you're wondering how the Newport Squareback 2 compares to the other Newport putters in the series, you can read the Golflink review of the Newport, Newport 2 and Newport 2.5 putters.
Which Pros Use Scotty Cameron putters?
Recently Patrick Cantlay won the ZOZO Championship with the 2020 Special Select Timeless Tourtype GSS Prototype. Many champion golfers have used Scotty Cameron putters over the years.
In 1999, Tiger Woods started using a Scotty Cameron Newport 2 GSS prototype putter. Woods has used a Newport putter for four out of five of his Masters wins. Here are some of the well-known golfers that have used a Scotty Cameron putter to win a championship:
Tiger Woods
Mark O'Meara
Sergio Garcia
Peter Jacobsen
Jason Dufner
Rory McIlroy
Specifications
| | |
| --- | --- |
| Loft | 3.5° |
| Lie | 70° |
| Length | 33", 34", 35" |
| Head Material | 303 stainless steel |
| Offset | Full shaft |
Is The Squareback 2 the Putter for You?
Scotty Cameron is a legendary brand and a leader in the production of premium putters. The Squareback 2 retails for $400 MSRP. It's not as forgiving as a mallet, but it's a good choice for the golfer who wants to make the switch to an Anser-style putter and still maintain some forgiveness. It's a sharp looking putter with a classic design that you can hold onto for many years to come.