Scotty Cameron Phantom X Putters Review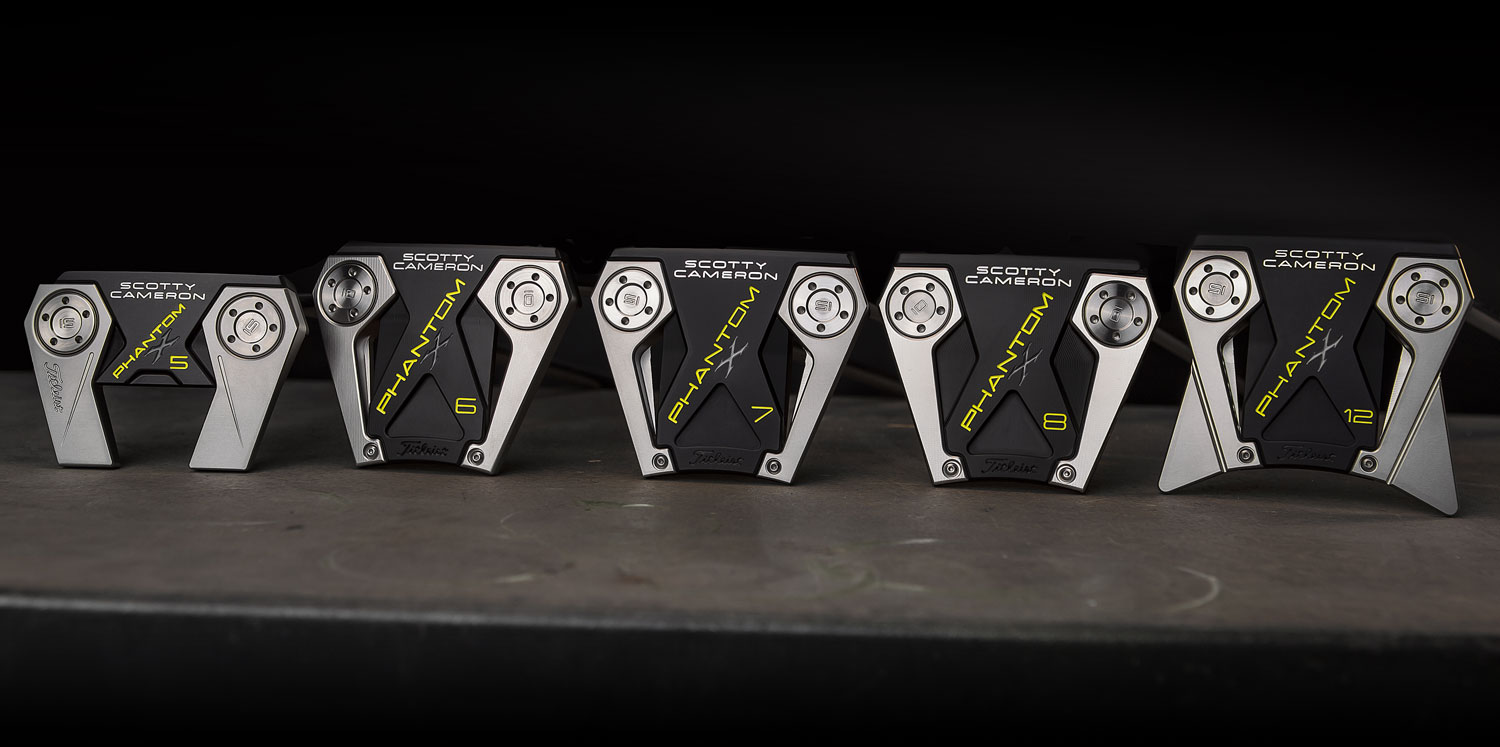 The Scotty Cameron Phantom X putter series debuted at the 2019 PGA show and officially hit the market in 2020. The futuristic styling was a big departure for the brand, and was inspired by race cars and fighter jets. The series includes nine mallets with five head styles (5, 6, 7, 8 and 12 plus the 0.5 models with low bend on the shaft) Although the styling of these mallets is similar throughout, they vary in size and shape, to accommodate different types of golfers and putting strokes.
Why would a golfer choose a mallet over a traditional putter? Mallets in general are more forgiving, but they're also more bulky and provide limited feedback. Golfers who want more feedback and a traditional appearance would be better off with another Scotty Cameron putter, like the Newport and Newport 2.5 putters.
Phanton X Series vs. Futura Putters
Golfers who are familiar with the Scotty Cameron line will see similarities between the Futura 5W and 5S from 2017 and the new Phantom X series. Besides the similarity in appearance, both lines also have multi-material face-sole technology. The Phantom mallets are made up of a 6061 aluminum face and 303-grade stainless steel weights. The multi-material construction provides durability while keeping the head light. The aluminum also offers good feedback.
Although the futura putters had an innovative shape, the design was still pretty subtle with just black and aluminum. The Phantom putters won't appeal to everyone with their neon yellow alignment aids and bold styling. The 7 and 8 have large heads (even by mallet standard) and the 12 is huge. Some golfers just won't want that much bulk in a putter, especially when it affects feedback.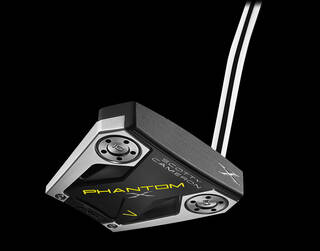 Customizing Your Phantom X Putter
Custom fitting is always recommended for Scotty Cameron putters, and the Phantom series putters are no different. As with all Scotty Cameron putters, you can Send your Phantom X putter to Scotty's Custom Shop and have it personalized with a specialty grip, headcover, paintfill, shaft band, weights and more.Here are some of the options you'll have for customization:
Three different shaft lengths
Adjustable stainless steel weights
Three different shaft bends (straight, mid-bend or 0.5 for lowest bend on the shaft)
Each model also has a 0.5 version (for example, the 5.5, 6.5, 7.5 etc). The difference here is the location of the bend, which affects the angle of the face. If you have arc to your stroke, the 0.5 models are a good option as they have the lowest bend on the shaft out of the three available options.
Phantom X putters feature the Pistolero Plus grip, which is thicker in the lower part of the hand grip and which Scotty Cameron has been offering for the last couple of years. The angle of the shaft will depend on your putting stroke. The mid-band creates a neutral face and the straight shaft creates a toe hang.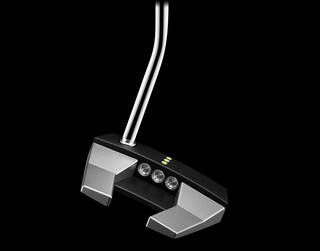 Differences Within the Phanton X Series
Given the number of different models in the Phantom X series, you'll need some more information to decide which one is the best for you. If you appreciate the compact styling of the Futura 5W and 5S, you'll also like the 5 and 6 models, although the main difference is in the styling. As you move through the line, head size and forgiveness both increase, with the 12 being the best option for a high handicap golfer.
Here's a short summary of which putter is best for which type of golfer:
Phantom X 5: Tour players
Phantom X 6: Firmer impact
Phantom X 7: Left-handed golfers
Phantom X 8: Versatility
Phantom X 12: Feel and forgiveness
Here's what you can expect throughout the line in regard to sound, head size, shape and flange. Alignment aids vary throughout the Phantom line because of the differences in head sizes and alignment aids. On smaller heads, like the 5 and 6, you'll see triple sight dots. On the 7 and 8, there's sight dot alignment paired with the elongated sight lines and on the 12, you'll see a single black glossy line.
Phanton X Putter Comparison Chart:
| | | | | |
| --- | --- | --- | --- | --- |
| MODEL | Sound | Head Size | Shape | Flange |
| 5 | Highest pitched | Most compact | Wing-backed | Stepped down |
| 6 | Medium pitched | Compact | Wing-backed/ aluminum crown | Stepped down |
| 7 | Lounder feedback | Large | Rounded flange | Raised center |
| 8 | Muted | Large | Rounded flange | Continuous |
| 12 | High pitched | X-Large | Winged flange | Continuous |
Which Pros Use Scotty Cameron Putters?
Scotty Cameron putters have been used in over 40 major wins, including four of Tiger Woods' five Masters wins and 15 of his majors (he briefly switched to a Nike putter before returning to a Scotty Cameron putter.) Here are just of the few players who have used one of his putters to win a major:
Bernhard Langer
Phil Mickelson
Rory McIlroy
Jordan Speith
Dustin Johnson
Brooks Koepka
Justin Thomas
Should You Buy a Phanton X Putter?
Scotty Cameron putters always come at a premium, and the Phantom X series is no different. You can expect to pay upwards of $400 USD for one of these. With that being said, this is a putter that you can hold onto for a long time, and Scotty Cameron putters are generally popular on the resale market. If you appreciate the history of the Scotty Cameron brand, and like sleek, modern styling with intuitive alignment aids, a Phantom X putter is a great choice for you.