Masters Champions Dinner History and Menus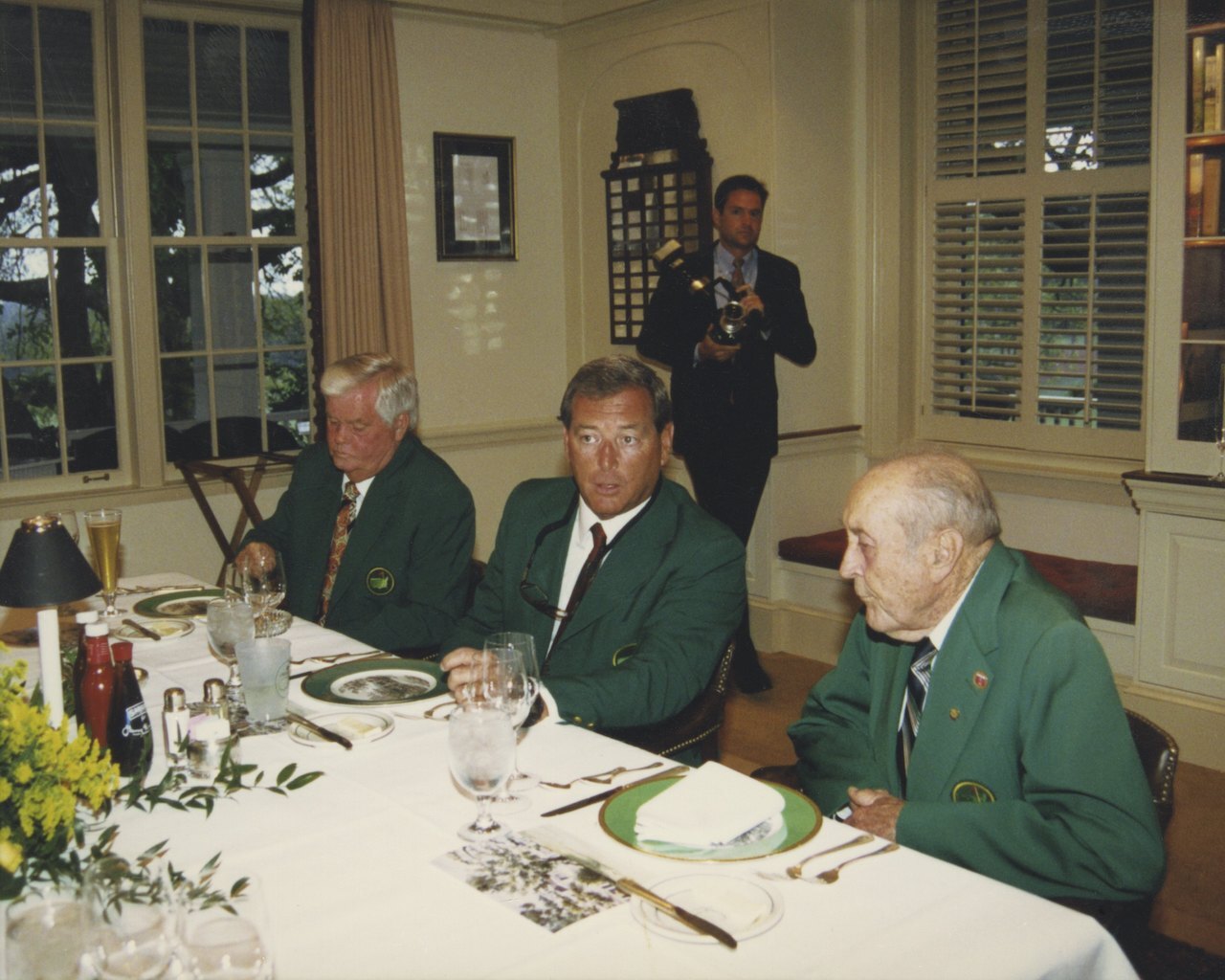 One of golf's greatest mysteries is the Masters Champions Dinner. The event takes place on the Tuesday evening of Masters week and the guest list is an exceptional A–list of golf royalty. What happens once those doors shut is not widely talked about, but the public is privileged to the menu. Here is a history of the most famous meal in golf.
Dinner Overview
The Champions Dinner is held at Augusta National Golf Club the evening of the Tuesday practice round, which is also the night before the famous Masters Par 3 Contest. The only attendees are living Masters champions and the current chairman of Augusta National Golf Club.
A small number of selected media members are allowed to take pictures and videos for a very short period of time before the doors are closed.
The Champions Dinner was first introduced by Ben Hogan in 1952 as a way for the special collection of individuals to gather before the current year's tournament began. Everyone who attends the Masters Champions Dinner wears their ceremonial Green Jacket, slacks, dress shirt, and tie.
The Menu
Leading up to the Masters, a lot of people keep an eye on the menu for the Champions Dinner. The outgoing Masters champion selects the menu, which traditionally reflects his origins and personal taste. The dinner is also paid for by the outgoing champion. With the winning payout over $2 million, it shouldn't be a tough tab to cover.
Prior to 1986, the dinner menu wasn't public knowledge the way that it is today. In addition, menu details have become more known as years have gone on. Here is a glimpse at what has been served from 1986-2021.
| | | |
| --- | --- | --- |
| Year | Outgoing Champion | Menu |
| 2023 | Scottie Scheffler | Cheeseburger sliders and firecracker shrimp, tortilla soup, Texas ribeye steak or blackened redfish, family style mac & cheese, jalapeno creamed corn, fried brussels sprouts, seasons fries, warm chocolate chip skillet cookie |
| 2022 | Hideki Matsuyama | Sushi, sashimi and nigiri, yakitori chicken skewers, miso glazed black cod, Miyazaki wagyu, sansho daikon ponzu, Japanese strawberry shortcake. |
| 2021 | Dustin Johnson | Garden or Caesar salad, filet mignon with herb butter, miso sea bass, mashed potatoes, spring vegetables, peach cobbler, apple pie, vanilla ice cream. |
| 2020 | Tiger Woods | Augusta Roll (sushi), steak and chicken fajitas, grilled vegetables, refried beans, Mexican rice, pico de gallo, sour cream, guacamole, flan, churros with chocolate sauce, sopapillas. |
| 2019 | Patrick Reed | Caesar or wedge salad, bone-in rib eye with herb butter, macaroni and cheese, creamed spinach, corn creme Brule, steamed broccoli, Tiramisu, vanilla bean creme brulee with chocolate crunch, praline cheesecake. |
| 2018 | Sergio Garcia | International Salad, Spanish lobster rice, Angela Garcia's tres leches cake. |
| 2017 | Danny Willett | Mini cottage pies, prime rib, roasted potatoes and vegetables, Yorkshire puddings, gravy, apple crumble with vanilla custard. |
| 2016 | Jordan Spieth | Local greens salad, Texas barbecue of beef brisket, smoked half chicken, pork ribs, barbeque baked beans, bacon and chive potato salad, sauteed green beans, grilled zucchini, roasted yellow squash, chocolate chip cookies, vanilla ice cream. |
| 2015 | Bubba Watson | Caesar salad, grilled chicken breast, green beans, mashed potatoes, corn, macaroni and cheese, cornbread, confetti cake, vanilla ice cream. |
| 2014 | Adam Scott | Artichoke and arugula salad with calamari, Australian Wagyu beef New York Strip steak, Moreton Bay lobster, sauteed spinach, onion cream mashed potatoes, strawberry and passion fruit pavlova, Anzac biscuit and vanilla sundae. |
| 2013 | Bubba Watson | Caesar salad, grilled chicken breast, green beans, mashed potatoes, corn, macaroni and cheese, cornbread, confetti cake, vanilla ice cream. |
| 2012 | Charl Schwartzel | Chilled seafood bar, South African barbecue of lamb chops, steaks, and South African sausages, Dauphinoise potatoes, vanilla ice cream sundae. |
| 2011 | Phil Mickelson | Seafood paella, Machado-topped filet mignon, salad, asparagus, and tortillas, ice cream-topped apple empanada. |
| 2010 | Angel Cabrera | Argentine Asado barbecue of chorizo, blood sausage, short ribs, and beef filets, mollejas sweetbreads. |
| 2009 | Trevor Immelman | Bobotie meat pie, sosaties chicken skewer, spinach salad, milk tart, South African wine. |
| 2008 | Zach Johnson | Iowa beef, Florida shrimp. |
| 2007 | Phil Mickelson | Barbecued ribs, chicken, sausage, pulled pork, cole slaw. |
| 2006 | Tiger Woods | Stuffed jalapenos, quesadillas, salsa and guacamole, green salad, steak fajitas, chicken fajitas, Mexican rice, refried beans, apple pie, ice cream. |
| 2005 | Phil Mickelson | Lobster ravioli in tomato cream sauce, Caesar salad, garlic bread. |
| 2004 | Mike Weir | Canadian wild game of elk, wild boar, and arctic char, Canadian beer. |
| 2003 | Tiger Woods | Porterhouse steak, chicken, sushi, sashimi, salads, crab cakes, asparagus, mashed potatoes, chocolate truffle cake. |
| 2002 | Tiger Woods | Porterhouse steak, chicken, sushi. |
| 2001 | Vijay Singh | Thai seafood tom kah, chicken panang curry, baked sea scallops, rack of lamb, Chilean sea bass with chili sauce, lychee sorbet. |
| 2000 | Jose Maria Olazabal | Beef filet with red wine sauce, romaine lettuce with olive oil and vinegar, papitas fritas, shallots. |
| 1999 | Mark O'Meara | Chicken fajitas, steak fajitas, sushi, tuna sashimi. |
| 1998 | Tiger Woods | Cheeseburgers, chicken sandwiches, french fries, milkshakes. |
| 1997 | Nick Faldo | Fish and chips, tomato soup. |
| 1996 | Ben Crenshaw | Texas barbeque. |
| 1995 | Jose Maria Olazabal | Paella, hake, tapas. |
| 1994 | Bernhard Langer | Turkey with dressing, black forest torte. |
| 1993 | Fred Couples | Chicken cacciatore. |
| 1992 | Ian Woosnam | Leek and potato soup, leg of Welsh lamb, apple pie, ice cream. |
| 1991 | Nick Faldo | Shepherd's Pie. |
| 1990 | Nick Faldo | Shepherd's Pie. |
| 1989 | Sandy Lyle | Haggis, mashed potatoes, mashed turnips. |
| 1988 | Larry Mize | Not known. |
| 1987 | Jack Nicklaus | Not known. |
| 1986 | Bernhard Langer | Wiener schnitzel. |
Champions Dinner Fun Facts
The youngest player to have selected a menu for the Champions Dinner was Tiger Woods after winning his first Green Jacket in 1997 at the age of 21.
The oldest player is Jack Nicklaus, who won in 1986 at the age of 46.
Dustin Johnson had less than five months to plan his Champions Dinner menu after winning the Masters in November of 2020. The event was postponed to November because of the COVID-19 pandemic and the 2021 event took place in its traditional month of April.
If a past champion does not want to eat from the chosen menu they can order from the regular menu at Augusta National, which typically includes varieties of chicken, steak, and seafood.
In 1989, Sandy Lyle wore a traditional Scottish kilt to the dinner, of which he was the outgoing champion and host.
Byron Nelson was reportedly thrilled with Tiger Woods' selection of burgers and fries in 1998 because he wasn't allowed to eat that at home.
In 2011, Phil Mickelson paid homage to Seve Ballesteros with his traditional Spanish menu. Ballesteros was battling cancer and sadly passed the following month.
In 2018, Sergio Garcia had International Salad, which featured flavors from all origins of Masters champions. He also had his wife, Angela's, tres leches cake.
Bubba Watson's menus in 2013 and 2015 were identical as were Nick Faldo's in 1990 and 1991.