8 Best Men's Golf Shoes That Outperform the Rest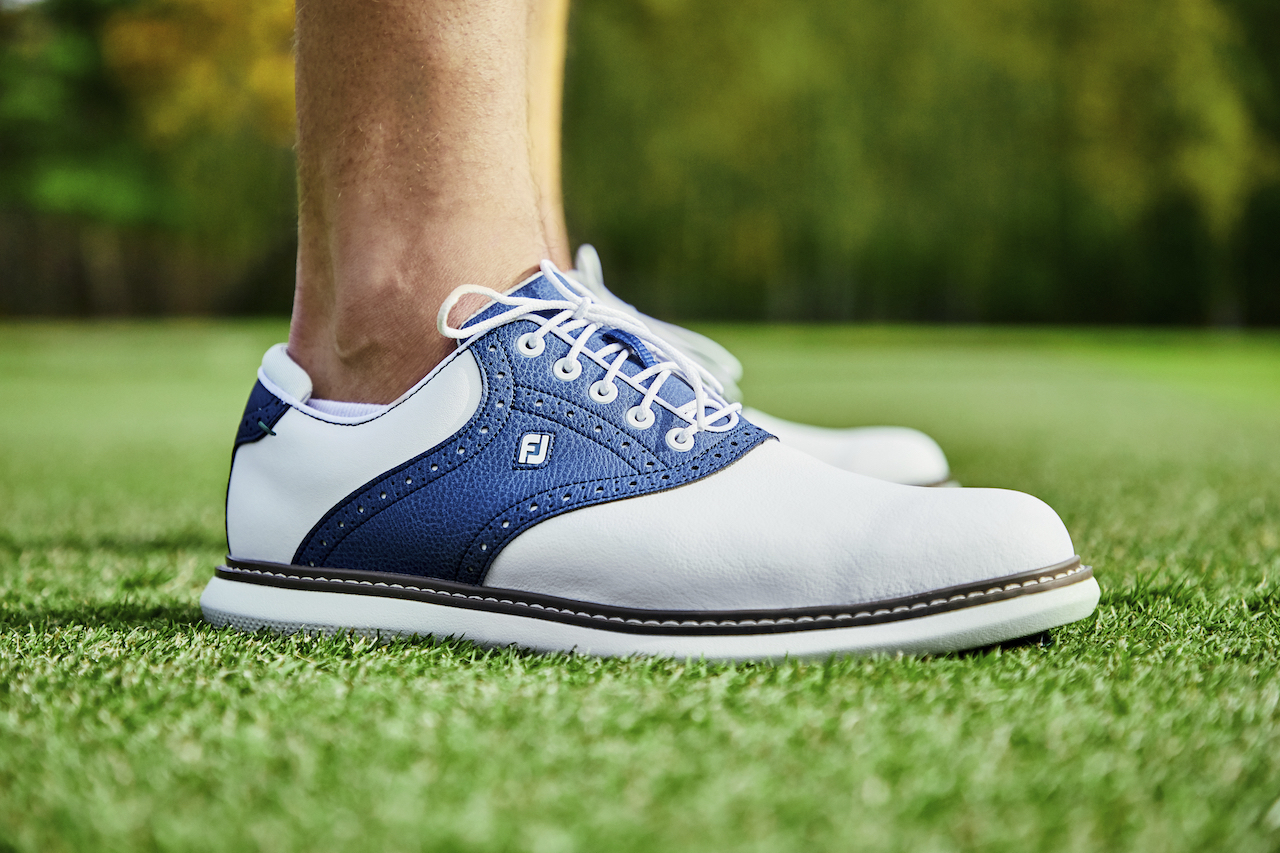 So many types of golf shoes, only so many rounds to play. Golf shoe categories have grown over the years and the decision of what shoe is best for your game is a tough one. For men, it used to be as simple as running your FootJoy saddles into the ground before you went out and bought a new pair of FootJoy saddles. But times have changed, and to get you up to speed, here are the eight best men's golf shoes by category.
Best Golf Shoe Overall: ECCO BIOM H4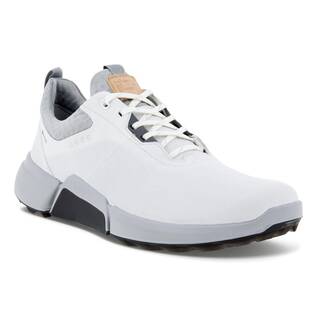 ECCO has a great track record over the past decade of making innovative and stylish golf shoes that are the highest of quality. The BIOM H4 is one of ECCO's best shoes of all time and worthy of the best overall distinction. The leather on these shoes is incredibly soft and flexible, so they feel broken in from the first time you slip them on. They are also 100% waterproof with GORE-TEX and have ECCO MTN GRIP outsole for incredible traction.
BIOM stands for "biomechanical optimization" and aims to help your feet move more naturally by guiding them to activate shock absorption. These are golf shoes that you keep for years with minimal maintenance. Five stars, A+, 10-out-of-10, or whatever other rankings you prefer.
Best Discount Golf Shoe: Etonic G-SOK 3.0
Golf shoes don't have to cost as much as a car payment to look and feel great. The best example is the G-SOK 3.0 from Etonic. Etonic has been producing golf shoes since 1945 and has always aimed towards value.
The G-SOK 3.0 is a spikeless, casual-looking shoe that has a cushioned EVA sole for comfort whether you're walking or riding. It also has a mesh lining for great breathability, so you can wear these in hotter climates. For $59.99, this is a great shoe that outperforms its price.
Best Hightop: ZG21 Motion Primegreen BOA Mid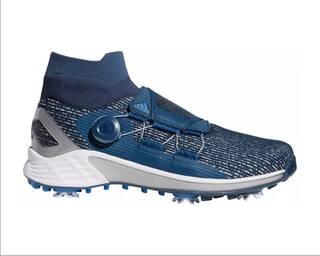 Hightop golf shoes have made appearances over the years, but it's a genre that has a very specific audience. Specifically, younger golfers looking for a trendy shoe to wear on the course that better reflects their everyday shoes.
Adidas nailed the hightop with these ZG21 Motion Primegreen BOA Mid shoes. The look is incredibly clean with a six-spike Thintech TPU outsole that provides stability and grip. They are also waterproof and have the popular BOA Fit System which allows for a precise fit for every round you play.
Best Golf Shoe for Walking: Skechers GO GOLF Pro 4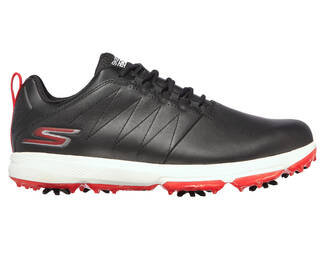 Skechers has a knack for making comfortable walking shoes whether they're intended for walking the mall or walking the Grand Canyon. Those designs are brought into Skechers golf shoe construction and the GO GOLF PRO 4 is a perfect example.
They have Skechers' Waterpoof Membrane Protection, so you never have to worry about your feet getting wet while walking through the rough or if you get caught in the rain. A Resamax cushioned insole and ULTRA FLIGHT cushioning make these a dream to walk 18 holes in. The GO GOLF PRO 4 certainly walks the walk when it comes to making walkable golf shoes.
Best Spikeless: PUMA Ignite Fasten8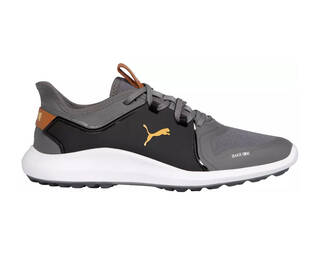 Not all spikeless golf shoes fall into the same category, mainly because of how many spikeless shoes exist now. Each brand has a stylish, spikeless shoe with traction in its lineup, but the PUMA Ignite Fasten8 continues to evolve with each generation.
PWRCage provides excellent support around the midfoot while the laces have integrated webbing straps to help wrap the midfoot. And just because they're mesh doesn't mean they don't stand up to the elements. The PWRFrame TPU overlay makes them breathable and they also have a 1-year waterproof warranty. If you're a traditional spike wearer, the Ignite Fasten8 is a great choice for your first spikeless venture.
Best Casual Golf Shoe: TRUE Linkswear True Knit II
Everyone has their own definition of casual, especially when it comes to golf fashion. For the sake of this list, casual takes into account a golf shoe that looks relaxed and can be paired with golf shorts or a pair of jeans. The True Knit II from TRUE Linkswear hits on those points and so many more.
These shoes have a sock-fit feel and can easily go from the course to dinner. These shoes are lightweight and have a WANDERLUX super foam midsole so you never want to take them off. Maybe to sleep, but that's all.
Best Waterproof Golf Shoes: FootJoy Traditions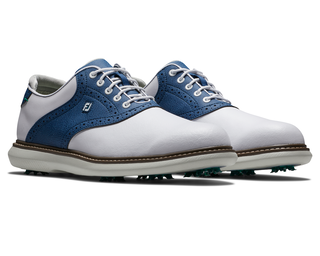 Warning. These are not your father's saddle shoes. The Traditions from FootJoy combine a timeless golf shoe design (some would call it the design) with today's golf shoe technology to create a shoe that's not only waterproof but also stylish and fun. The Traditions are made from full-grain leather so not only are they incredibly soft, but they're also a breeze to clean after they've gotten wet. They are also lightweight and have cushioned foam for a comfortable experience. If you're going to get caught in the rain on the golf course, these shoes are the shoes to be wearing.
Most Comfortable Golf Shoes: FootJoy Superlites XP
It's fair to say that most golf shoe companies produce shoes that far exceed the comfort levels of 10 years ago. Advancements in materials and more have allowed for superior comfort while on the links.
FootJoy's Superlites XP has that extra step in lightweight comfort that gives it the edge. The mesh liner provides a sock-like feel and a thick insole provides increased underfoot cushioning for enhanced comfort. If you're the type of golfer that's limited by foot, leg, or back pain, the Superlites XP might be the answer you've been looking for to get you to the 19th hole with little to no discomfort.
Conclusion
With so many options available to golfers, shopping for new golf shoes can be confusing. Once you've figured out the category that fits you best, these models are sure to deliver the best results that you're looking for.