Masters Winners by Year, Including Scores and Payouts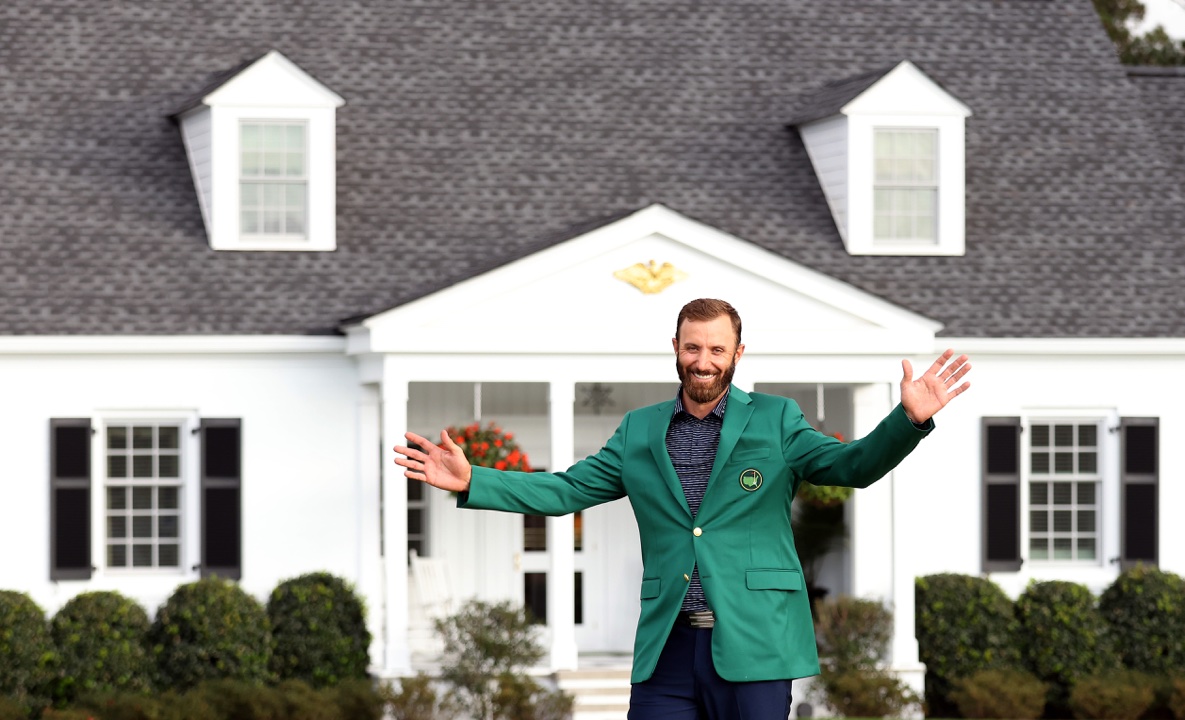 The Masters golf tournament was the co-creation of golfing legend Bobby Jones and Clifford Roberts. It is held every year at Augusta National Golf Club in Georgia.
The Masters is part of golf's Grand Slam, and the opportunity to slip on the winner's green jacket is considered the high point of any pro's career. Over the years, the course has been the site of streaks, broken records, and shocking surprises. Masters winners have been seasoned veterans and fresh-faced rookies alike. Looking for Masters winning scores for specific years? Find every year's winners, winning score, and winner's prize payout below.
Masters Winners Through the Years
The list of Masters tournament winners is sprinkled with some of the most famous names in golf. Over the past nine decades, top golfers like Jack Nicklaus, Arnold Palmer, Tiger Woods and Gary Player have claimed the famed Masters title. Woods (1997) and Jordan Spieth (2015) share the record for the lowest Masters winning score of 270.
Today, the Masters winner takes home close to $3 million, one of the largest payouts on the PGA Tour, along with the green jacket. However, the payouts haven't been so handsome throughout Masters history. Horton Smith took home just $1,500 for winning the inaugural Masters in 1934, and the winner's share remained the same until 1945. Early Masters champions also left without a green jacket, as that Masters tradition was not introduced to winners until 1949.
| | | | |
| --- | --- | --- | --- |
| Year | Champion | Score (To Par) | Winner's Prize |
| 2022 | Scottie Scheffler | 278 (-10) | $2,700,000 |
| 2021 | Hideki Matsuyama | 278 (-10) | $2,070,000 |
| 2020 | Dustin Johnson | 268 (-20) | $2,070,000 |
| 2019 | Tiger Woods | 275 (-13) | $2,070,000 |
| 2018 | Patrick Reed | 273 (-15) | $1,980,000 |
| 2017 | Sergio Garcia | 279 (-9) | $1,980,000 |
| 2016 | Danny Willett | 283 (-5) | $1,800,000 |
| 2015 | Jordan Spieth | 270 (-18) | $1,800,000 |
| 2014 | Bubba Watson | 280 (-8) | $1,620,000 |
| 2013 | Adam Scott | 279 (-9) | $1,440,000 |
| 2012 | Bubba Watson | 278 (-10) | $1,440,000 |
| 2011 | Charl Schwartzel | 274 (-14) | $1,440,000 |
| 2010 | Phil Mickelson | 272 (-16) | $1,350,000 |
| 2009 | Angel Cabrera | 276 (-12) | $1,350,000 |
| 2008 | Trevor Immelman | 280 (-8) | $1,350,000 |
| 2007 | Zach Johnson | 289 (+1) | $1,305,000 |
| 2006 | Phil Mickelson | 281 (-7) | $1,260,000 |
| 2005 | Tiger Woods | 276 (-12) | $1,260,000 |
| 2004 | Phil Mickelson | 279 (-9) | $1,117,000 |
| 2003 | Mike Weir | 281 (-7) | $1,080,000 |
| 2002 | Tiger Woods | 276 (-12) | $1,008,000 |
| 2001 | Tiger Woods | 272 (-16) | $1,008,000 |
| 2000 | Vijay Singh | 278 (-10) | $828,000 |
| 1999 | Jose M. Olazabal | 280 (-8) | $720,000 |
| 1998 | Mark O'Meara | 279 (-9) | $576,000 |
| 1997 | Tiger Woods | 270 (-18) | $486,000 |
| 1996 | Nick Faldo | 276 (-12) | $450,000 |
| 1995 | Ben Crenshaw | 274 (-14) | $396,000 |
| 1994 | Jose M. Olazabal | 279 (-9) | $360,000 |
| 1993 | Bernhard Langer | 277 (-11) | $306,000 |
| 1992 | Fred Couples | 275 (-13) | $270,000 |
| 1991 | Ian Woosnam | 277 (-11) | $243,000 |
| 1990 | Nick Faldo | 278 (-10) | $225,000 |
| 1989 | Nick Faldo | 283 (-15) | $200,000 |
| 1988 | Sandy Lyle | 281 (-7) | $183,800 |
| 1987 | Larry Mize | 285 (-3) | $162,000 |
| 1986 | Jack Nicklaus | 279 (-9) | $144,000 |
| 1985 | Bernhard Langer | 282 (-6) | $126,000 |
| 1984 | Ben Crenshaw | 277 (-11) | $108,000 |
| 1983 | Severiano Ballesteros | 280 (-8) | $90,000 |
| 1982 | Craig Stadler | 284 (-4) | $64,000 |
| 1981 | Tom Watson | 280 (-8) | $60,000 |
| 1980 | Severiano Ballesteros | 275 (-13) | $55,000 |
| 1979 | Fuzzy Zoeller | 280 (-8) | $50,000 |
| 1978 | Gary Player | 277 (-11) | $45,000 |
| 1977 | Tom Watson | 276 (-12) | $40,000 |
| 1976 | Ray Floyd | 271 (-17) | $40,000 |
| 1975 | Jack Nicklaus | 276 (-12) | $40,000 |
| 1974 | Gary Player | 278 (-10) | $35,000 |
| 1973 | Tommy Aaron | 283 (-5) | $30,000 |
| 1972 | Jack Nicklaus | 286 (-2) | $25,000 |
| 1971 | Chales Coody | 279 (-9) | $25,000 |
| 1970 | Billy Casper | 279 (-9) | $25,000 |
| 1969 | George Archer | 281 (-7) | $20,000 |
| 1968 | Bob Goalby | 277 (-11) | $20,000 |
| 1967 | Gay Brewer Jr. | 280 (-8) | $20,000 |
| 1966 | Jack Nicklaus | 288 (E) | $20,000 |
| 1965 | Jack Nicklaus | 271 (-17) | $20,000 |
| 1964 | Arnold Palmer | 276 (-12) | $20,000 |
| 1963 | Jack Nicklaus | 286 (-2) | $20,000 |
| 1962 | Arnold Palmer | 280 (-8) | $20,000 |
| 1961 | Gary Player | 280 (-8) | $20,000 |
| 1960 | Arnold Palmer | 282 (-6) | $17,500 |
| 1959 | Art Wall Jr. | 284 (-4) | $15,000 |
| 1958 | Arnold Palmer | 284 (-4) | $11,250 |
| 1957 | Doug Ford | 283 (-5) | $8,750 |
| 1956 | Jack Burke | 289 (+1) | $6,000 |
| 1955 | Cary Middlecoff | 279 (-9) | $5,000 |
| 1954 | Sam Snead | 289 (+1) | $5,000 |
| 1953 | Ben Hogan | 274 (-14) | $4,000 |
| 1952 | Sam Snead | 286 (-2) | $4,000 |
| 1951 | Ben Hogan | 280 (-8) | $3,000 |
| 1950 | Jimmy Demaret | 283 (-5) | $2,400 |
| 1949 | Sam Snead | 282 (-6) | $2,750 |
| 1948 | Claude Harmon | 279 (-9) | $2,500 |
| 1947 | Jimmy Demaret | 281 (-7) | $2,500 |
| 1946 | Herman Keiser | 282 (-6) | $2,500 |
| 1945 | No Championship (World War II) |   |   |
| 1944 | No Championship (World War II) |   |   |
| 1943 | No Championship (World War II) |   |   |
| 1942 | Byron Nelson | 280 (-8) | $1,500 |
| 1941 | Craig Wood | 280 (-8) | $1,500 |
| 1940 | Jimmy Demaret | 280 (-8) | $1,500 |
| 1939 | Ralph Guldahl | 279 (-9) | $1,500 |
| 1938 | Henry Picard | 285 (-3) | $1,500 |
| 1937 | Byron Nelson | 283 (-5) | $1,500 |
| 1936 | Horton Smith | 285 (-3) | $1,500 |
| 1935 | Gene Sarazen | 285 (-3) | $1,500 |
| 1934 | Horton Smith | 284 (-4) | $1,500 |