Why You 3-Putt and How to Stop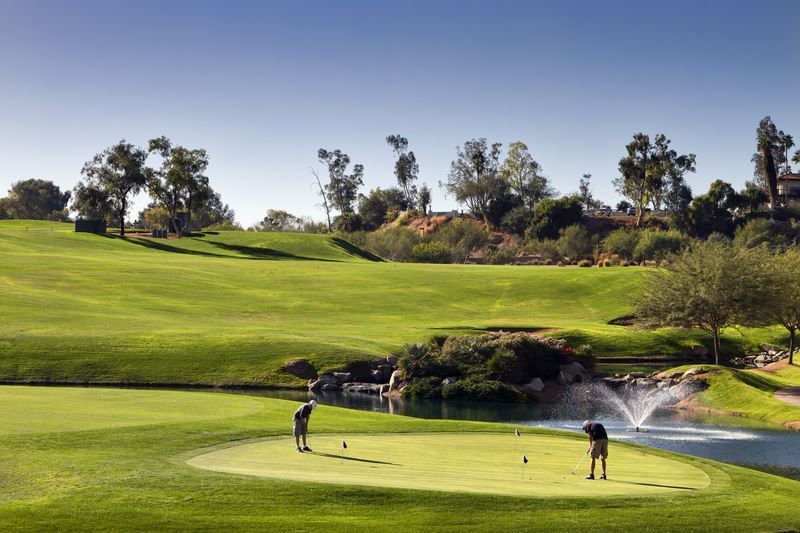 Putting is one of the easiest parts of the game of golf--at least from a physical perspective. The swing is simple: Bring the club back 12 to 18 inches, bring it forward and strike the ball, continue on 12 to 18 inches. That simple stroke can give the golfer a thrill of a lifetime when it results in a successful 25-foot putt that ends in the bottom of the hole. However, the physical act of striking the ball is about 10 percent of putting. The rest is a mental exercise that has brought some of the best golfers to their knees over the course of their careers. Keep your perspective and you can learn how to stop 3-putting.
Assess Your Putt
Walk up to the green and look at your ball in perspective to the hole. Do you have an uphill, side hill or downhill putt? How far away is the hole? Will you have to contend with a break as the ball rolls to the hole? These are important questions that you should answer quickly. Do not dwell on them. Figure out what you need to do and walk confidently to your ball.
Take One Practice Swing
Golfers often feel like they need to put the perfect stroke on their ball when putting from a distance of 20 feet or more. In order to sink that long putt, they probably do. But most golfers should be trying to get their ball in the hole in two putts. Take one practice stroke, and then get into putting position and hit the ball. Do not dwell on your putt.
Draw an Imaginary Circle
The circumference of a golf hole is 4¼ inches. This is a difficult target for nearly all golfers on a lengthy putt. However, most pros tell their students to imagine that the hole is 2 feet in circumference and that they should try to leave the ball somewhere in that zone when putting from long distance. Many golfers feel this takes the pressure off and helps them to become more accurate putters.