Can You Replace A Damaged Golf Ball? Official Golf Rules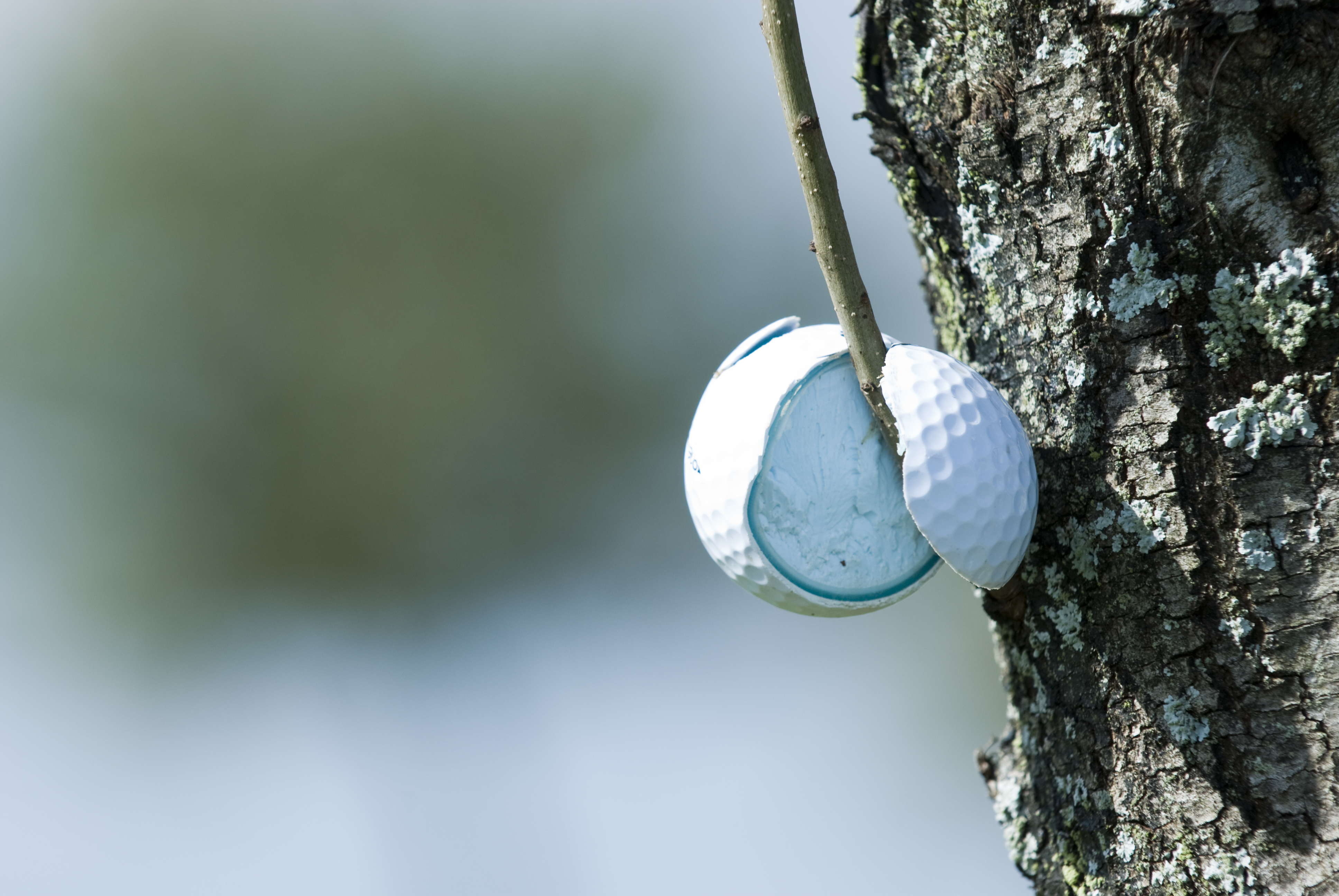 At some point, every golfer will have to swap out a damaged golf ball for a pristine one, but it doesn't normally happen mid-hole. We're here to help you understand the correct procedure and the dos and don'ts of replacing a damaged golf ball.
Damaged Golf Ball Scenario
Most of us have run into a scenario on the golf course where our golf ball needs to be replaced. More often than not, if your ball doinks off the cart path or ricochet's off a tree, you'll have a scuff mark on the ball and will likely discard it after you play out the hole.
There are scenarios, however, when you simply cannot continue to use a busted-up ball. Perhaps there was a crack on the cover or striking a tree caused the golf ball to split. If you know the rules, you can easily navigate this situation without any scorecard damage the next time it happens to you.
How to Proceed
First, you and your playing partners must agree that the golf ball is unusable. Scuffs and scratches do not deem a golf ball unusable, but cracks and cuts that compromise the structural integrity of the ball do.
If it's determined the golf ball is unusable, mark the location of your ball with a tee or ball marker (similar to how you mark it on a putting green) and place the new golf ball in the damaged ball's place was without improving your lie. You can then proceed to play the hole under no penalty.
Lift, Clean, and Place
A rule that can add some additional thought to this scenario is lift, clean, and place. This is typically a local rule and is implemented when a course has undergone heavy rainfall or other conditions that create mud on golf balls.
When you lift, clean, and place your golf ball, you cannot replace it unless it falls under the above details for being unusable. If lift, clean, and place is not in effect, you cannot clean or replace a golf ball that has debris on it.
One-Ball Rule
The PGA Tour implements a one-ball rule for all sanctioned events. At the beginning of each round, players within each grouping are required to let one another know what golf ball brand and model they are using. At that point, they cannot use another type of golf ball for the remainder of the round. For example, if a player begins their round with a Titleist Pro V1, they cannot switch to a Titleist Pro V1x later in the round.
The one-ball rule is not an official standing rule from the USGA. Unless it's specifically in effect for a tournament you're playing, you can switch golf ball models throughout your round. However, it can be implemented under local rules by a course or tournament. The penalty for violating this rule is two strokes per hole, with a maximum of eight strokes for the round.
Conclusion
Hopefully this helps if you have a damaged golf ball mid-hole. The main thing to remember is to always confer with your playing partners before deciding to move forward with your decision. It could save you a penalty stroke or two.