Finding the Right Golf Bag for Your Game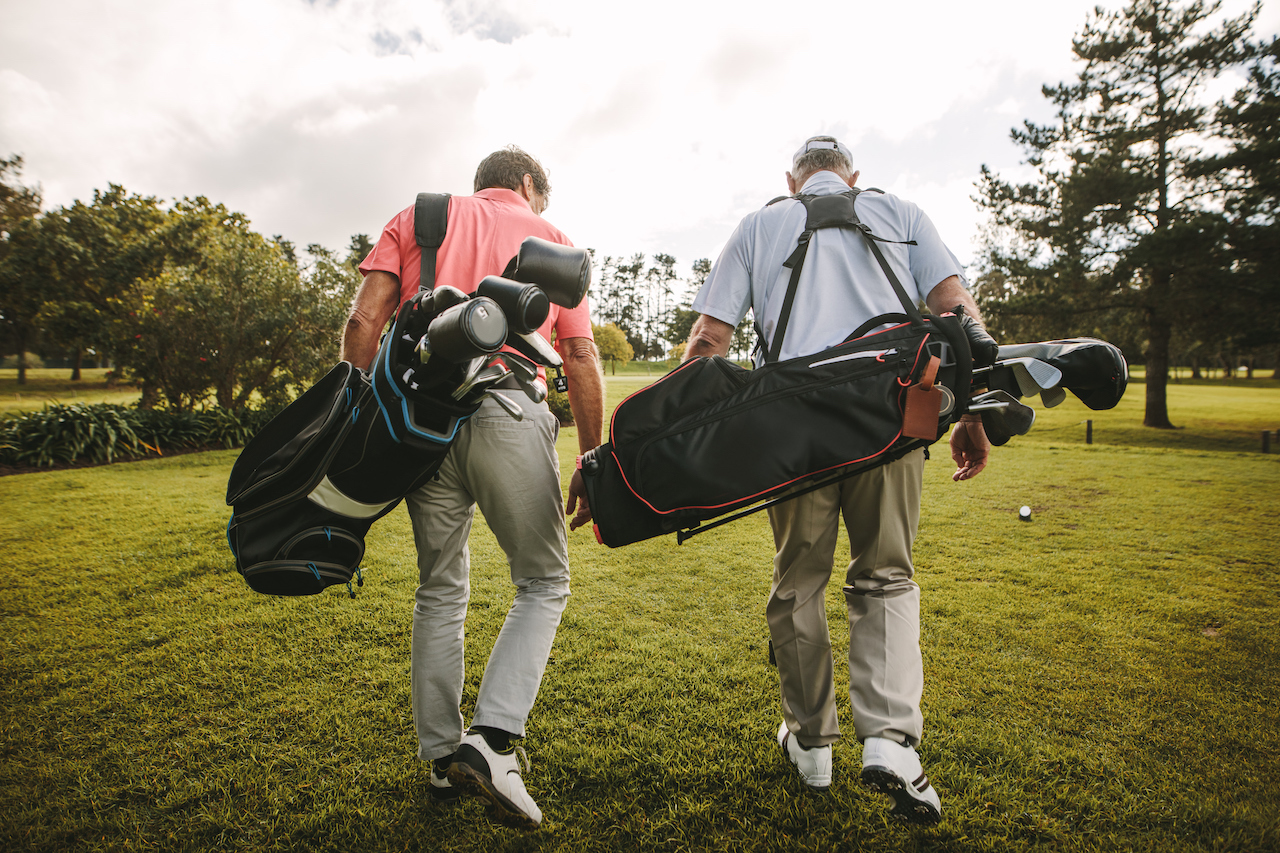 Shopping for a golf bag can feel like a monumental task. Unless you change your golf bag as often as you change your shoes, this investment is going to be something that stays with you a while. You want to make sure you're purchasing the best golf bag for your needs. There are so many factors to consider, like weight, club well, pockets, color, and many others. To help you make the right decision, we've compiled the definitive list of the best golf bags in each category.
Best Golf Bag for Walkers
If you walk the golf course and cary your bag, you're going to need a light-weight bag that doesn't weigh you down or leave you aching after 18 holes.
BIG MAX Dri Lite Seven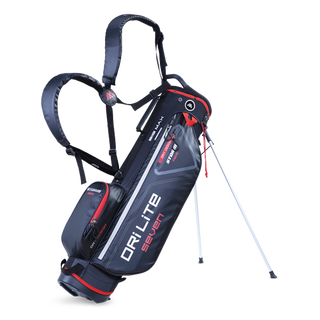 If you're the type of player that prefers to walk, the BIG MAX Dri Lite Seven stand. bag checks all the boxes as the perfect bag for you. A great walking golf bag doesn't need to lack style and features, and this bag proves that.
The top opening is large for the size of the bag, which means your clubs won't jam up. An integrated cooler pocket, glove holder, and umbrella mount are other great features. Speaking of umbrellas, the bag material, aside from being lightweight, is also 100% water resistant with waterproof zippers. Even if you're not a walker, the Dri Lite Seven is an excellent choice for your everyday golf bag.
Best Bag for Push Carts
Many golfers fell in love, or back in love, with using a push cart due to the recent pandemic. What many found out in the process though, was that their golf bag wasn't made to stay-put on a push cart.
Sun Mountain Sync
Sun Mountain's solution is the Sync golf bag, which was designed specifically to fit on push carts. No more losing your bag if you make a sharp turn or bungee cords to keep it in place.
The top and bottom of the Sync are designed to minimize side-to-side movement. All 12 of the pockets are forward-facing, so you'll never have to search for your valuables or on-course needs. The bag also has 14 full-length club dividers for easy in, easy out, even while the cart is in motion.
Best for Riders
When you don't have to worry about the weight of your golf bag, you can spoil yourself with a few additional features that you might otherwise pass up.
Sun Mountain C-130
The Sun Mountain C-130 is the ultimate choice for anyone who keeps their bag strapped to a golf cart. It's also a top choice for golfers who pack their golf bag like they're heading to the Poconos for a week.
Specifically made for golf carts, the top of the bag is reverse-oriented to make accessing your clubs easier than ever. Three utility handles for easy-on and-off loading, a Smart Strap System attached to a cart with zero twisting along the way, and full access to all pockets. Thirteen pockets, to be exact. Two apparel pockets, a ventilated cooler pocket, rangefinder pocket with magnetic closure, and two valuables pockets, one of which is water-resistant.
Best for Ladies
Golf bag makers have a habit of taking a bag designed for men and just throwing some pink material on it and calling it their lady's golf bag.
OGIO XIX Stand Bag 5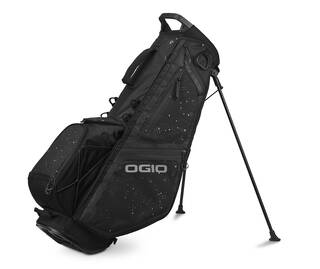 OGIO decided that practice needed to come to an end and created the XIX Stand Bag 5, a golf bag that has been designed for ladies from conception to production.
The bag is lightweight and is also extremely comfortable thanks to the OGIO Co-Axial Strap System. Quik lock anchors allow for more tilt (more narrow fit) or less tilt (standard fit), as opposed to having only a standard adjustable length. The bag also has ample pockets of varying sizes for jewelry and other valuables. The XIX Stand Bag 5 comes in four different color schemes.
Best for Juniors
Junior golf bag purchases can get tricky, mainly due to how fast your junior golfer grows. The bag they had one summer might not fit the next.
PING Prodi G
PING has always done a great job with its line of junior bags and the PING Prodi G (get it?) is no exception. This bag comes in two sizes, small (30") and large (34") to help juniors transition. Both sizes have four pockets, a four-way top, and easily adjustable padded straps that make walking comfortable. The green and black color combo is fun as well, as the game should be for junior golfers.
Best Waterproof
If you've ever been caught in a rainstorm on the golf course you'll know it's not fun. Having to disassemble your golf bag and dry it in the garage for a few days is a drag.
BIG MAX Aqua Sport 2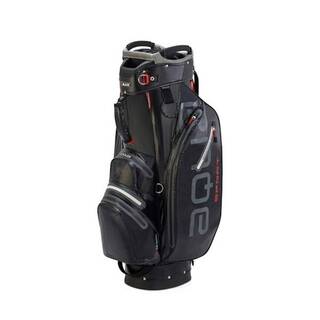 BIG MAX know this pain and designed the Aqua Sport 2, a bag for everyone, but especially for those in rainy climates. DROP-Stop system by BIG MAX is made of 100% waterproof materials to go along with zippers and seams that are tight and won't leak.
All seven of the Aqua Sport 2's pockets are easily accessible. And just because the bag is waterproof doesn't mean it lacks style. Five eye-catching color schemes are available to those that choose to stay dry.
Best for Minimalists
If you're looking for a reliable, no-nonsense, simple golf bag, look no further than the PING Hoofer Craz-E Lite. PING makes the Hoofer in several different models and stylings, but this one is the simplest in the best ways possible.
PING Hoofer Craz-E Lite
This bag is light, weighing in at only 3 pounds. before loading your clubs in it. The Hoofer Craz-E Lite has five pockets, all functional but not overdone. It easily converts from a dual strap to a single strap based on your preference.
The cushioned hip pad is great when walking, but inside you'll find a buttoned rain hood in the event you need to cover your clubs. This bag is also a great option for traveling as it takes up little space and is a breeze to transport.
Best Staff Bag
We all watch PGA and LPGA players and their caddies hauling around gigantic staff bags. While mostly impractical for amateur golfers, you can't help but think they look so cool. What do they keep in them? How heavy are they? Do they get to choose the font for their name stitching?
Titleist Tour Bag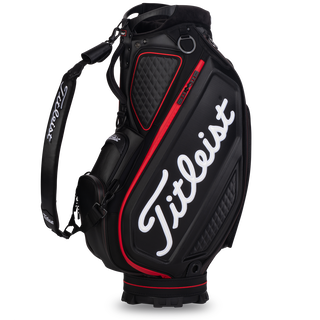 Well, if you want to own one yourself, the Titleist Tour Bag is the choice. The classic black and red has been seen in so many different models over the years. Tour-inspired 3-point single shoulder strap, extremely durable, magnetic velour pockets, premium metal hardware, and all of the turning heads you can ask for.
Best Sunday Bag
If you're heading to the range or one of the trendy new short courses, a Sunday bag is a must have. These bags are not meant for a typical round of golf because they can't hold all of your golf goodies, let alone a full set of clubs.
Datrek Ranger
The Datrek Ranger is small, yet sturdy. It has a convenient carry handle to go along with a single shoulder strap and two pockets, one for accessories plus a quick-access mesh pocket. It also includes a hook for a towel and easy grip zipper pulls. With not much more than the necessities, the Ranger is perfect for your lighter golf needs.
Best Golf Bag Under $100
If you're looking for a reliable golf bag but don't want to spend big dollars, the Wilson Staff Quiver is a great pick.
Wilson Staff Quiver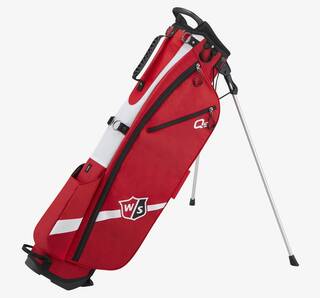 At $99.99, Wilson gives you just what you need for the investment. Sized between a Sunday bag and standard stand bag, it gets the job done for weekend warriors. The classic Wilson Staff look comes in red or blue. It was a 3-way top with full-length dividers, a valuables pouch, a garment pouch, double strap, and a lightweight material design.
Choosing a Golf Bag
When it comes time to replace your golf bag, don't just buy the first one that catches your eye, ask yourself what you need to get out of your bag. Regardless of how you play most of your golf, there's a golf bag tailored to your specific needs. Just like golfers get fit for their clubs, you should get the best golf bag to fit your game.