Europe's Most Successful Ryder Cup Golfers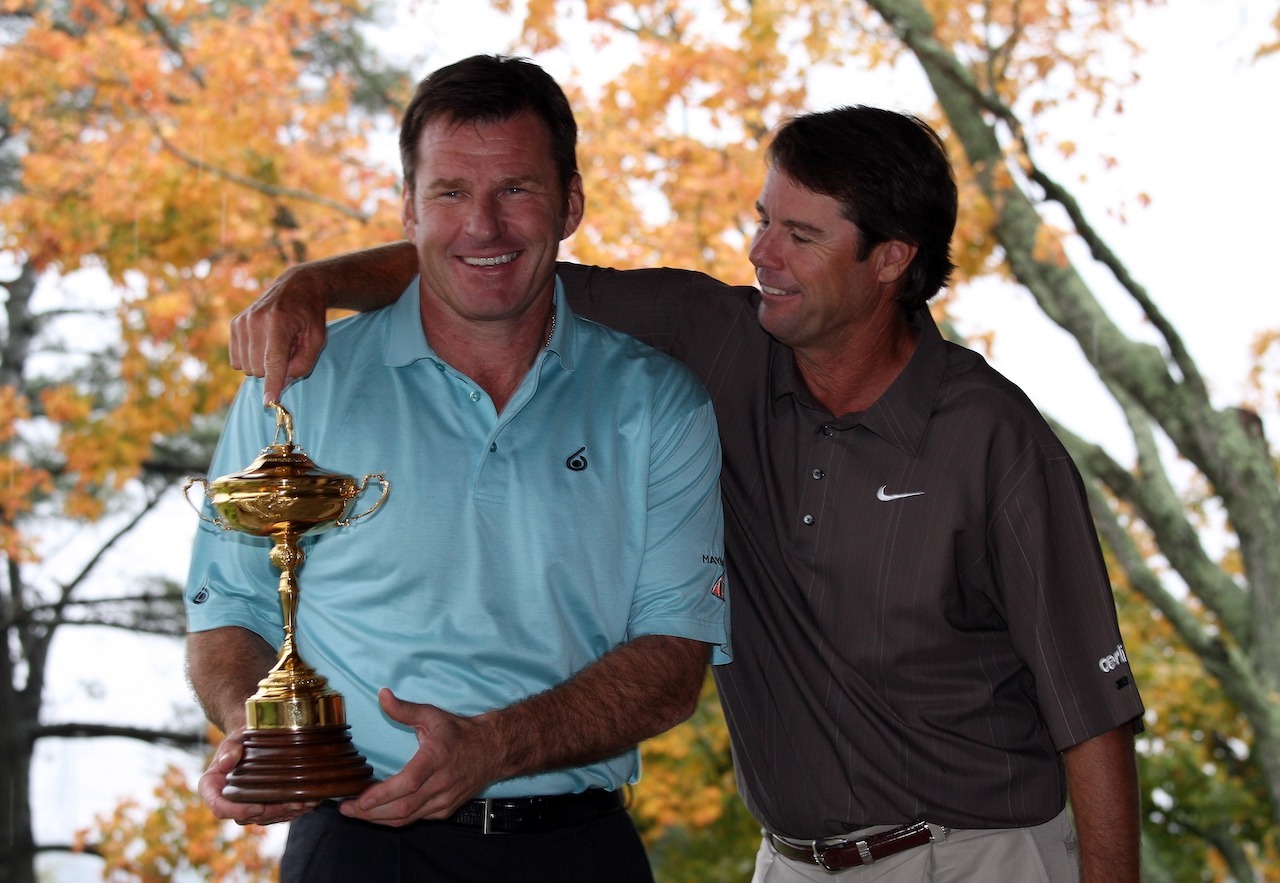 The career of a professional golfer is ultimately judged on how many majors they win, but for American and European players, the number of Ryder Cup teams they made, and how they performed in those Ryder Cups is nearly as important.
The following list compiles the European golfers with the most Ryder Cup experience, and the top European Ryder Cup point-scorers of all time.
Europeans in the Ryder Cup
Originally contested between America and Great Britain in 1927, the team golf competition was expanded in 1979 to include all of continental Europe on one team.
Since the switch, the biennial competition has become much more competitive after a long period of American domination. The Americans have lifted the Cup 26 times, while European teams have managed 14 wins, with the sides sharing two ties.
European Ryder Cup Appearances
While the selection format has changed over the years, those chosen to compete for the Ryder Cup represent the best golfers in their region.
T1. Nick Faldo - 11 Ryder Cups
English golfer Nick Faldo shares the European and all-time lead in Ryder Cup appearances with Lee Westwood and Phil Mickelson. Competing in 11 Ryder Cups from 1977-1997, the former world number one was known as a focused and fierce competitor. Since retiring from competition, Faldo was given the honor of knighthood.
Faldo went on to captain the 2008 European Ryder Cup team, an unsuccessful bid as the United States picked up a 16.5 -- 11.5 win at Valhalla Golf Club in Louisville, the team's most lop-sided win since 1981.
Faldo accumulated 25 points in his 11 Ryder Cup appearances with a 23-19-4 overall record and a 6-4-1 mark in singles play.
T1. Lee Westwood - 11 Ryder Cups
Englishman Lee Westwood tied Faldo's European record of 11 Ryder Cup appearances with a captains selection in 2021. Westwood made his Ryder Cup debut in 1997-2021 and has a long history of excellence, including a 22-week span as world number one in 2010.
Westwood enters the 2021 Ryder Cup in fifth on Europe's all-time Ryder Cup points list with 23.0, but sports just a 3-7-0 singles record.
T3. Bernhard Langer - 10 Ryder Cups
Bernhard Langer was a dominant golfer throughout the 80s and 90s. Hailing from Germany, Langer was a member of 10 European Ryder Cup teams between 1981-2002, racking up 24.0 points.
T3. Sergio Garcia - 10 Ryder Cups
The Spanish golfer ties Bernhard Langer with his 10th Ryder Cup appearance in 2021, and as Europe's all-time points leader at 25.5, Garcia has been a thorn in the side of Team USA for two decades.
5. Christy O'Connor, Sr. - 10 Ryder Cups
Irish golfer Christy O'Connor experienced success both in Europe and America throughout his long career. As a reward for his high level of play, O'Connor was chosen to 10 European Ryder Cup teams from 1955-1973. O'Connor, however, struggled against the Americans, needing 36 matches to secure 13 total points, compiling an 11-21-4 overall record including a 2-10-2 mark in singles.
6. Dai Rees - 9 Ryder Cups
Welsh golfer Dai Rees competed in nine Ryder Cups between 1937-1961. Rees was named captain of the then solely British team five times, and in 1957 delivered the only victory of a European team over the Americans in a 52-year span from 1933-1985.
T7. Eight Players
The following golfers have all competed in a respectable eight Ryder Cups against the American team.
Peter Alliss (England) 1953-1969
Steve Ballesteros (Spain) 1979-1995
Neil Coles (England) 1961-1977
Bernard Gallacher (Scotland) 1969-1983
Bernard Hunt (England) 1953-1969
Colin Montgomerie (Scotland) 1991-2006
Sam Torrance (Scotland) 1981-1995
Ian Woosnam (Wales) 1983-1997
Top European Ryder Cup Point-Scorers in History
Making the European Ryder Cup team consistently is a great achievement, but beating the Americans is the ultimate goal. These European Ryder Cup stalwarts have dealt the most damage to Team USA in Ryder Cup history.
| | | | | |
| --- | --- | --- | --- | --- |
| Player | Appearances | Record | Singles | Points |
| Sergio Garcia | 9 | 22-12-7 | 4-4-1 | 25.5 |
| Nick Faldo | 11 | 23-19-4 | 6-4-1 | 25.0 |
| Bernhard Langer | 10 | 21-15-6 | 4-3-3 | 24.0 |
| Colin Montgomerie | 8 | 20-9-7 | 6-0-2 | 23.5 |
| Lee Westwood | 10 | 20-18-6 | 3-7-0 | 23.0 |
| Seve Ballesteros | 8 | 20-12-5 | 2-4-2 | 22.5 |
| Jose Maria Olazabal | 7 | 18-8-5 | 2-4-1 | 20.5 |
| Tony Jacklin | 7 | 13-14-8 | 2-8-1 | 17.0 |
| Ian Woosnam | 8 | 14-12-5 | 0-6-2 | 16.5 |
| Neil Coles | 8 | 12-21-7 | 5-6-4 | 15.5 |
| Bernard Gallacher | 8 | 13-13-5 | 4-3-4 | 15.5 |
| Peter Oosterhuis | 6 | 14-11-3 | 6-2-1 | 15.5 |
| Ian Poulter | 6 | 14-6-2 | 5-0-1 | 15.0 |