Using Golf Yardage Books to Play Like the Pros
Updated February 15, 2022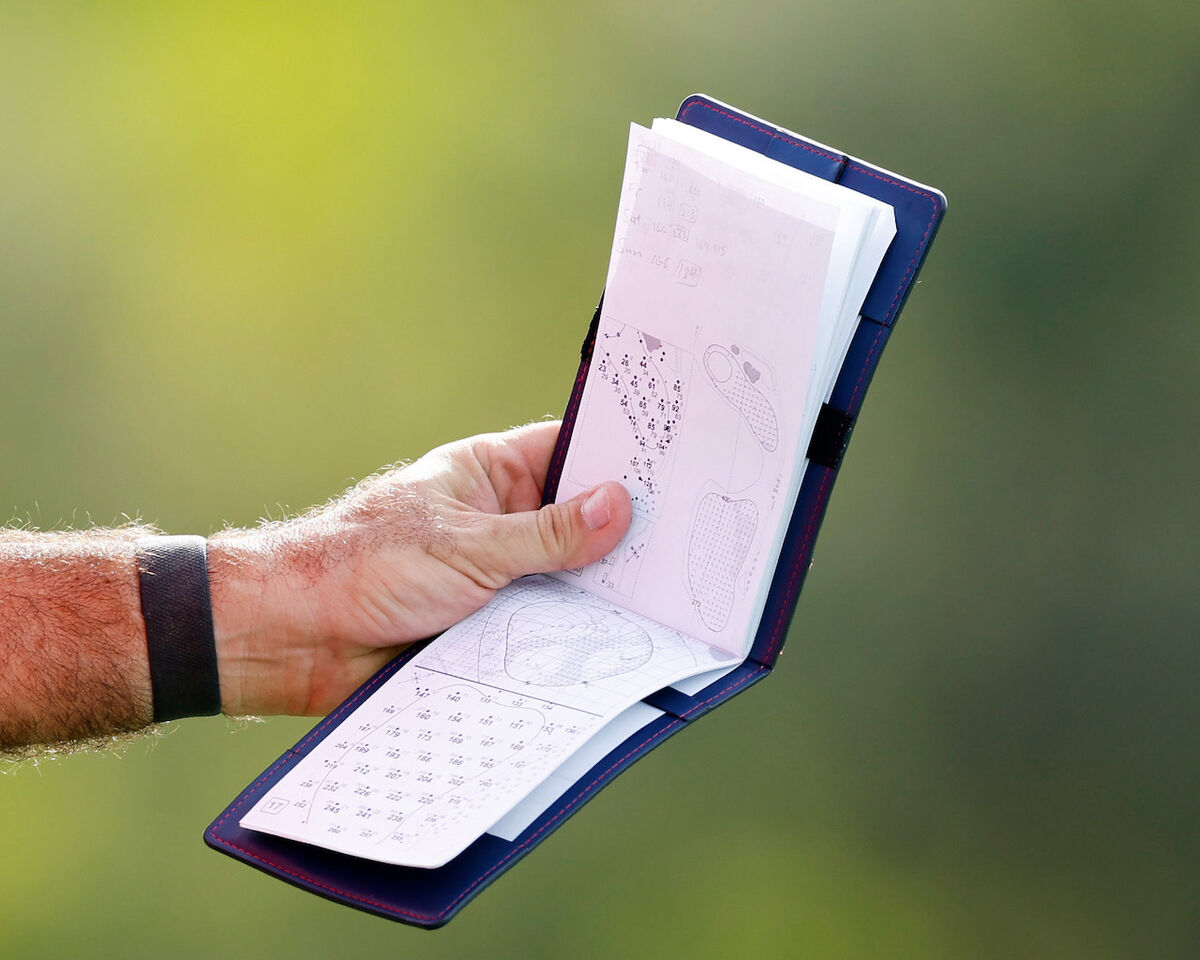 Have you ever wanted to use a golf yardage book? Any televised golf event shows plenty of caddie-player interaction. Before they can decide what club to hit, they must first determine the yardage. PGA Tour and LPGA Tour pros use golf yardage books to help navigate their way from shot to shot. Let's take a look to see if a yardage book could be a good tool for your game.
What is a Golf Yardage Book?
A yardage book is a player's guide to the golf course. Yardage books contain specific yardages to and from countless points on the golf course so players know exactly how far they stand from their target at all times. Yardage books also detail distances to hazards, what it takes to clear them, and what surrounds them.

Yardage books cover elevation as well, with the course's topography so players know where the high and low points are in the fairways. Yardage books also contain great detail about green complexes, which can be a tremendous advantage not only while putting but also on approach shots and chip shots.

While yardage books are vital to the success of a professional golfer, their importance correspondingly decreases with the level of competition. That's why you don't see many recreational golfers pulling out a yardage book during a Thursday evening twilight round at your local muni.
Yardage do books come in handy for recreational play in some situations. This is particularly true if you find yourself playing a golf course that you've never seen before. Any player can benefit from a yardage book on a course with severe elevation changes. Golf is difficult enough, the more advantages you can give yourself the better off you are. Yardage books give you every measurable course detail, so if one's available it's worth having in your back pocket.
You might be wondering why you need a golf yardage book with all of the advancements in golf GPS technology. First, professional golfers are not allowed to use any kind of GPS device. They are, however, allowed to use laser rangefinders in practice rounds. Also, in 2021, the PGA of America began allowing laser rangefinders at its championships, including the PGA Championship, KPMG Women's PGA Championship, and Senior PGA Championship as long as the slope feature is turned off.
Comparing a yardage book to a GPS device can be difficult because, while both serve the same purpose, the difference is in the details. A GPS device gives you satellite yardages, and most allow you to drop a pin where you need to know a distance. A yardage book is a true, pre-measured distance guide that gives you exact yardage without the potential for error when relying on a satellite.
It's worth noting that you can't go wrong with having a golf yardage book or a GPS because your yardage is much more accurate with one of those options than if you're simply relying upon on-course yardage markers.
Where to Buy a Yardage Book?
Most high-end courses sell yardage books in the pro shop, where they cost around $20 to $30.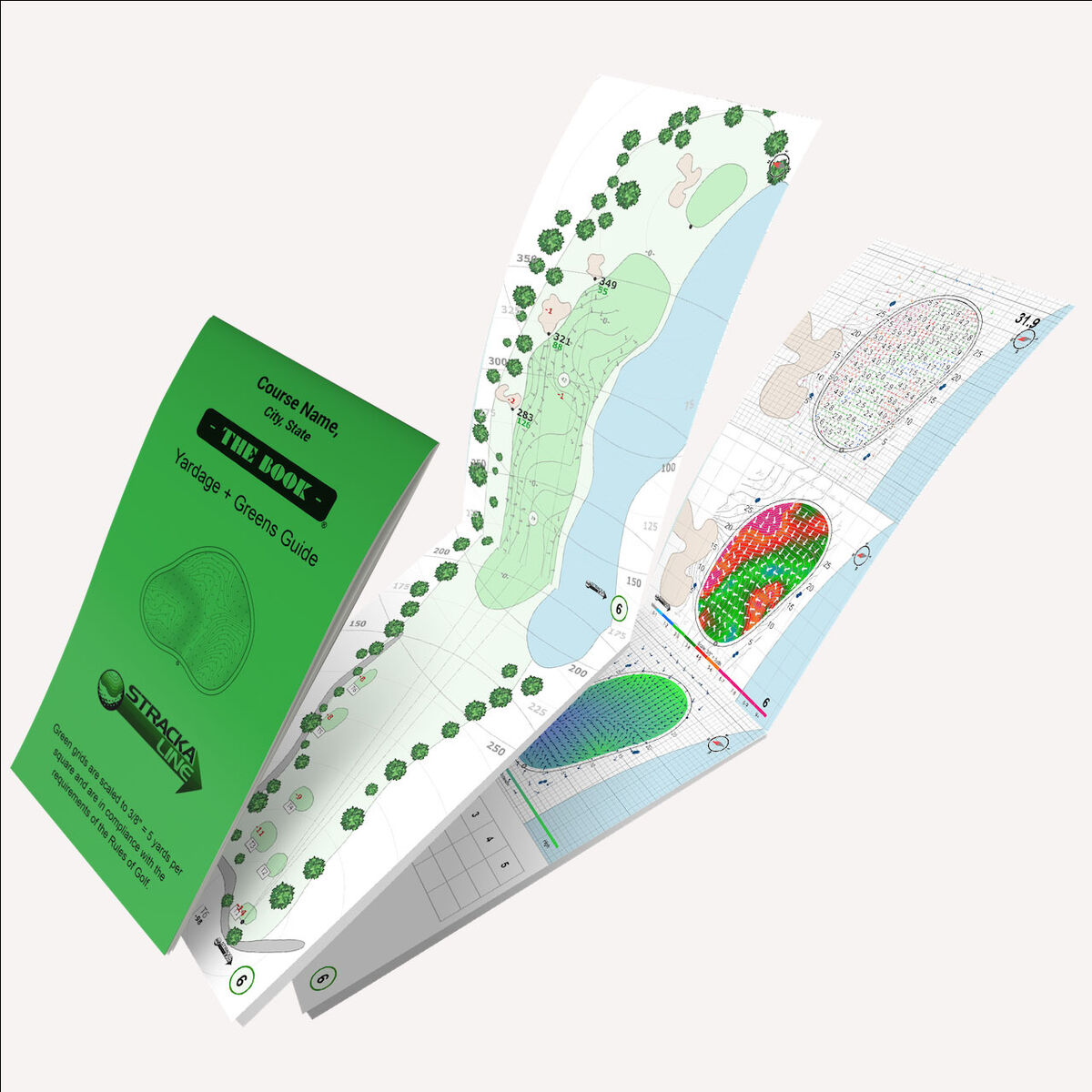 If the course you're playing doesn't have a yardage book you can always check out StrackaLine. This company offers both digital and hardcopy yardage and green books. They also offer a yearly subscription where you have unlimited access to all of the courses they have mapped out.

If you decide to use yardage books you can buy yourself a cool yardage book cover to keep it protected from the elements. You can find classic leather covers or even one in your favorite team's colors.

Yardage books might seem archaic to the average golfer, but once you use one to save a shot or two, you'll be hooked. And if you really get hooked, make sure to put them on display or fill up a fishbowl with them for a great souvenir or conversation piece.