Best Golf Sun Hats for Men to Protect Your Skin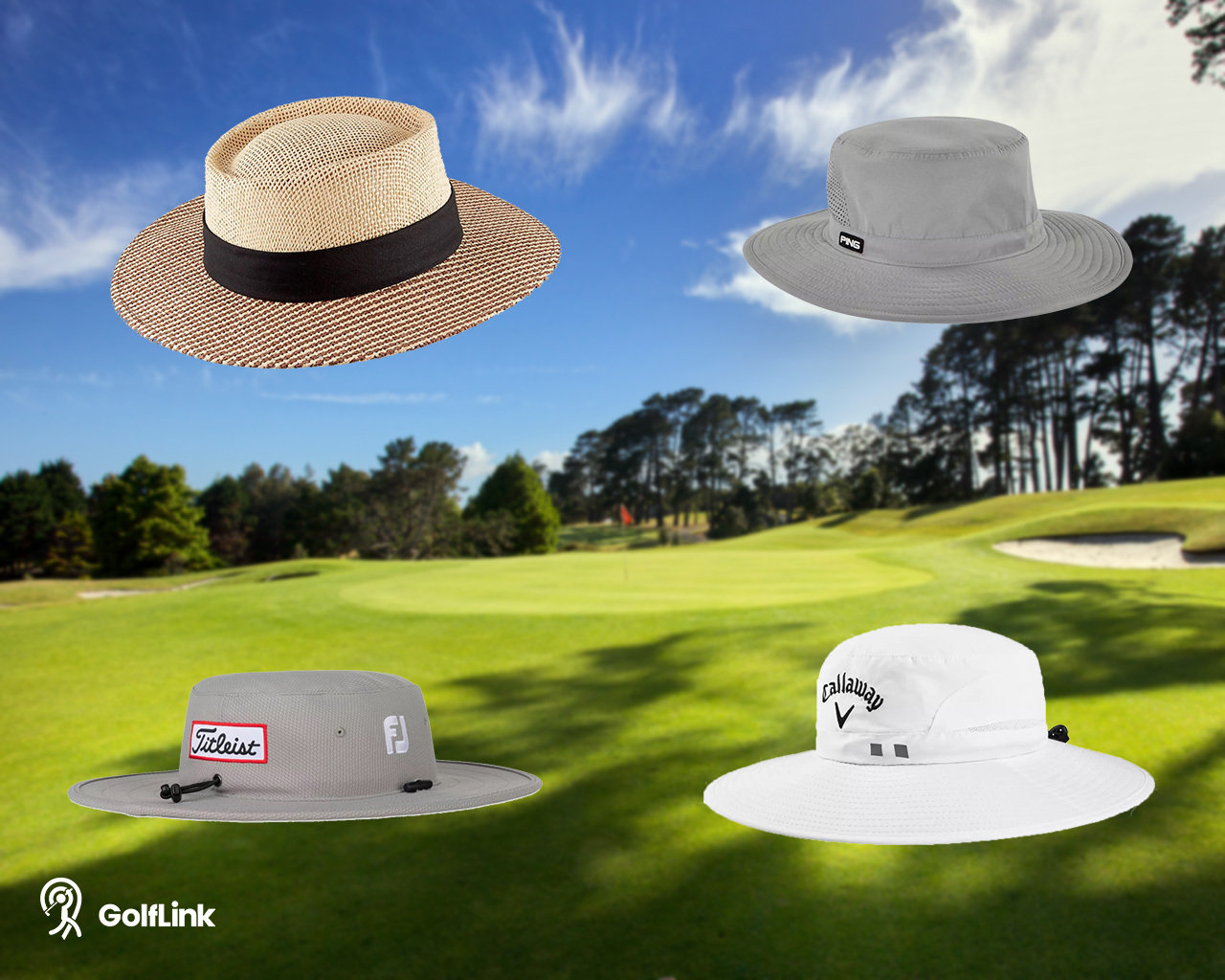 Protecting your skin from the sun and ultraviolet rays is critically important to your health. As golfers, we spend so much time in the sun we have to take extra steps to ensure we're being safe. A golf sun hat is a great accessory to keep you cool and your skin healthy. These full-brim hats are available in more choices than ever before, so which one might be right for you? Here are some of the best golf sun hats to consider.
What is UPF?
UPF is a common acronym you find when browsing golf sun hats or any article of sun-protecting clothing. UPF stands for Ultraviolet Protection Factor. Much like SPF (Sun Protection Factor) that you're familiar with in sunscreen, UPF is a standard that measures sunburn protection. UPF is specific to fabrics and is a great indicator as to whether a product is the real deal.
A product's UPF rating is its level of sun absorption. The higher the rating, the less the fabric absorbs. For example, a golf sun hat with a UPF rating of 50 indicates that the fabric is only absorbing 1/50th of the sun's UV rays. That means your skin is 98% protected. For perspective, a standard t-shirt has a UPF rating of around 7.
What Risks Are You Taking?
According to skincancer.org, golfers are at an increased risk of melanoma and non-melanoma skin cancers due to the amount of time spent in the sun during a typical round of golf. Using proper sunscreen and investing in products such as a golf sun hat will increase your protection significantly.
Best Golf Sun Hats
Here are some of the top picks in the golf sun hat category.
Coolibar Matchplay Golf Hat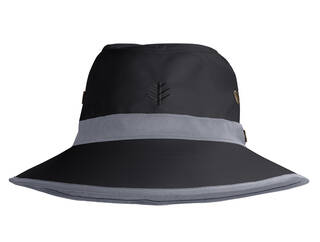 The Matchplay Golf Hat from Coolibar has a 4-inch brim and is a stylish way to protect yourself from the sun. This hat has a UPF rating of 50+, so you really can't find a higher level of protection. The Matchplay hat is surprisingly light in weight, so you'll feel like you're actually wearing a standard-size hat. The interior sweatband keeps you cool and dry and sizing is precise with three sizes available plus an adjustable drawcord to ensure the best possible fit.
Callaway Sun Hat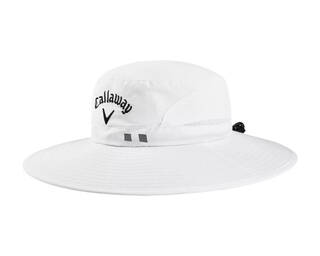 What better way to match your Callaway bag than to pair it with this wide brim Callaway Sun Hat? Made from breathable mesh, this hat has a moisture-wicking sweatband and mesh ventilation for superior comfort. One size fits all with an adjustable drawcord to customize your fit. This hat also has UPF 50+ protection.
Nike Dri-FIT Bucket Golf Hat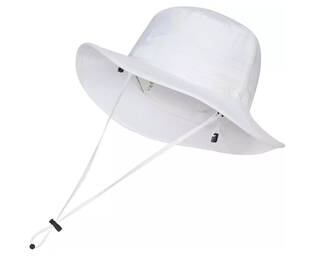 Most golfers are familiar with Nike's famous Dri-FIT lineup, but perhaps you didn't know that those same materials are used in a stylish bucket hat? The Nike Dri-FIT Bucket Golf Hat looks great on and off the golf course. In addition to keeping the sun off of your face and neck, this hat has vented sides for increased breathability, no matter how long you're on the course. It also has an adjustable buckle closure and a removable drawcord.
Walter Hagen Gambler Hat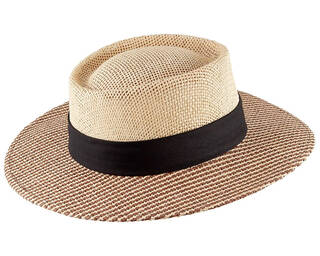 If you prefer the more retro, straw hat look that was once incredibly popular, give the Walter Hagen Gambler Hat a spin. This classic-looking hat is available in black or grey and has a moisture-wicking sweatband on the inside for added comfort. While Hagen himself mainly went hatless in his career, there are several pictures of him wearing a hat very similar to this style.
Walter Hagen Wide Brim Sun Hat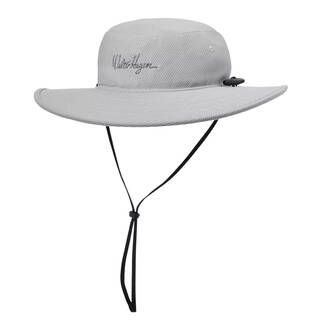 Sticking with the Walter Hagen brand, but with a modern twist, this Wide Brim Sun Hat offers a wider, 360-degree range of coverage to keep you protected from the sun. Available in white or grey, this one-size hat also has an adjustable chin strap for you to ensure a snug fit.
PING Boonie Golf Hat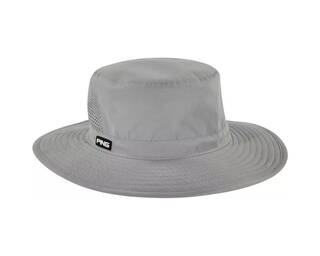 If you're a PING loyalist and you want to ditch the standard style of golf hat, this PING Boonie Golf Hat is perfect for you. Not only does this hat have full, wide brim coverage to keep you protected but it also has SensorCool technology which keeps your head cool even during Noon tee times in Scottsdale. Laser-cut perforations and mesh inserts add to the overall comfort of this great hat from PING.
Titleist Tour Aussie Golf Hat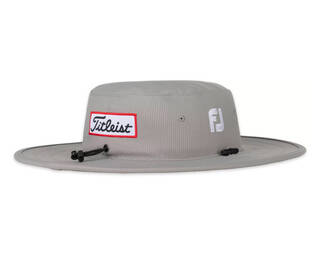 Titleist knows great golf products and Aussie's know great hats, so the Titleist Tour Aussie Golf Hat is the perfect marriage. This wide hat has slightly less flex in the brim so the option for it to be a floppy or bucket hat isn't likey. Available in three colors, all models have the iconic Titleist script at the front with FootJoy and ProV1 logos on either side. With UPF 50+ protection, this hat is made from a stretch material and has a removable chin strap. There's even an inside pocket for storage.
Conclusion
No matter what kind of golf sun hat you're in search of, remember that anything is better than nothing. Thanks to their popularity, golf sun hats are now a stylish and fun way to keep yourself protected from harmful UV rays.