11 Cool Ways to Mark Your Golf Ball That Really Stand Out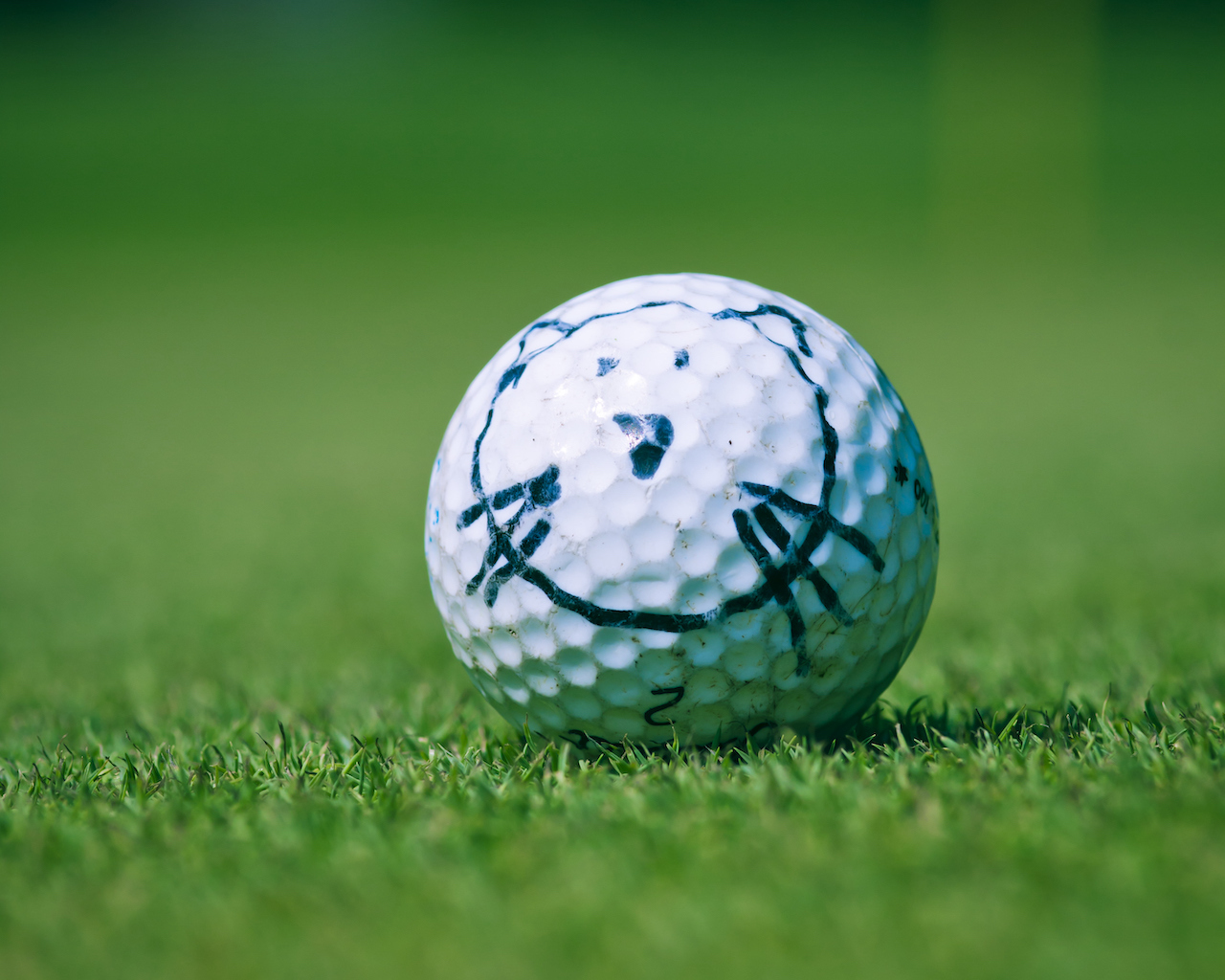 There are an infinite number of ways you can mark your golf ball. Some people like a clean look, while others really take to expressing their creativity while marking their personal golf balls.
Titleist is the world's number one producer of golf balls and has the loyalty of professionals and amateurs. Every televised golf event has extreme closeups of Titleist golf balls being rolled on the green and it gives viewers an inside look at just how the best players in the world mark their golf balls. In fact, Titleist has launched a series of videos through the years that feature their professional staff players and how they mark their Titleist.
What Do The Numbers on Golf Balls Mean?
The numbers on a golf ball are a baked-in way to help you identify your ball. Not only do you have the brand and type of ball, but the numbers give you one more trait to identify your specific ball.
Golf balls are typically numbered 1-4. With four sleeves of three balls each in a standard 12-pack of balls, you get one sleeve each of numbers 1-4.
If you want to keep your ball completely clean, you can rely solely on the manufacturer's numbers to identify it, but that's a risky strategy. First of all, there's no way to positively identify your ball when you think you've found in on the bank of a water hazard, just inside an out-of-bounds stake, or in some thick rough. Even if the ball fits the description of yours, without any unique markings, it could just as easily have been abandoned or lost by another golfer. 
Secondly, if you roll without unique markings on your ball, it's super easy to forget which number ball you're playing with. If you grab a few Titleist Pro V1s out of your bag that came from the same box, but not the same sleeve, you may tee up a No. 1 on one hole, and a No. 3 on the next. If you're not paying close attention to which exact ball you're using on each hole, you can easily get yourself into trouble. It's not fun when your playing partners are helping you search in tall fescue and you can't even tell them what number Pro V1 is yours. 
To eliminate any uncertainty, here are 11 cool ways to mark your golf ball to make sure it will really stand out, whether you want to keep it clean and cool, or add some unique style and personality.
Dots
Dots are the age-old, simplistic way to mark your golf ball. The path of least resistance, if you will. Some golfers have a strategy when placing dots on their golf balls. A specific placement above, below, or to the side of text or a number is popular. Filling in single or multiple dimples on a golf ball is the easiest way to go if you find out you're playing the identical golf ball to someone in your foursome.
Initials
Inking your initials on your golf ball is a surefire way of making sure a golfer from another fairway doesn't pick up your ball. There are even professionals who prefer to mark their golf balls in this fashion.
Single Line
Quite possibly the most popular way to mark your Titleist, or any brand of golf ball, is with a single line. This is widely used for proper alignment when putting. Some people prefer to place the line over the manufacturer markings on the golf ball, others choose the blank side of the golf ball. This style is so popular that Titleist began incorporating lines and arrows on its ProV1 model in 2007.
There are several products designed to make marking lines on your golf balls quick and easy. AimPro is a product that takes it a step further and incorporates a ball marker that you use in conjunction with your marked golf ball to read greens with more accuracy.
Multiple Lines
In 2019, Callaway introduced the ERC Soft golf ball which featured Triple Track markings. The design of two parallel blue lines with a single red line running between them opened up new ways for manufacturers to add alignment aids to their models. Since that time, Callaway has released several golf ball models in addition to an entire line of putters featuring Triple Track.
Multiple lines on golf balls is an alternative if a single line doesn't give you the proper visual you're looking for. The Tri-Line from Golf-Ez is a great product if you would like to create your own design with different colored Sharpie markers.
Golf Tip
If you have legible handwriting you can actually give yourself a little swing reminder on your golf balls. There are even some instructors who encourage this for amateur golfers. Simply writing something such as, "head down" or "left foot" can be a quick reminder and lead to better execution.
Crosshair
Drawing a crosshair design on your golf ball can be an aid not only in putting, but also on tee shots. For the same reason, crosshairs are used on weapons, your eye easily settles on the marking and ensures proper direction.
Drawing a crosshair on your golf ball freehand, with accuracy, is no easy task. This Classic 5 in 1 tool from Crosshairs Golf not only helps you with the marking, but it's also a divot tool, groove cleaner, a grip prop, and has a removable ball marker.
Tin Cup
If you're looking for a fun and easy way to mark your golf ball, Tin Cup has a seemingly endless number of options to choose from. The cups are metal, as opposed to plastic, so they'll never break. The hard part is choosing which Tin Cup you like best. They have everything from state outlines to animals and even dinosaurs. No matter which design you pick, each time you mark your golf ball it will look as good as the first.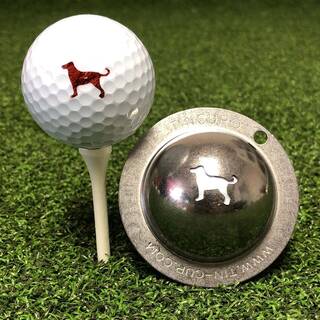 Golfdotz
Golfdotz are another fun and colorful way to add some personality to your golf ball. Golfdotz are even used by some professional golfers. These aren't stickers but they do apply to your golf ball and stay put. You'll find an array of flowers, flags, insects, and just about anything else. Each package comes with 32 Golfdotz so you'll have plenty of extras for when you have to break open the new supply of balls.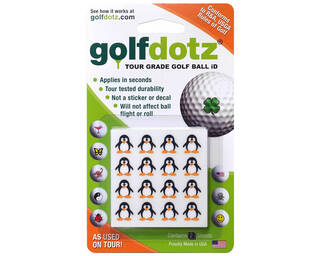 Custom Stamp
A custom golf ball stamp like one from The Golf Ball Stamp is a permanent and smudge-free way to mark your golf ball. It's fully customizable with your letters or design, and each stamp comes with a refill of ink.
Custom Imprint
If you would prefer to not go through the hassle of remembering a Sharpie in your bag or purchasing a device to mark your golf ball, Titleist offers custom imprinting on all of its models. Feel free to get as creative as you'd like. You'll even get a proof to approve before moving forward. This is a very popular way for professionals to mark their golf balls as we've seen for years the famous 'TIGER" on all of Tiger Woods' golf balls. Another example is Rory McIlroy having "RORS" printed on all of his golf balls.
Custom Numbers
If you play the Titleist ProV1 or ProV1X you can have custom numbers printed on your golf balls. For a few additional dollars you can choose anything from 00 to 99. Perhaps your birth year or your old high school football number? Just the idea of someone asking you what you're hitting and you get to respond with, "Titleist 72," sounds like fun.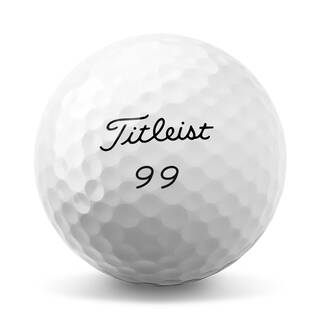 Conclusion
No matter how you choose to mark your golf ball, it's good to make a habit of doing so. It can lead to less confusion among your group or if you run into a situation with another group on the course. Plus, marking you golf balls is a great way to put a little personality on a round, white canvas.