How to Refurbish a Golf Cart Battery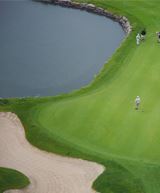 Having the battery on your electric golf cart die can be a frustrating experience. Before resigning yourself to replacing your dead battery altogether, and the costs which come with it, try refurbishing your battery through a water change and a series of charges.
Instructions
Difficulty: Moderately Easy
Place the water in the large mixing bowl, ideally in a warm state to allow easier mixing.
Combine the salts with the water.
Remove the cell caps on your battery and empty the old water.
Refill the cells with the new mixture you have created.
Use the battery charger on your battery.
Leave the battery to sit for a week before re-installing, recharging two to three times during the week.
Re-install the battery.