Updated October 5, 2022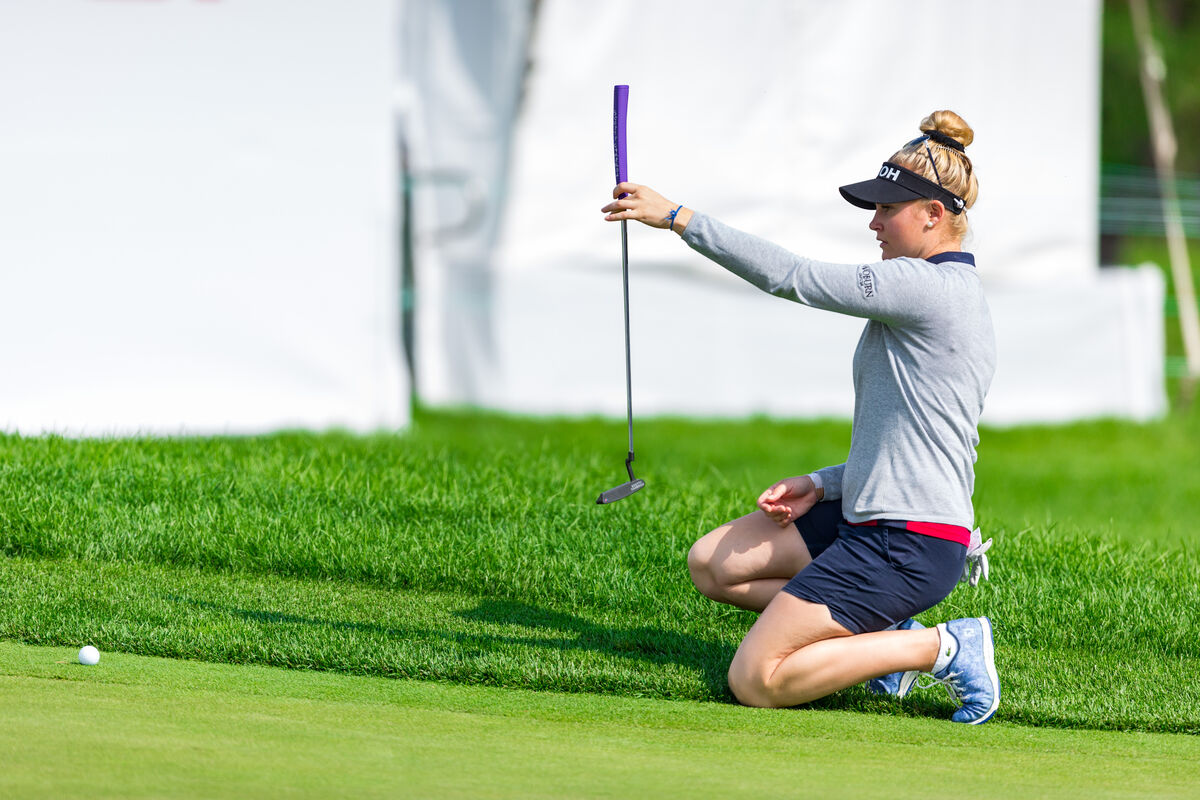 If you've ever wondered why your playing partner is holding their putter in front of their eyes on the green, it's a green-reading method called plumb bobbing. This method is used by amateurs and professionals, but does it actually improve your putting game? Check out this guide to learn how to plumb bob, and we'll leave the trial and error up to you.
It's important to note that Plum Bobbing only works when all variables - meaning you, the golf ball, and the hole - are on the same slope. If you have a putt that breaks severely to the right and downhill, this method won't be of much help.
Stand about three paces behind your golf ball, and make sure you, your ball, and the hole and in a perfectly straight line, and you have no lean in your legs, hips, or shoulders.
With only your dominant eye open, hold the putter out in front of you so the edge of the shaft bisects the ball.
Look to see what side of the shaft the hole is on. If it pops out on the right side, the putt breaks to the right, and vise-versa. If it doesn't favor a side you likely have a straight putt.
The line of your putt is your shaft line when plumb bobbing. For example, if your shaft appears slightly left of the hole, aim your putt slightly left, along the shaft line.
Why Consider Plumb Bob Method
Putting is one of the most difficult elements of golf. If you're considering plumb bobbing, you've probably already tried a few other tactics to improve your putting performance. Whether you've tried a new putting grip, purchased a new putter (or two), labored through various practice putting games and drills, or watched a dozen how-to putting videos, it's clear you'd like to drain more putts. 
Only consider the plumb bob method if you're struggling with reading greens. plumb bobbing won't improve your stroke, stance, distance control, alignment, or any other aspect of your putting game, but many golfers feel that it helps get the proper read.
As you can imagine, Plumb Bob putting takes some of practice. It's best to not experiment with this while on the golf course, but rather on the practice green. Devote the time and effort to this craft and it may just help you read greens with more accuracy.
Start by practicing on a putting green with a break you know. That will help you determine whether you're plumb bobbing correctly. Trust your eyes. To the naked eye, you may have a hard time seeing the break, but if you see it when you plumb bob, trust it.
Finally, do not use this method on a putt with multiple breaks. Plumb bobbing a putt with more than one break will show only which way the ball will travel on the break closest to the hole.
According to YourDictionary, a plumb bob is: "A usually conical metal weight attached to the end of a plumb line." 
Today, it's a common tool used by plumbers and carpenters. Its origins, however, date back nearly 4,000 years to when the Egyptians were building the pyramids and invented the tool to help in determining accurate, vertical points.
If plumb bobbing works for these professional golfers, whose to say it won't work for you?
Rickie Fowler
Patrick Reed
J.B. Holmes
Curtis Strange
Kenny Perry
We're all for draining more putts at all costs. Putting is the most ignored part of the game by amateurs, so if plumb bobbing takes your putting to the next level, game on. Just remember, results vary as this isn't an exact method and there are several variables in play.