What Is the Cheapest Way to Play Pebble Beach?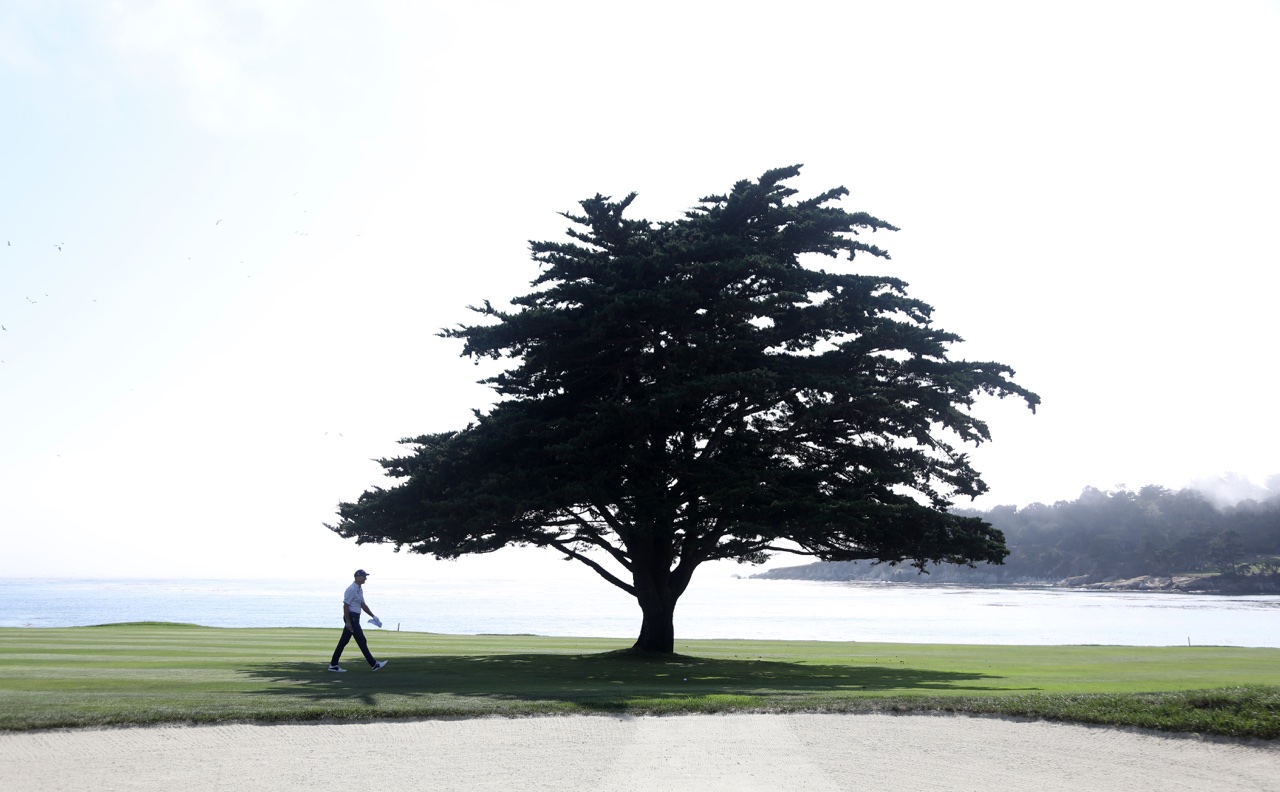 Is Pebble Beach on your golf-course bucket list? Of course it is, because it's one of the most recognizable places in all of golf. Fortunately, Pebble Beach is a public course that anybody can play. That is, anybody willing to pay the steep price. There is no truly cheap way to play Pebble Beach, but if you love a bargain as much as you love playing world-famous golf courses, check out these tips for the cheapest ways to play Pebble Beach.
Standard Pebble Beach Green Fees
The going rate to play Pebble Beach is second only to Shadow Creek in the United States, at $575 per green fee plus a $45 cart fee per person for the non-resort guests. If you want a caddie, it'll cost you $95 a bag, $145 for a single caddie fee or $47.50 per person with a three-player minimum for a forecaddie. Those fees don't include tip, so keep that in mind before hitting the 19th hole.
For the savvy shoppers out there, here are some strategies for getting the cheapest possible tee time at Pebble Beach.
Go in the Slow Season
The most affordable time to play Pebble Beach is between December and March. No, the weather isn't always great this time of year, with a higher threat of rain and cold weather, but it'll save a few bucks.
You'll likely still pay around $550, but it's $25 cheaper than the busy season. However, the other courses at the resort also feature reduced winter rates, including Spyglass Hill for $395, Spanish Bay for $290 and Del Monte for $110.
Last Minute Pebble Beach Tee Times
While it may sound like the least ideal situation, calling the Pebble Beach Golf Reservations line at (800) 877-0597 just 24 hours in advance to see if there is next-day availability could land you on one of the hottest tee sheets in the nation.
There are also same-day walk-up options, but you'll need to get there as early as possible to have a shot. When you arrive, the starter will put you on the list. Any availability is distributed on a first-come, first-served basis. It's not impossible, but it is a gamble.
These last minute deals may even get you a discounted rate, but it isn't guaranteed. Either way, the gamble may be worth forking out the cash.
Carry Your Own Bag and Walk
Carrying your own bag and walking the course won't save that much money, but if you choose to do so, it'll save you around $140 on top of the already hefty greens fee.
Twilight Rates
There are no twilight rates at Pebble Beach Golf Course, but there are at Spyglass Hill and Spanish Bay golf courses. If you're hitting multiple courses in one trip, consider a morning round at Pebble Beach and a discounted twilight round at Spyglass, where the twilight rate is $225, or at Spanish Bay where it's $165.
Group Sizes Matter
The best bet to get onto Pebble Beach is by playing it solo. It's not impossible to get a twosome or even a foursome out there, but the fewer the players, the higher the probability they'll be able to get you on the course.
However, playing with a group can help save money, especially if your group is willing to split the cost to stay at the resort and take advantage of a golf package. The bigger the group, the less you'll have to pay per person.
Normal Route
The normal route to play Pebble Beach is by going through their website and booking a golf package to stay at the resort and play golf. Golfers can reserve a spot as early as 18 months in advance, but there are minimum stay requirements. If you want to play on a weekend, there's a two-night minimum stay.
Staying at the resort will cost you though. A one-bedroom Garden View room is the cheapest option at $990 a night, and the rates go up to the Fairway One 4-Bedroom Cottage Suite at $7,550 a night.
Create Pebble Beach Memories
While a $550 green fee won't appeal to everyone, the Pebble Beach experience is well worth the money for many avid golfers. If you want to play perhaps the most recognizable public golf course in America, try any of these methods to get your tee time. No matter what it'll cost a good chunk of change, but you'll create memories that'll last a lifetime.
Image: Jed Jacobsohn/Getty Images Sport via Getty Images