Inside Phil Mickelson's Historic PGA Championship Triumph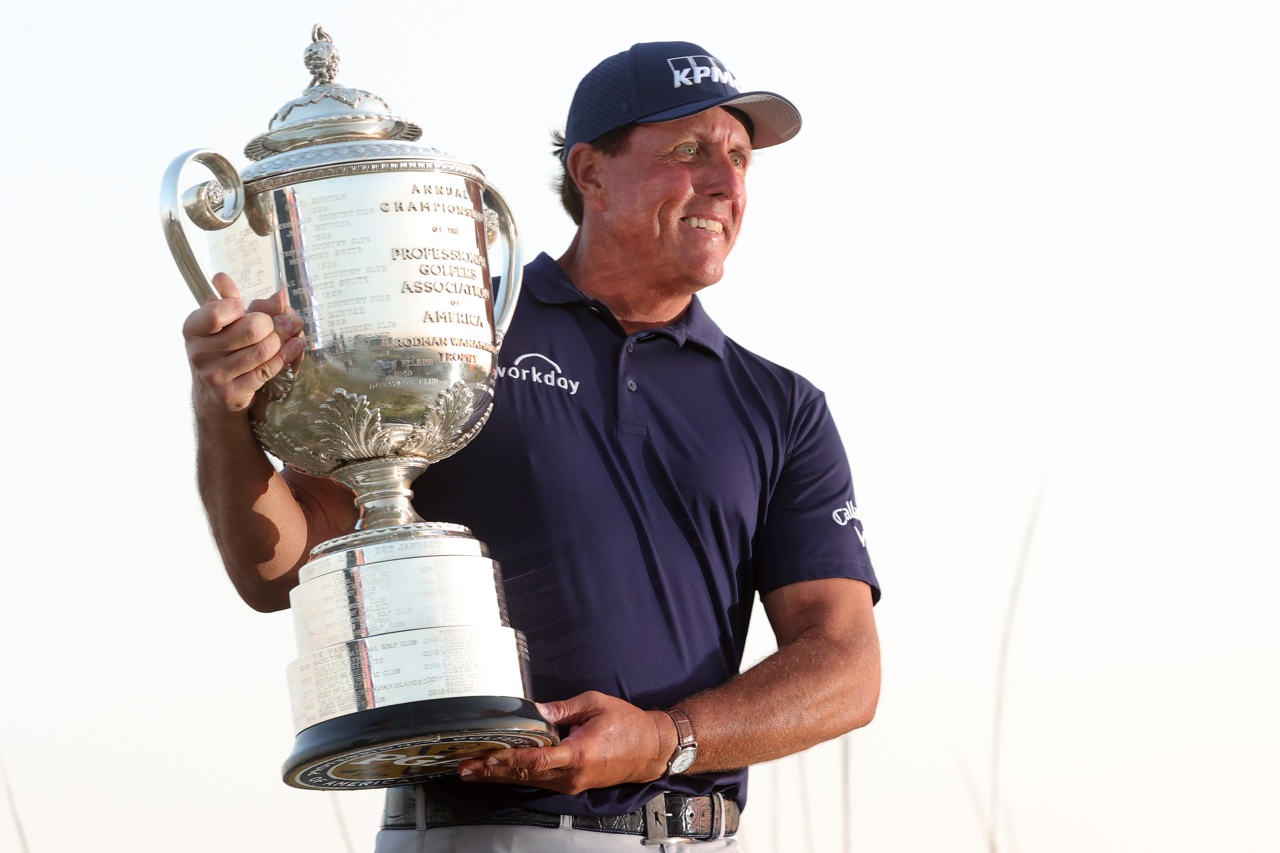 As a youngster on the PGA Tour, Phil Mickelson was known as the best player who couldn't win a major. Now he's the old guy who can't stop.
Mickelson made history by winning the 2021 PGA Championship — his sixth major — at 50 years, 11 months and seven days old to become the oldest major champion in history. With six majors on his resume, Lefty moves into a tie for 12th all-time with Lee Trevino and Nick Faldo.
"I believed for a long time that I could play at this level again," Mickelson said. "I didn't see why I couldn't, but I wasn't executing the way I believed I could, and with the help of a lot of people, my wife especially, Andrew Getson and my brother Tim and Steve Loy, I've been able to make progress and have this week."
How Phil Mickelson Won the 2021 PGA Championship
Mickelson began the final round with a one-stroke lead over four-time major winner — including 2018 and 2019 PGA Champion — Brooks Koepka, and got off to a rocky start. He made bogey on the first hole while Koepka birdied for an instant two-shot swing that left Koepka atop the leaderboard. But Koepka made double-bogey on the second and Mickelson birdied to regain the lead.
Mickelson carded six bogeys in the final round in total, but negated much of the damage with five birdies and added seven pars and after 72 holes it was enough to give him a two-stroke cushion over Koepka and Louis Oosthuizen.
"So it's very possible that this is the last tournament I ever win," he said. "Like if I'm being realistic. But it's also very possible that I may have had a little bit of a breakthrough in some of my focus and maybe I go on a little bit of a run, I don't know. But the point is that there's no reason why I or anybody else can't do it at a later age. It just takes a little bit more work."
What it Means
Earlier this month, the USGA granted Mickelson a special invitation into the 2021 U.S. Open at Torrey Pines, where he will attempt to complete the career grand slam. After his PGA Championship triumph, however, Mickelson won't need the special invitation, as he's earned a bid into the next five U.S. Opens, Masters and Open Championships. He already held a lifetime exemption into the PGA Championship thanks to his 2005 win.
The win also boosted Mickelson from No. 115 to No. 32 in the Official World Golf Rankings, and moved him into 16th in the United States Ryder Cup standings. The top six players will automatically qualify and captain Steve Stricker will select six more players to round out the team. Mickelson has played in a record 12 Ryder Cups and has not missed one since making his debut in 1995.
Show Me the Money
In addition to the rankings boosts and exemptions, there's the cold hard cash. For his efforts, Mickelson took home $2,160,000. Runners-up Koepka and Oosthuizen also had seven-figure weeks, winning 1,056,000 apiece. Ben Cook, PGA, the low club professional of the 20 PGA Professionals to make the field, finished t-44 to win $31,300.
Image: Stacy Revere/Getty Images Sport via Getty Images