How COVID Changed Golf: The Pandemic's Impact on the Sport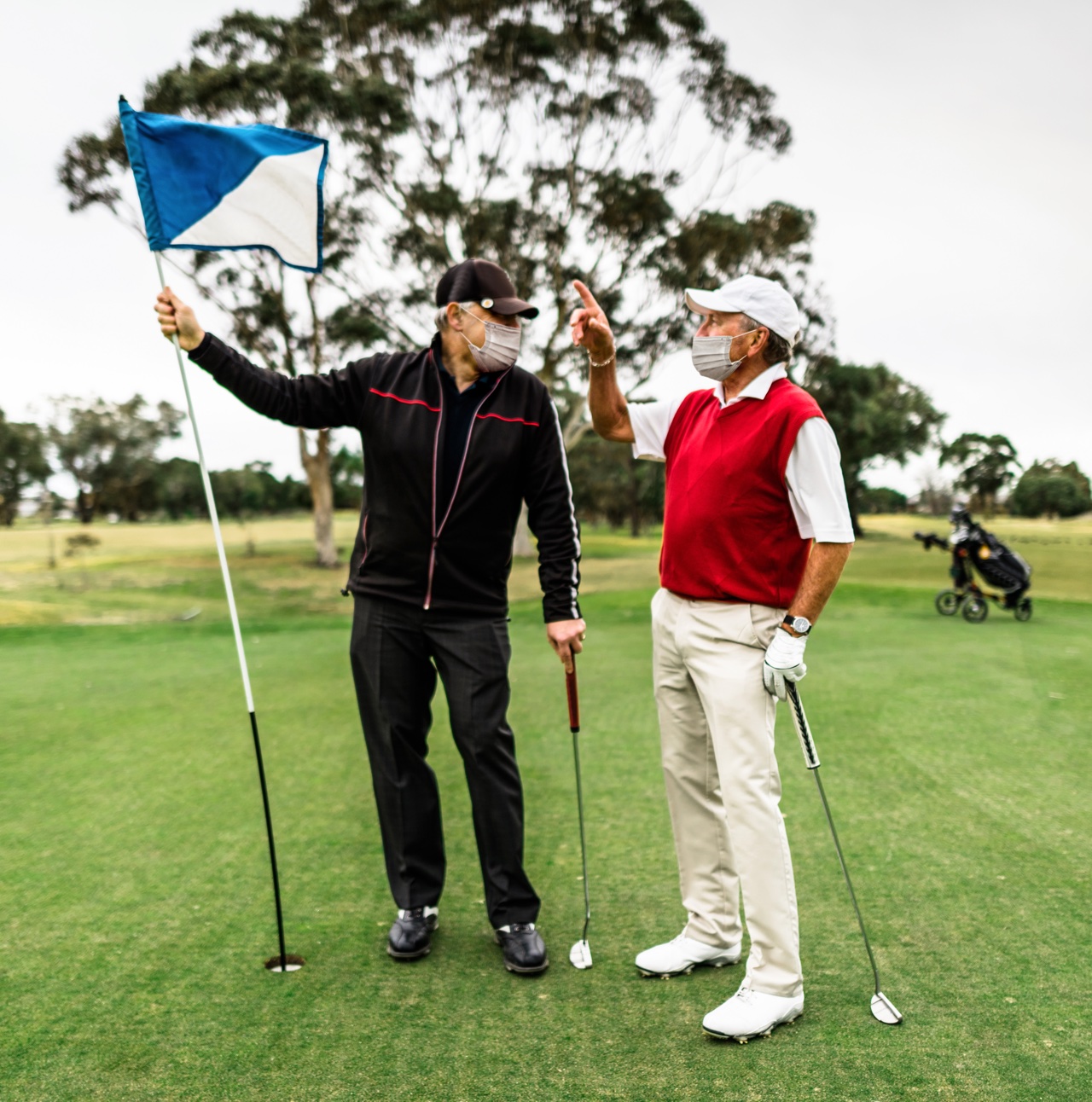 For the past year, the COVID-19 pandemic has stripped Americans, and people all over the world, of many of the activities they love: concerts, sporting events, parties, the list goes on. But through it all, one pastime has not only survived, but thrived: the glorious game of golf.
Many golfers discovered the game years ago, happy to spend a peaceful day on the links while friends and family opted for other activities. Though it hasn't been a "Big Four" sport in America in the past, golf has remained steady in its popularity over the years.
Then the pandemic rocked our lives and the world shut down early in 2020. Just as quickly, golf boomed as the sport remained on the very short list of safe recreational options. Some of the safety protocols in place during the COVID-19 pandemic naturally fit the game of golf. Avoid gathering inside where germs are concentrated: check. Stay at least six feet apart: check. Do not share equipment or supplies: check.
Bring on the golfers.
Golf's Rise in Popularity
According to the National Golf Foundation, golf had a meteoric rise in 2020. The NGF estimates that golf reached over 101 million people in 2020, with one in every three Americans aged 6 and up playing, watching or reading about the sport.
People – even those who previously didn't know a thing about three woods, Tiger Woods or slices into the woods – were suddenly intrigued by the sport that was still safe and acceptable to play. In 2020, 36.9 million Americans played golf, including 12.1 million who only played off-course at either a golf simulator, entertainment venue or a driving range. That's a sharp increase over the 34.2 million Americans who played in 2019.
GolfLink felt the boom along with the rest of the golf industry, seeing website traffic increase 162% and online tee time bookings increase 136% from 2019 to 2020. A 160% spike in female users in 2020 along with an uptick in younger users, a 338% surge among 18- to 24-year-olds, indicates that more families began enjoying the game together in 2020.
"People who were getting their exercise in a gym or by playing a team sport in the past were left with a void to fill in 2020," said Howard Love, GolfLink CEO. "The same goes for families who could no longer go to the movies, theme parks, or barbeques together. Many of those people found golf as a great way to fill that void, as it provided the perfect venue for people to safely be social, have fun, exercise, and enjoy the thrill of one of the world's great sports. I'm willing to bet that a lot of will them stay involved in the game long after COVID restrictions have been lifted."
A whopping three million Americans played golf on a course for the first time in 2020. Compare that number to 2011 when 1.5 million people took their first swings on a course.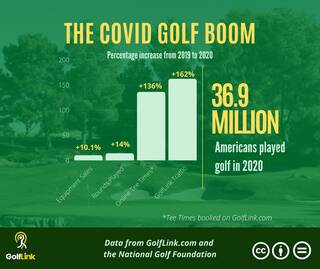 More Free Time Means More Golf Rounds
Have you noticed it has become more difficult to get a tee time the past year? Even favorite off-the-beaten-path courses are filling up with golfers who now have more free time due to their kids' canceled activities and business trips that have turned into Zoom calls.
NGF reports that about 501.8 million rounds of golf were played in 2020, an increase of 14% over 2019. Most of those rounds were played after April as many courses were temporarily closed during the start of the pandemic.
In 2020, golfers played an average of 20 rounds.
Golf Equipment Sales are Also Up
Golfers invested more than their time into the game in 2020. Golf Datatech announced a 10.1% increase in equipment sales over 2019. It was the biggest increase in equipment sales ever. The previous high, a 10% increase, came in 2005 and was fueled in part by Tiger Woods' dominance as he won both the 2005 Masters and Open Championship, his ninth and 10th majors.
"While the global pandemic wreaked havoc on many segments of our economy, the golf industry experienced a significant boost in rounds played and equipment sales," said John Krzynowek, Partner, Golf Datatech. "On the equipment side, sales increased by low single digits in both 2018 and 2019, but the double-digit gains in 2020 can only be attributed to the pandemic and golf being a respite for so many."
Will Golf's Recent Popularity Continue?
As the world begins to reopen and calendars become crowded again, it is safe to assume less rounds will be played on the golf course. Will golf also lose its popularity? It is too soon to tell, but as most golfers know, a small taste of the game is all it takes for a lifetime of appreciation.
Header Image: franckreporter/E+ via Getty Images