Breaking Down Phil Mickelson's 54-Hole Major Championship Leads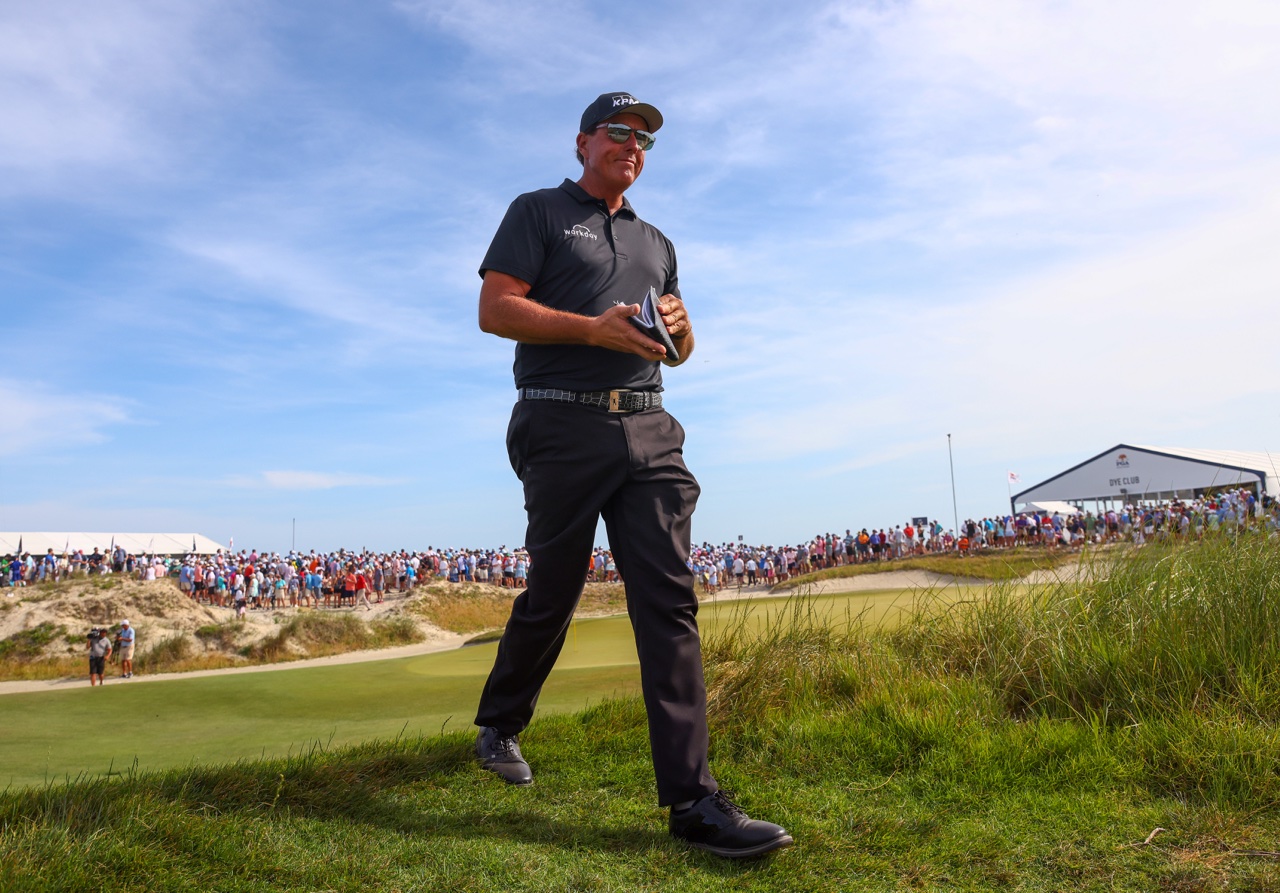 Phil Mickelson won his sixth major championship and became the oldest golfer in history to win a major at 2021 PGA Championship. Mickelson, who won at 50 years, 11 months and seven days old, entered the final round with a one-stroke lead over four-time major winner Brooks Koepka. It was Mickelson's third outright 54-hole major championship lead, and the sixth time he held at least a share of the 54-hole lead in a major.
In his previous six rounds as the 54-hole leader or co-leader in a major, Mickelson has won four times and broken par twice. Two of those victories included 72nd-hole birdies to win by one stroke. Here's a look at each of Mickelson's 54-hole major championship leads and co-leads.
2021 PGA Championship: Leader by 1
Result: Won (73/+1)
Mickelson made history in 2021, becoming the oldest player to win a major when he secured a two-stroke win in the PGA Championship. Mickelson's one-stroke lead through 54 holes turned into a one-stroke deficit after 55 holes when his opening hole bogey was met with a birdie from playing partner Brooks Koepka. But Mickelson recovered and shot a 1-over par 73 and nobody who began the day within seven strokes of the lead broke par.
2013 U.S. Open: Leader by 1
Result: T2 (74/+4)
Mickelson made history in the final round of the 2013 U.S. Open, but not the kind he wanted. Entering the final round leading by a stroke, Mickelson shot 4-over par over the final 18 holes to finish two strokes behind winner Justin Rose and tied for second with Jason Day. With the runner-up finish, Mickelson set the U.S. Open record for most second-place finishes with his sixth.
2006 U.S. Open: Tied 1st
Result: T2 (74/+4)
Not only was Mickelson tied for the 54-hole lead at the 2006 U.S. Open at Winged Foot, but he held a 1-shot lead through 71 holes. Needing just a routine par on the final hole to win his elusive first U.S. Open, or a bogey to get into a playoff, Mickelson could manage neither. Lefty pulled driver on the final tee and missed it way left. He then attempted a heroic recovery shot, but instead hit a tree and netted not much more than a dozen yards.
His next shot, his third on the par-4, mercilessly fell into a fried-egg lie in a green-side bunker. Needing to get up-and-down from there to force a playoff, Mickelson was unable to hold the green with his bunker shot or hole his ensuing chip. The result was a double-bogey six, and his fourth U.S. Open runner-up finish.
2006 Masters - Leader by 1
Result: Won (69/-3)
Mickelson led Fred Couples and Chad Campbell by a stroke with Tiger Woods, Vijay Singh, Darren Clarke, Tim Clark, Stephen Ames and Rocco Mediate just two strokes behind through 54 holes. That's a leaderboard no golfer would feel comfortable leading. But Mickelson held off the field, shooting a final-round 3-under par 69 to win his second major championship in a row and his second green jacket. Mickelson was 8-under par through 17 holes on Sunday before making his only bogey of the round on the 18th hole to secure the two-stroke win.
2005 PGA Championship: Tied 1st
Result: Won (71/+1)
Mickelson and Davis Love III were tied for the 54-hole lead but with nine other players within two strokes, there was no room to relax. The final round was suspended with Mickelson putting for par on the 14th hole after rain had caused delays throughout the day. At the time play was suspended, Tiger Woods was the leader in the clubhouse at 2-under par.
When play resumed on Monday, Mickelson remained tied for the lead, sitting at 3-under par with Thomas Bjorn and Steve Elkington. For the second time in as many years, Mickelson won a major championship by a single stroke with a 72nd hole birdie. This time, he hit a flop shot on the par-5 18th hole to two feet and converted the birdie putt while Bjorn and Elkington settled for par and a tie for second.
2004 Masters: Tied 1st
Result: Won (69/-3)
Hoping to shed the reputation as the "best player without a major," Mickelson was tied with Chris DiMarco through 54 holes at 6-under par entering the final round. Mickelson and DiMarco were two strokes ahead of their nearest competitor, Paul Casey, and three clear of anybody else. It was Ernie Els, who started the day three behind the lead, who proved to be Mickelson's biggest threat. Els carded two eagles and shot 67 ahead of Lefty to put the pressure on.
Mickelson stumbled early with bogeys on three of his first six holes, with just one birdie in that stretch, to fall to 4-under par and drop out of the lead. It took a sensational back-nine from Mickelson to eventually scratch out a 1-stroke win. Mickelson birdied the 12th, 13th, 14th and 16th holes to match Els at 8-under par. Needing a par to force a playoff and a birdie to win on the 72nd hole, Mickelson pulled through with the rare Masters-winning 72nd hole birdie, sealing a one-stroke win over Els and opening the floodgates for his major wins.
Image: Gregory Shamus/Getty Images Sport via Getty Images