A Six-Pack of Heartbreak: Inside Phil Mickelson's U.S. Open Runner-Up Finishes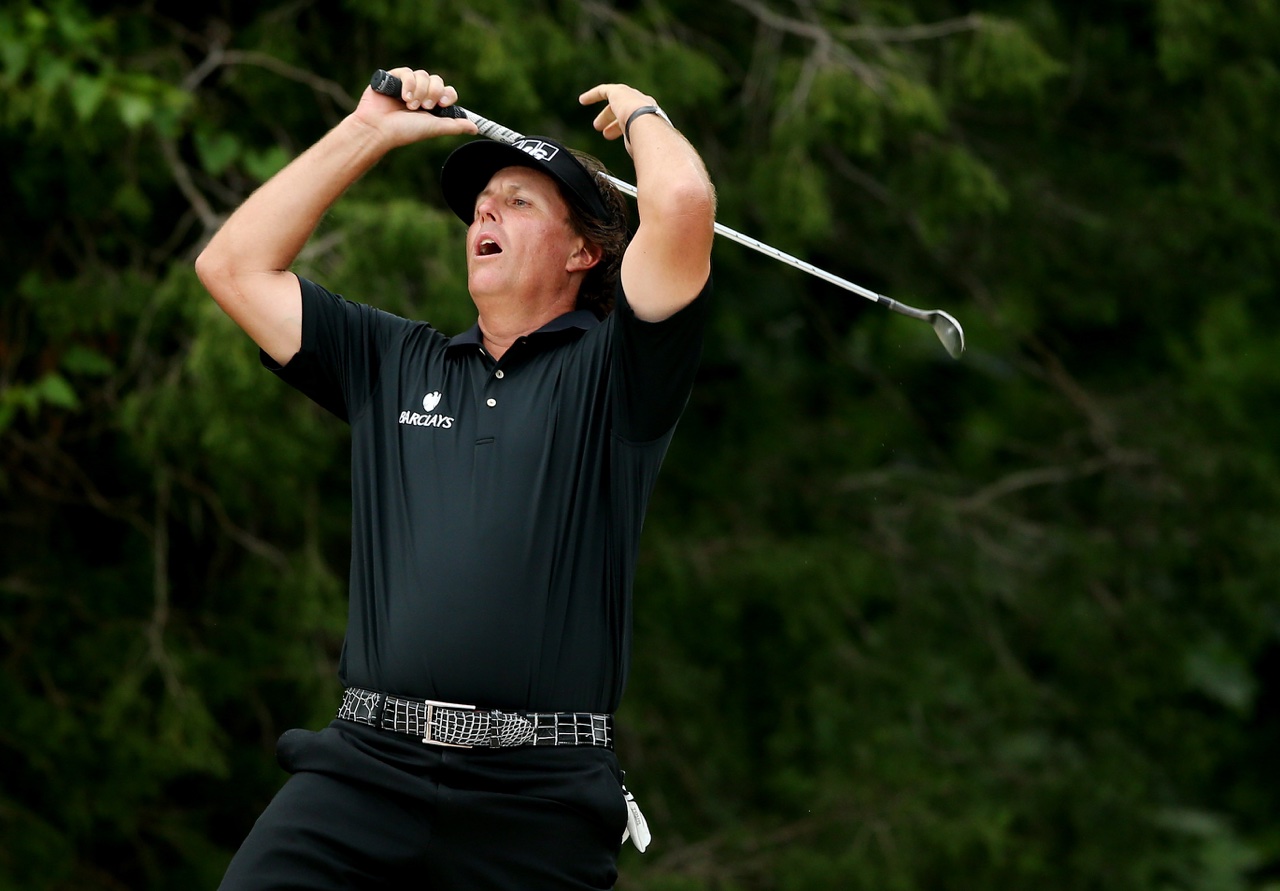 Few athletes, in any sport, have had as tantalizing a relationship with one event as Phil Mickelson has with the U.S. Open. Mickelson, winner of six major championships, needs only a U.S. Open win to become the sixth golfer in history to win the career grand slam. But that's not even the tantalizing part. Mickelson has come oh-so-close to winning his nation's Open time and time again, with a heart wrenching six U.S. Open runner-up finishes. If there's a silver lining, it's that Lefty has collected a combined $3.387 million for just his six U.S. Open second-place finishes alone.
Of course, not all second-place finishes are created equal, so here's a complete breakdown of all six of Mickelson's U.S. Open close calls.
1999, Pinehurst No. 2
Winner: Payne Stewart (-1) Phil's Finish: Solo 2nd (E) Phil's Payday: $370,000
The beginning of Phil Mickelson's U.S. Open heartache also marked the end of Payne Stewart's. Stewart redeemed himself for losing a four-stroke 54-hole lead the year prior by draining an iconic 15-foot par putt on the 72nd hole to nip Mickelson by a stroke.
Mickelson began the day one shot off of Stewart's lead and pulled even on the 10th hole. Lefty held a one-stroke advantage with three holes to play but bogeyed the 16th to share the lead with Stewart once again. Stewart birdied the 71st hole of the tournament to take a one-stroke cushion into the final hole where he sealed his win at 1-under par overall.
Tiger Woods and Vijay Singh finished tied for third at 1-over par, one behind Mickelson.
2002, Bethpage Black
Winner: Tiger Woods (-3) Phil's Finish: Solo 2nd (E) Phil's Payday: $585,000
Phil Mickelson's second U.S. Open runner-up was not quite as heartbreaking as his first, or others that ensued. Mickelson began the day five strokes behind Tiger Woods and even after Woods bogeyed the first two holes while Mickelson birdied the first, Woods still led by two strokes. After Mickelson made back-to-back bogeys midway through the front nine, Woods led by at least three strokes the rest of the way. It all added up to an even-par round for Mickelson, who finished solo second, two strokes ahead of Jeff Maggert.
2004, Shinnecock Hills
Winner: Retief Goosen (-4) Phil's Finish: Solo 2nd (-2) Phil's Payday: $675,000
Phil Mickelson's back-nine charge on Sunday of the 2004 U.S. Open could have been one for the ages, except for a 71st hole double-bogey that undid the hard work he'd done to pull even with eventual champion Retief Goosen.
Mickelson began the day two back of Goosen and was three off the pace through 12 holes. Lefty bounced back with birdies on three of his next four holes to pull even with his South African opponent with just two holes to play. Thoughts of an 18-hole Monday playoff quickly evaporated when Mickelson three-putted from five feet for double-bogey on the 71st hole, which proved to be the final margin.
2006, Winged Foot
Winner: Geoff Ogilvy (+5) Phil's Finish: T-2nd (+6) Phil's Payday: $501,249
In his most notable U.S. Open heartbreak, Phil Mickelson played the final three holes of the 2006 Open at Winged Foot three over par to lose by a single, tantalizing stroke. Even after a bogey on the 16th hole, Mickelson headed to the final hole with his best chance to win a U.S. Open. He needed only a par to win and a bogey to force an 18-hole playoff.
Instead, Mickelson blew his drive way left, then attempted a go-for-broke recovery shot that backfired, literally, off a tree and back towards him. His third shot plugged in a green-side bunker, his fourth rolled off the green, and his attempt to chip-in to force a playoff went begging. After a double-bogey, he finished in a three-way tie for second with Jim Furyk and Colin Montgomerie.
After the tournament, Mickelson famously gave his insight, saying "I am still in shock that I did that. I just can't believe I did that. I am such an idiot."
Like Mickelson, Montgomerie also double-bogeyed the final hole and could have won with a par. Furyk made bogey on the final hole when a par would have gotten him into a playoff. Geoff Ogilvy, on the other hand, made par on each of the final four holes to win by a stroke.
2009, Bethpage Black
Winner: Lucas Glover (-4) Phil's Finish: T-2nd (-2) Phil's Payday: $559,830
Phil Mickelson made a serious Sunday move with birdies on the ninth and 12th holes, followed by an eagle on the 13th to go from five strokes back to tied for the lead. From there, however, Mickelson came in with two bogeys over his final four holes while champion Lucas Glover played the last four in even-par to earn a two-stroke win.
2013, Merion
Winner: Justin Rose (+1) Phil's Finish: T-2nd (+3) Phil's Payday: $696,104
Mickelson began the day with the lead, sitting at 1-under par through 54 holes, but three-putted for double-bogey on both the third and fifth holes to fall one stroke behind Justin Rose. Mickelson's eagle on the 10th got him back into the lead, but Rose responded and birdied the 12th and 13th. Mickelson faltered with bogeys on the 13th, 15th and 18th holes to settle for a tie for second with Jason Day.
Opportunity Awaits
Mickelson was granted a special invitation from the USGA to compete in the 2021 U.S. Open in his hometown of San Diego at Torrey Pines, then he secured a spot in the U.S. Open through 2025 by winning the 2021 PGA Championship. That win, Mickelson's sixth major championship, made Lefty the oldest ever major champion and proved he just may still have a shot at completing the career grand slam.
Image: Andrew Redington/Getty Images Sport via Getty Images