Cobra Radspeed Fairway Woods Review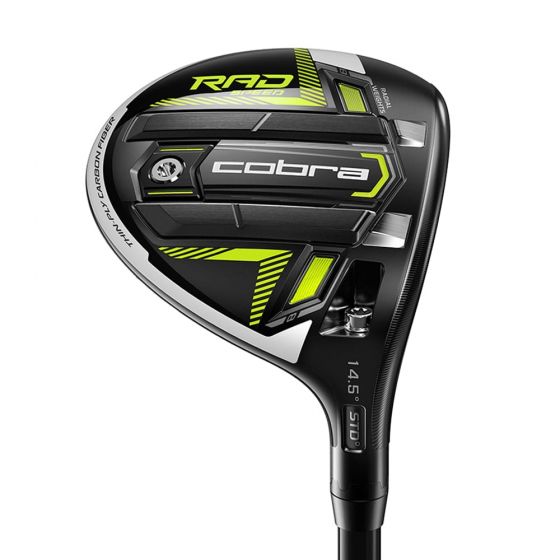 The Cobra Fairway Woods are part of a new product line that includes three drivers and two hybrids. There are four fairway woods on offer, including the Radspeed Fairway, Radspeed Draw fairway, Radspeed big tour fairway and the Radspeed tour fairway.
The new Radspeed Line continues to improve on the technological innovations that Cobra first introduced with 2019's Speedzone F9 Clubs, including the aerodynamic shape, CNC milled face and low center of gravity (CG.) Cobra has also become a buzzed about brand because one of golf's most watched players, Bryson DeChambeau, uses their clubs.
Radial Technology
Over the last three years, Cobra has staked their claim for one of the top golf equipment manufacturers, and they seem to be succeeding. Since the Radspeed series has nine clubs in all (three drivers, four woods and two hybrids), we've reviewed each group separately. Read the GolfLink review of the Cobra Radspeed drivers here.
The main innovation at work in these fairway woods is what Cobra calls radial technology. This increases the distance between the front and back weights and the center of gravity (CG). Each of the four woods are available in standard and custom configurations.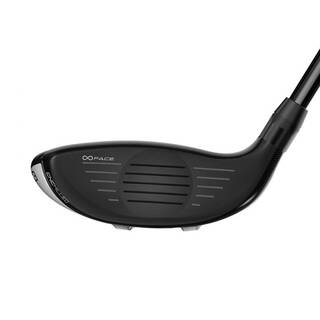 Speed and Forgiveness
Radspeed fairway woods offer low spin and high flight for maximum distance. Unlike many high speed clubs, they're forgiving too. The clubhead has front-biased (16g) radial weights with 7 grams of back weight.There's common design features between the Cobra Radspeed Woods and drivers including:
CNC Milled Infinity Face - The face design expands the milled area by 95% (zone of maximum ball speed)
Hollow Split Rails - 70% more flex behind the face
Thin-ply carbon crown - New materials are 4 grams lighter and 30% thinner. Weight can be redistributed to the front of the clubhead
What's the Difference Between the Radspeed Wood Models?
All four of the Cobra Radspeed Woods have the same technology. There are minor differences between them that offer up a custom experience to golfers who want to focus on certain parts of their game like workability, speed or forgiveness. In independent tests, golfers hit distances of up to 300 yards.
Radspeed fairway has a traditional shape, with low spin, mid to high launch and high forgiveness. It's a versatile wood that's going to suit most players, except for those with slow swing speeds.
Radspeed Draw Fairway is very similar to the previous model. You'll see a traditional head shape and mid spin and launch. The main difference is that this model is more forgiving than the Radspeed fairway. It's actually the most forgiving model out of the four.
Radspeed Big Tour Fairway has a slightly oversized head with a deeper face. It has the lowest launch and fastest speed of the four models, with mid to low launch. This is the model to pick if you want to max out your speed distance.
Radspeed Tour Fairway has a more compact head shape, low spin and mid to low launch. It's going to offer golfers the most workability out of the four models. It's ideal for golfers who need help correcting a draw bias.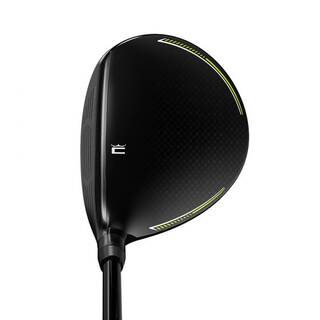 Design and Grip Options
The clubhead has a traditional shape, and Radspeed woods are available in two color combinations. A black and turbo yellow, or red and peacoat (which is a blue grey.) Cobra clubs have modern yet bold styling, and that's consistent throughout the Radspeed line.
The standard grip for Radspeed Woods is the Lamkin Crossline (58+) Cobra Connect in Black, which includes COBRA CONNECT technology powered by Arccos golf. An app pairs with your club to give you instant feedback on your performance. Standard shaft options include the Project X Even Flow Riptide and Fujikura Motore X F3.
Which Pros Use Cobra Drivers?
Cobra has a smaller group of pros than other major brands, but they've done a good job of partnering with some of the most attention-getting golfers in the game today, including:
Bryson DeChambeau
Ricky Fowler
Jason Dufner
Lexi Thompson (LPGA)
Specifications:
Radspeed Fairway
| | | | | |
| --- | --- | --- | --- | --- |
| Lofts | Head Size | Lie Angle | Length (Connect/Standard) | RH/LH |
| 3 FW | 169cc | 58° | 43.25" / 43" | RH/LH |
| 5 FW | 158cc | 58.75° | 42.75" / 42.5" | RH/LH |
| 7 FW | 156cc | 59.5° | 42.25" / 42" | RH/LH |
Radspeed Draw Fairway
| | | | | |
| --- | --- | --- | --- | --- |
| Lofts | Head Size | Lie Angle | Length (Connect/Standard) | RH/LH |
| 3 FW | 169cc | 59° | 43.25" / 43" | RH/LH |
| 5 FW | 158cc | 59.75° | 42.75" / 42.5" | RH/LH |
| 7 FW | 156cc | 60.5° | 42.25" / 42" | RH/LH |
Radspeed Big Tour
| | | | | |
| --- | --- | --- | --- | --- |
| Lofts | Head Size | Lie Angle | Length (Connect/Standard) | RH/LH |
| 3 FW | 173cc | 57.25° | 43.25" / 43" | RH/LH |
Radspeed Tour Fairway
| | | | | |
| --- | --- | --- | --- | --- |
| Lofts | Head Size | Lie Angle | Length (Connect/Standard) | RH/LH |
| 5 FW | 148cc | 57.25° | 42" / 41.75" | RH/LH |
Which Radspeed Fairway Wood Should I Buy?
The Radspeed Fairway and Big Tour Fairway are going to be the most user friendly options for most golfers. The tour head is small and takes precision and practice to hit accurately. The Cobra Radspeed Fairway Woods retail for $279 USD each.