About Golfing Clothes for Kids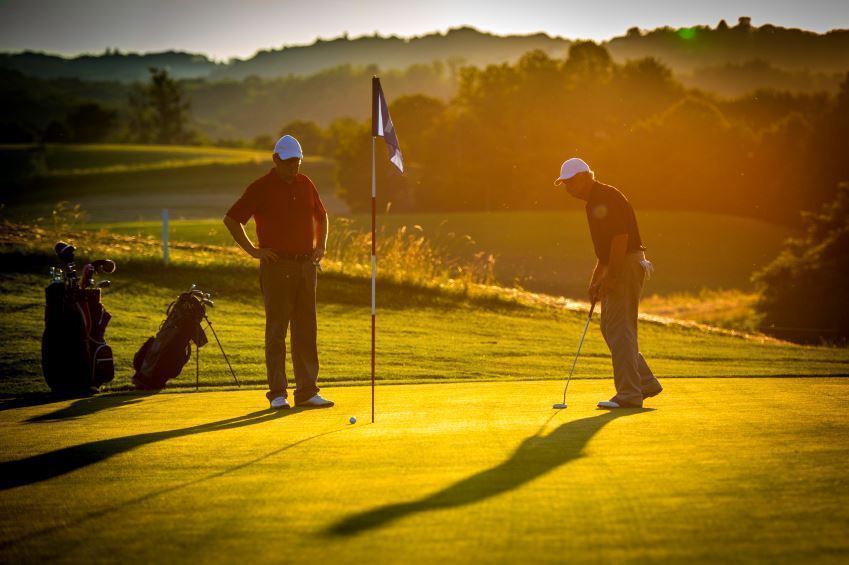 Outfitting a child for the golf course can be a difficult task. The clothes tend to lean toward a more formal attire, which many children don't wear or own. Traditional rules say kids should be treated as mini adults and follow the same rules, but there is some flexibility depending on the reason the child is on the course. Read on to learn about acceptable children's golf wear and footwear.
Shoes
Children should wear golf shoes if they are playing on the course. For spectating, they can wear closed-toe sneakers. Flip-flops, sandals, dress shoes or open-toe shoes are unacceptable.
Shirts
Boys wear collared shirts, tucked in (preferred). Mock turtlenecks are now acceptable during colder days. Girls should wear collared shirts (with or without sleeves), or a button-up oxford with or without sleeves can work as well. T-shirts are prohibited for both boys and girls.
Pants
Khaki material bottoms are strongly urged. They can be any color as long as they are a khaki/cotton blend material. Jeans are prohibited. Pants should fit and not be baggy.
Shorts/Skorts
Boys may wear shorts. Madras, plaids, solids, stripes and seersucker are allowed. Some courses prohibit cargo shorts, so watch out for that. Girls may wear the same shorts as boys and skorts as well. Be aware of inseam rules at courses and avoid anything too short for girls and too baggy for boys.
Rain/Wind/Cold Gear
With inclement weather comes additional clothing. Wind shirts are worn over proper tops and can be removed during play. Track suit pants may be able to be worn on particularly cold days or over khaki pants and removed after play. Rain gear is any clothing worn over the clothes that is waterproof.
How to Find Golf Clothing for Kids
Determine what your child is going to be doing at a golf event. Will she be playing or walking around at an event watching? The main difference is there is more leniency if the child is watching verses playing, but overall the attire remains the same. Attire options will also differ depending on the gender of the child.
Look for boy clothes with a "preppy" or clean cut image and design. For boys, the clothing is very simple: khaki material pants/shorts, collared shirt with sleeves, belt and golf shoes/rubber soled sneakers (spectators only). Most stores will carry all these items but the golf shoes on a regular basis simply because this is general wear of boys/men.
Look for girl clothes that are modest and stylish. For girls, skirts or skorts can be added to the standard golf attire. In addition, girls don't necessarily need to wear collared shirt, but it's encouraged. Also, the collared shirt can be with or without sleeves. Some younger girls can even wear collared shirt dresses made from a cotton pique material.
Measure your child's foot to determine golf shoe size. As a spectator, basic rubber sneakers/tennis shoes without spikes or cleats are perfect. If you child does not already own a pair, you can find them at any shoe store that sells athletic shoes. If you child is playing, you should buy them golf shoes. Depending on the age of the child, some tournaments allow sneakers, however it's key for the proper traction on course that the child wear golf shoes. Foot Joy (which is the number shoe in golf), has a solid selection of boys and girls golf shoes (see Resources).
Check out US Kids Golf for a major child golfer. They are the self-proclaimed number one brand in junior golf. They sell clubs, clothes and shoes. This is a good resource to check out if you want one-stop shopping for boys and girls. You can also buy golf shoes through them. US Kids Golf apparel can only be found at Golf Retail shops or Golf Course pro shops. They have an excellent website to purchase items online. Nike Golf has a decent childrens' line, selling clothes and shoes for the junior player. Nike Golf wear will also be found at Golf Retail locations or online (see Resources).
Visit stores like Old Navy, The Children's Place, GAP Kids and J. Crew Crewcuts kids department (see Resources). These popular chains tend to have basic pieces for golf. They are affordable and can be easily used as part of the child's entire wardrobe, making the most out of the investment. They are also located in the majority of shopping centers and easily accessible online.
Golf Clothes for Children
Children need to be outfitted in the proper attire to be relaxed and comfortable while going either nine or the full 18 holes. These are some of the top manufacturers of children's golf clothing that optimize comfort, style, and affordability.
The Littlest Golfer
The Littlest Golfer offers high-quality clothing and a large selection unmatched by any competitor. Its signature golf apparel is created with the same quality fabrics and performance standards that adult golfers, as well as professionals, demand from their gear. The only difference is that the Littlest Golfer constructs clothes with kid-friendly concepts and designs in mind, which makes children feel great about what they are wearing.

The Littlest Golfer has a huge variety of golf clothing for children, including pants, shirts, shorts and knickers for boys and dresses, feminine tops and pants for girls, as well as unisex turtlenecks, fleece outerwear, wind shirts, T-shirts and hats for all. Their apparel prices are reasonable; golf knickers are $36.99, tour polo and golf shirts are $34.99, mock turtlenecks are $34.99, T-shirts are $21.99, girls' golf dresses are $36.99, fleece vests are $34.99, performance shirts are $29.99, wind shirts are $34.99, and golf hats are $14.99. All prices are before applicable tax and shipping and handling charges are included.

Log on to littlestgolfer.com to view all of the wonderful options for clothing your littlest golfer today.
Adidas Children's Golf Clothes
Adidas' children's golf clothing line is almost as revered and thorough as the Littlest Golfer's. Adidas offers everything from golf polo shirts, pants and shorts to dresses, jackets and shoes. Those shoes are the one advantage Adidas holds over the Littlest Golfer when it comes to clothing youngsters for the golf course. Adidas' prices may be slightly higher than those of some of its competitors, but the quality construction is well worth the tag.

Adidas incorporates three separate technologies with their clothing: The first is ClimaCool technology, which keeps golfers dry and cool while playing a grueling round on the course. The second is ClimaProof, which ventilates and dries a golfer while they are in the middle of a round. The third is ClimaWarm, which warms and dries during the colder days. Shirts range from $40 to $45, pants and shorts are $45 to $50, dresses are $45, and shoes range from $45 to $70, depending on the style.

Check out Adidas.com to view all of the selections Adidas has to offer for any and all children golfers.
Nike Children's Golf Clothes
Nike Golf is yet another quality choice when it is time to purchase premium golf clothing for children. Even though Nike is a notch below Adidas when it comes to clothing children on the golf course, don't think they fail to deliver quality kid's golf gear. Nike offers unisex polo golf shirts, shorts, wind shirts, and shoes all completely constructed with either its patented Dri-Fit Technology or its new Dri-Fit UV Technology. The Dri-Fit Tech is a high-performance microfiber polyester fabric that pulls sweat away from a player's body and transports it to the fabric, where it evaporates and leaves the skin feeling comfortable and dry. The Dri-Fit UV Tech does the same; however, it provides an added level of protection against the harmful ultraviolet rays of the sun.

Nike's prices on their children's clothing and apparel are very reasonable, and will not break the pockets of any parents attempting to clothe their kids on the golf course. Polo golf shirts are $36, shorts are the same, wind shirts are $45, and shoes typically run between $40 and $50. With a combination of quality and affordability, Nike Golf makes its mark when it comes to children's golf clothing and apparel.