How Do Costco Golf Clubs Measure Up? Complete Review
Updated December 13, 2021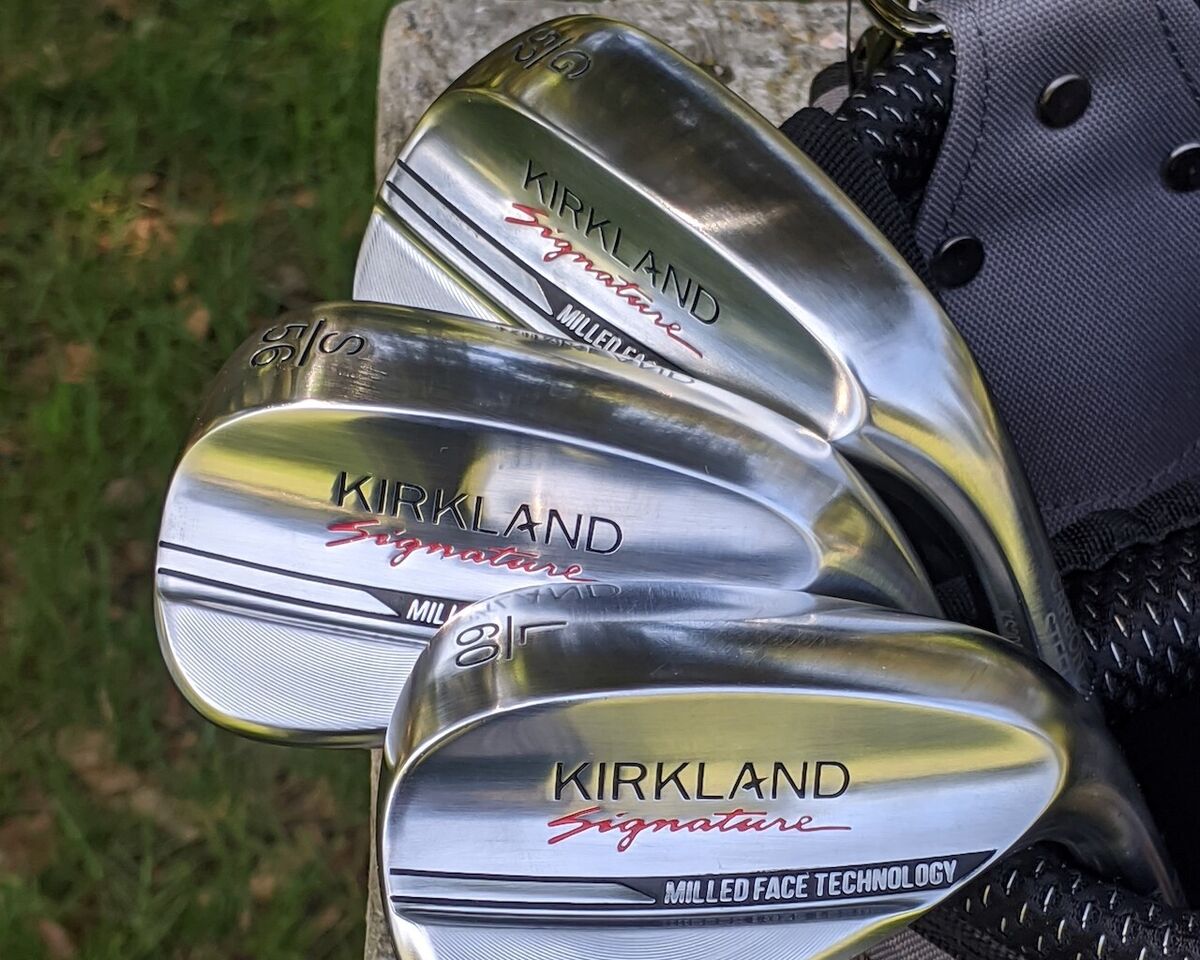 When you walk into a golf retailer, you have seemingly unlimited options of different types of clubs and brands. There's a golf brand out there, however, that you can only find in one place. That brand is Kirkland Signature and that place is Costco. Kirkland Signature produces wedges, putters, balls, and gloves. So, how do Costco brand golf products stack up to the household name golf brands?
To give you an accurate and informative review of all of the Kirkland Signature golf products, we put each of them to the test ourselves. Here's what we learned.
Kirkland Signature Golf Balls
The year was 2016. People all over the United States shopped at the mega-warehouse chain, Costco as they do today, for anything from groceries to diapers to caskets (seriously). You could walk down the aisle that included sporting goods and score a decent deal on bulk golf items, mainly gloves or balls from well-known manufacturers. Then, Costco decided to launch a golf ball of its own, under its in-house brand name, Kirkland Signature. What ensued was something that could only happen in the world of golf.
The Kirkland Signature golf ball, which was a four-piece "tour" ball, performed similarly to the most popular golf ball in the world, the Titleist Pro V1. And as the tale of Kirkland golf balls grew, the balls disappeared off of shelves as if they were the last can of beans in an apocalypse. Suddenly, the weekend Costo shopper that was flashing their membership card to purchase a 10-pound bag of kale, a bulk load of furnace filters, and two dozen golf balls, was leaving with open space in their gigantic cart. Why all of the calamity, though? Because the golf balls (which avid golfers would dub "K-Sigs") were being sold for $30 for two dozen! Compare that to the 2016 Pro V1, which was sold for $48 for a dozen.
Before long, the Kirkland balls hit a serious supply and demand issue, and eBay sellers reaped the benefits. In some auctions, the K-Sigs were selling for more than Pro V1s, despite retailing for about a quarter of the price. The ultra curious and aggressive buyers spent near $65 per dozen to get their hands on some Kirkland Signature golf balls.
Eventually, Titleist's parent company, Acushnet, and Costco went to court to discuss 11 different patent violations, and the two sides came to an agreement. While the result of the suit was never publicly announced, Kirkland followed up its original four-piece ball with the current three-piece version.
What happened in 2016 opened a lot of golf consumers' eyes to the Kirkland brand. Costco still sells golf balls on its website and in-store, and they are very well-reviewed. The current model, the Kirkland V2.0 is a 3-piece, high-performance golf ball that sells for $24.99 for two-dozen. The popularity ultimately allowed Costco to expand the Kirkland Signature golf brand into a few other golf categories.

In June 2020, the Kirkland Signature KS1 putter hit the market as a premium flat stick with adjustable weights for $149.99. It may be one of the only Costo items that you don't have to purchase in bulk.

The blade-style putter is 100% milled from 303 stainless steel and unlike the wedges, is available in right and left-handed models.
The putter has a standard length of 34.5 inches and has fully adjustable heel and toe weighting. The putter comes with 10g weights in the heel and toe, and for an additional $37.99, the available weight kit includes two 15g and two 20g weights, allowing the user to adjust the putter to their desired head weight and bias.
The stock grip is a SuperStroke CounterCore Mid Slim 2.0.
With a very familiar design, the Kirkland Signature KS1 putter adopts a blade head that every golfer has wielded at one time or another. Beyond that, this putter is a surprisingly, unexpectedly nice flat stick. It delivers a smooth roll without feeling "tinny" at impact. The interchangeable weights in the sole give it a nice customizable option and if you like to putt from a few yards off the green, it goes through the fringe quite well. Headcover connoisseurs will appreciate the classy black, white, and red cover that's included.
With several manufacturers now offering milled putters below the Kirkland price of $149.99, you might hesitate to jump into the KS1 putter. It's not as much of a no-brainer as the gloves or wedges. However, at the price it does perform as well, if not better, than some major OEM models that are in the $150- 200 range. If that's your budget, give it a shot.

Kirkland Signature Wedges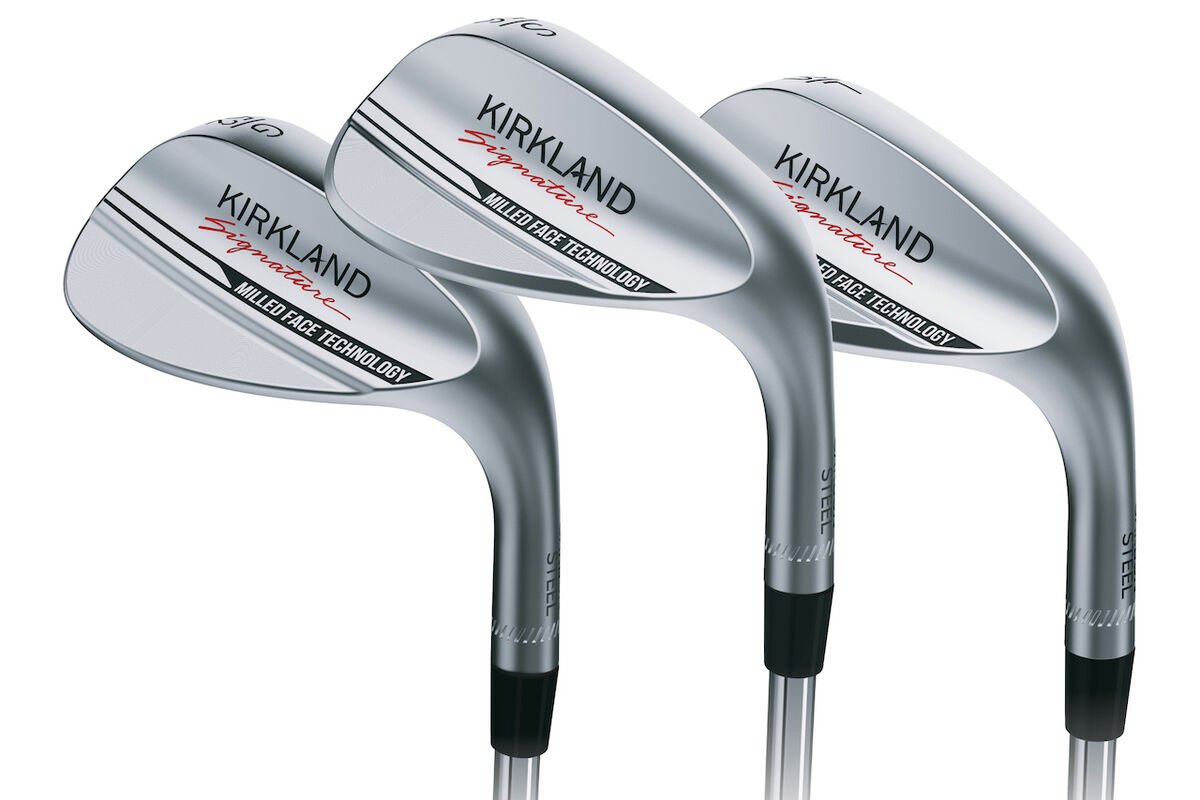 A three-piece Kirkland Signature wedge set costs just $169.99, roughly a third of what you'd expect to pay for three new wedges from a top manufacturer. The Kirkland Signature wedges were released in late 2020.

In this package, you get a 52-, 56-, and 60-degree wedge. Each wedge has a milled face, and a standard-length True Temper "wedge" flex steel shaft. The 52 and 56-degree wedges have 10 degrees of bounce, while the 60-degree wedge has eight degrees of bounce.
Kirkland Wedge Performance
The math says these Kirkland Signature wedges come out to about $57 per wedge. Performance-wise, they play closer to wedges you would find for around $100 each.
When paired with the right golf ball, the 52 degree produces great spin on approach shots. On those shots that you flush, you can feel just how soft the milled face is. Harder distance golf balls might not stick as well.
The 56-degree wedge has a nice mid-range performance to it. Whether you want to hit a lofted shot all the way to the pin, or a knocked-down shot that runs a bit, this wedge is up to the task. If you're hesitant because you're looking for a 54- or 58-degree wedge, the 56 degrees can be easily bent to the desired loft.
The 60-degree wedge has a nice greenside feel and it pops the ball out of the rough with ease. Some bunker shots might run a little more than you would expect with a 60 degree, however.
All-in-all, the price is right and the performance is there. Will the Kirkland Signature wedges outperform a wedge in the $150 and up category? Probably not, but it's safe to say they can get the job done for players looking for great performance and great value.
Despite being arguably the best value in golf wedges, the Kirkland wedge set does have a couple of drawbacks. Even though the wedges can be bent to desired lofts, many players would prefer new clubs to match their specs without having to make modifications. Also, the wedge set is only available right-handed, so the lefties are forced to look elsewhere.
A four-pack of Kirkland Signature Leather Golf Glove costs just $26.99, or just under $7 per glove.
These gloves are made from premium Cabretta leather, are designed for an exceptional grip, and are moisture resistant. They have a Velcro closure tab and are available in small, medium, medium/large, large, and extra large. Left and right-handed gloves are available.

This glove might be the best deal in golf. If you slip one on and only look at the palm side, you'd never expect to turn your hand over and see the Kirkland logo. They feel as good as premium gloves that cost twice as much. They are good for advanced players that demand that premium feel of a glove, but they are also good for golfers who go through a lot of gloves in a season. At $6.75 per glove, these are a no-brainer.
The Kirkland brand from Costco has successfully jumped into the golf business over the past five years. The variety of products that are offered are impressive and it's easy to imagine some other ventures will be coming soon.
The gloves are a tremendous value. The wedges are safely in the middle of the golf wedge market as a whole. The putter is a little bit of a stretch, but definitely worth a look even if you've budgeted a little more than the $150 price tag.
It looks as though one little disruptive golf ball may have started a Costco golf following.