Cobra Radspeed, Radspeed XB and Radspeed XD Drivers Review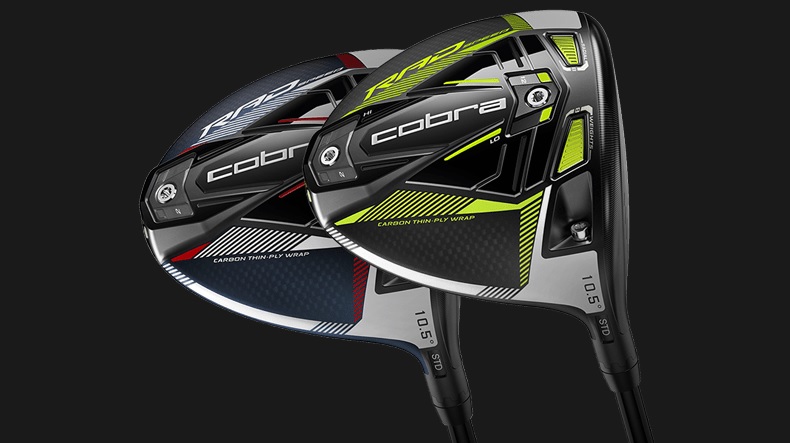 Cobra golf has been shaking up the golf equipment market over the last few years. Their engineering team has come up with solutions for one of the most vexing problems in golf equipment - how to balance speed and stability.
This is the third driver that the company has released in 3 years. In 2019, the F9 caught the attention of the golf world for achieving speed and distance with its aerodynamic shape, CNC milled face and low center of gravity (CG.)
In 2020, the Cobra Speedzone continued to improve on the innovations in F9 and now in 2021, the Cobra Radspeed series (which includes drivers, irons, fairways and woods) is hitting the market. With their driver released in the last few years, Cobra is becoming well-known for their innovation in engineering and the overall performance of their drivers.
Radial Weighting Technology
The key technology at work in the Radspeed series (which includes the Radspeed, Radspeed XB and Radspeed XD drivers) is called radial weighting. It's based on an engineering concept called radius of gyration. To put it simply, it means increasing the distance between the center of gravity to the perimeter weighting in the structure. This gives the ability to improve speed, stability and spin.
The Radspeed line centers around radial weighting. On the company website, the tagline for the new series is "radial weighting for radical distance." In order to make this technology work, weight has to be redistributed in the head of the driver.
Redistributing Weight to Improve Speed
Other components like the carbon wrap (30% thinner) and t-bar speed chassis (7g lighter) became lighter, so that weight could be redistributed to the radial weighting system. Together, this allowed for 13g of weight to be redistributed.
Cobra has continued using the CNC milled infinity face, which was also used on the F9 and Speedzone drivers. For Cobra's newest drivers, they've expanded the CNC milled area by 95% to increase the zone of forgiveness. All together, there are 28 grams of forward weighting (12g are adjustable) and 8g of back weighting (2g are adjustable). Adjusting the weights allows golfers to customize their trajectory and spin. The end result? Fast ball speeds and forgiveness on off-center hits.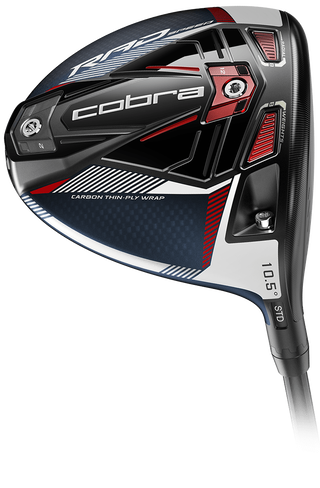 Ample Design Options
The Cobra Radzone drivers are available in two color combinations. A black and turbo yellow, or red and peacoat (which is a blue grey.) You can also choose between a gloss or matte crown option. All three drivers have a traditional 460cc head shape, although the XB and XD are oversize.
You'll find the same bold, bright and geometric styling that has become synonymous with Cobra golf. The standard grip for Radzone drives is the Lamkin Crossline (58+) Cobra Connect in Black. The grip includes COBRA CONNECT technology powered by Arccos golf, which lets you pair your club to your smartphone for feedback to help you make better decisions on the course.
Cobra never disappoints when it comes to shaft options. For the Radzone series, golfers have the option to pick between more than 30 stock and premium options. Here are a few of the highlights:
Stock shafts
Fujikura Motore X F1
Fujikura Motore X F3
Project X HZRDUS Smoke RDX
Project X Evenflow Riptide
Mitsubishi Tensei AV
Aldila Rogue Silver
UST Mamiya Helium Black
Premium Shafts
Fujikura Ventus Blue/Black
Graphite Design Tour AD
Mitsubishi Tensei CK Pro
Project X Smoke
LA Golf Trono
KBS Tour Driven
Which Pros Use Cobra Drivers?
Cobra has a smaller group of pros than other major brands, but they've done a good job of partnering with some of the most attention-getting golfers in the game today, including:
Bryson DeChambeau
Ricky Fowler
Jason Dufner
Lexi Thompson (LPGA)
What's the Difference Between the Three Radspeed Drivers?
With their latest series of drivers, Cobra has come up with a product line that will serve everyone except for the absolute beginner. The Radspeed XB (which stands for Extreme Back) will appeal to the average golfer. It offers mid spin with mid-to-high launch. Golfers can expect a long ball flight and high forgiveness.
The Radspeed driver is the tour / low handicap model. It provides the most workable flight of the three drivers, offers adjustable weights to customize flight and is ultra-low spin with low launch.
Finally, the Radspeed XD (Extreme Draw) will appeal to the widest range of golfers. According to the company's website, golfers with a handicap of 5-25 can use this driver. It's also a good choice for better golfers that want to hit draws and fades. It offers low spin with high launch and the fastest and straightest ball flight of the three models.
Should You Buy a Cobra Radspeed Driver?
If you already have a Cobra Driver in your bag, you'll see why the brand has continued to improve upon what they already do well. Will you see drastically different performance? Probably not, but you'll likely find that this is Cobra's best driver yet. If you're looking for a new driver, the Cobra Radspeed is exceedingly well-rounded. They've invested heavily in R&D and it shows.
Specifications
| | | | | |
| --- | --- | --- | --- | --- |
| Driver | Loft | Lie | Length | RH/LH |
| Radspeed | 9°, 10.5° | 57.5°, 58.5° | 45.25" Standard / 45.5" Cobra Connect | RH/LH |
| Radspeed XB | 9°,10.5°,12.5° | 57.5°, 58.5°, 59.5° | 45.75" Standard / 46" Cobra Connect | RH/LH |
| Radspeed XD | 10.5°, 12° | 58.5°, 59.5° | 45.75" Standard / 46" Cobra Connect | RH/LH |
Cobra Radspeed drivers retail for $449 MSRP.