Kevin Na Bio, Controversies, Slow Play and Perseverance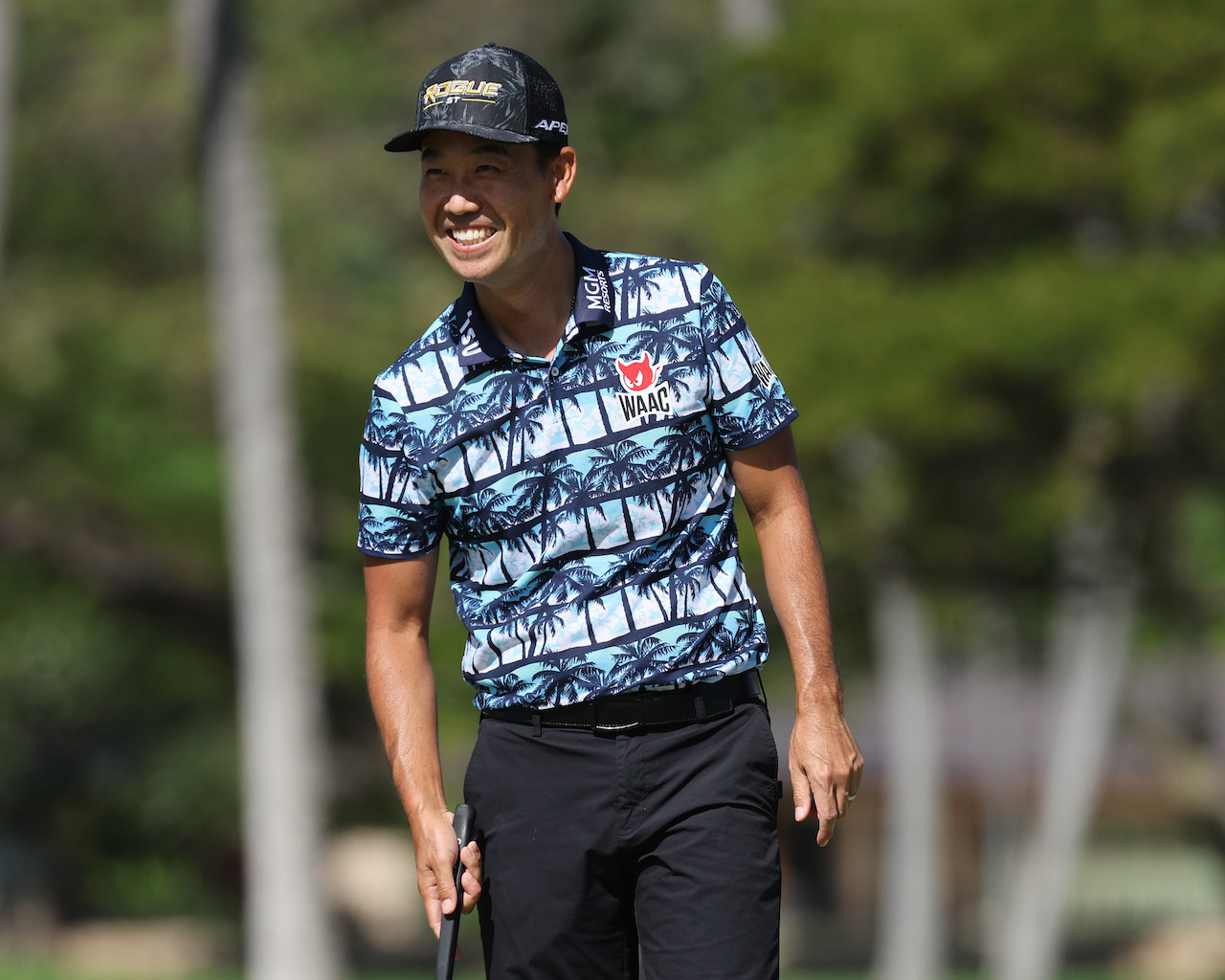 Kevin Na is an American golfer who has had his share of ups and downs in his career. Once plagued by mental roadblocks that derailed his chances in tournaments multiple times, Na appears to have put this period behind him and often finds himself in contention. Na's career is unique, taking a road largely untrod and showing the mental challenges of being a PGA Tour stalwart.
Early Life
Kevin Na was born Na Sang-uk in Seoul, South Korea on September 15, 1983, the second son of successful parents. When Na was eight years old, he moved with his family to Diamond Bar, California where later he became a naturalized U.S. citizen. 
As Na adjusted to his new home, he soon became enamored with golf. By his teens, Na practiced daily and routinely played two or three rounds of golf each weekend at La Cañada Flintridge Country Club. 
It was that obsessive drive that led to Na become one of the best junior golfers in America. Kevin's brother Austin, also a skilled golfer who works as a Golf Channel commentator in Korea, explained to Golf magazine that Na took his cue from their father, who "emphasized that the best talent any athlete can have is perseverance." Na also credits his father with instilling a tactical side of his game, something that Na continues to use to compensate for his modest driving distance, which is consistently about 10 yards shorter than the average PGA Tour player.
Na piled up wins in junior tournaments and was the top-ranked American amateur at age 16. He then attempted to play professional events through Monday qualifying, highlighted by qualifying for the 2001 Buick Invitational. After that tournament, Na began to explore the possibility of turning professional. Finally, at 17, Na decided to make the jump to the professional ranks.
Professional Career
Na, who's height is listed as 5-foot-11, 167 pounds, began playing in some mini-tour events and working on Monday qualifying, but after a year roaming around North America, he tried his hand on the Asian Tour. 
Na immediately turned heads on the tour by finishing second in the 2002 SK Telecom, his first Asian Tour event as a professional. He achieved his first professional win at the 2002 Volvo Masters of Asia at the age of 19 in just his ninth Asian Tour event. 
Na used the experience to begin playing on the European Tour in 2003 and was again turning heads. By the end of that year, Na was confident enough to return home and attempt to gain his PGA Tour card through qualifying school. After a strong performance, Na earned his card for 2004, where he became the youngest player on tour.
Mental Issues
It was during his transition to the PGA Tour that Na began to have mental roadblocks. He attributes his playoff loss at the 2005 Tuscon Open with sparking his mental struggles. In the playoff, Na flubbed a five-foot putt to hand the win to Geoff Ogilvy, a mistake that resulted in literal nightmares for years. This led Na to become labeled as a bottler and results seemed to confirm that. Over the following years, Na kept amassing top-10s finishes but without a single win. He was soon one of the highest-earning players to never have won an event. The pressure seemed to get to him as his play became erratic.
Na's mental issues were confounded by his pre-shot ritual. Na was already a fairly slow player, though he is quick to point out that he makes up for this by nearly running to take his next shot, but the mental issues made him even slower. 
Na became known for "balking", where he would take his backswing only to swing inches above the ball--which doesn't count as a stroke as he made no intention to play the ball. Na states that if he felt something wrong he couldn't follow through with his swing, admitting that the issue was all in his head. This in turn led to wildly inconsistent play, typified by his 16-shot meltdown on a par-4 at the 2011 Valero Texas Open, which is still the worst score carded on a par-4 in the history of the PGA Tour.
A fun and redeeming side of Na's style of play is his affinity for quickly walking after putts. Tiger Woods and Na famously had a fun exchange at the 2019 Players Championship when Woods quickly walked in one of his putts.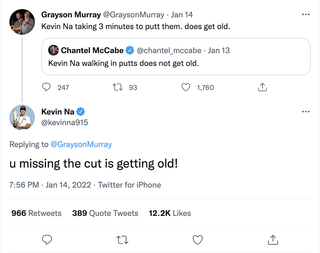 Na has never shied away from addressing his mental issues on the golf course, as his social media will show. Na frequently addresses comments regarding slow play as he did when fellow professional, Grayson Murray, commented about Na taking a long time to putt. Na was quick to point out Murray's lack of cuts made on tour.
Breakthrough Win
In Na's 211th start, he finally got over the hump and secured his first PGA Tour victory. Despite negative attention for his continued balking, Na finally held his nerves to claim the 2011 Shriners Hospital for Children Open. He continued to play consistently, routinely ranking around the top-25 in money leaders. 
However, by 2013 old demons seemed to return as Na again dealt with increased balking, drawing the ire of Adam Scott's caddy who once told Na in 2014 that "I never want to see you play again," after Scott was paired with Na.
Injury and mental issues meant Na had to wait nearly seven years to claim his second PGA Tour win at the 2018 Military Tribute at The Greenbrier. He then won his third and fourth PGA Tour events all in a 15-month span, showing that he appears to have finally put his problems to bed.
2020-21 Season
Kevin Na had a great 2020-21 season on the PGA Tour that included a win at the SONY Open in Hawaii and a third place finish in the FedEx Cup rankings. Na was also under heavy consideration for a captain's pick for the 2021 Ryder Cup team, however, Steve Stricker instead chose Tony Finau, Xander Schauffele, Jordan Spieth, Harris English, Daniel Berger, and Scottie Scheffler as his picks.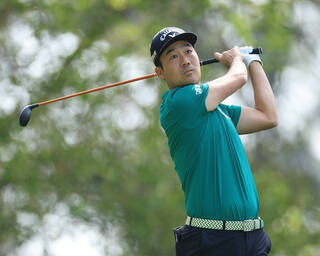 Kevin Na's Sponsors
Na currently represents several brands.
WAAC Golf: A golf clothing line from South Korea, which stands for "Win At All Costs."
Callaway Golf: Equipment and golf ball.
MGM Resorts
Netjets
Schooling
Na attended Diamond Bar High School in California until he decide to forego his senior year to concentrate on golf full-time. He did not attend college.
Personal Life
Kevin Na is married to Julianne Na. The couple has three children: Sophia, Leo, and Logan. The Na family resides in Las Vegas, Nevada.