Knee Braces and Golf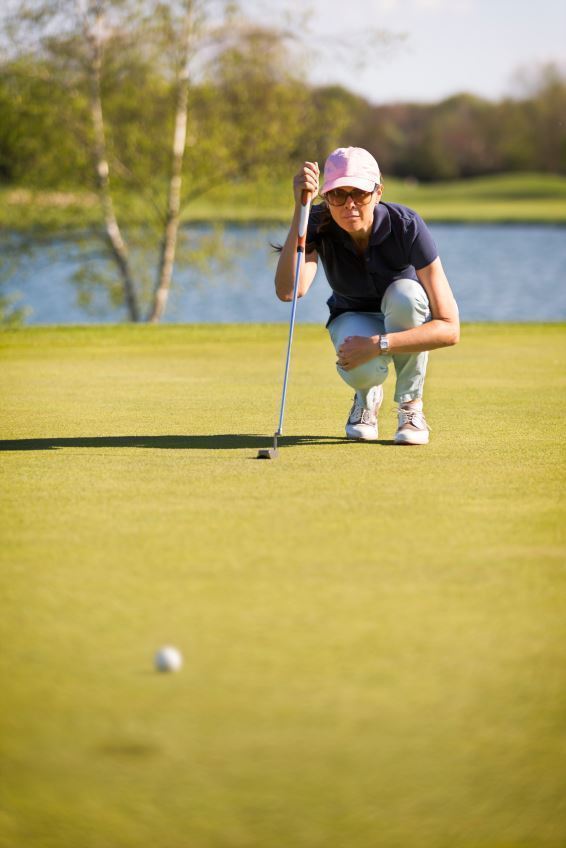 Knee injuries can limit your physical activity and that includes what you do on the golf course. You may have to walk 4 1/2 miles or more when you play a round of golf, and even if you take a cart you will still do a significant amount of walking. You need a proper brace to support that level of activity.
Knee Problems
If you want to continue to play golf or remain active with a knee injury, you will need the support a knee brace provides. If you have sprained or strained your anterior cruciate ligament (ACL) or damaged your medial collateral ligament (MCL) or posterior cruciate ligament (PCL), you may need a brace to get through a round of golf. A brace will not help you if you have torn your ACL until surgery is performed. The ACL is the most critical part of the knee and if it is seriously damaged it has to be repaired. You will need a brace after the surgery is performed.
Pain Relief
The knee brace fits over the center of the knee with support both under and over the knee and on both sides. The side supports generally take pressure off the knee and that limits the pain that one feels while walking or participating in a sporting activity like golf.
Sizing
This is one of the most critical factors when wearing a knee brace. You don't want a knee brace that is too loose because it won't provide the support you need to get through your round of golf. You don't want it too tight because it will become painful and irritating. To get the correct size, take measurements of your thigh 6 inches above the knee and of your calf 6 inches below the knee. Knowing those measurements will help you purchase the correct-sized knee brace, ranging from XS (extra small) to XXXL (triple extra large).
Additional Padding
While the brace should fit snugly if sized correctly, users may need additional foam padding to help comfort the knee during the round of golf. In addition to doing significant walking, golfers do a lot of bending as well. Your knees need to be flexed during your swing and you may want to get down low while studying a putt. Having additional padding under your brace will make you more comfortable.
Maintenance
It's important to check out the aluminum struts to make sure they have not been bent or damaged when you are wearing your knee brace. The struts slide out of the brace easily. You also can wash your knee brace; that's important to keep it clean and free of bacteria.