2018 Ryder Cup: Meet Team USA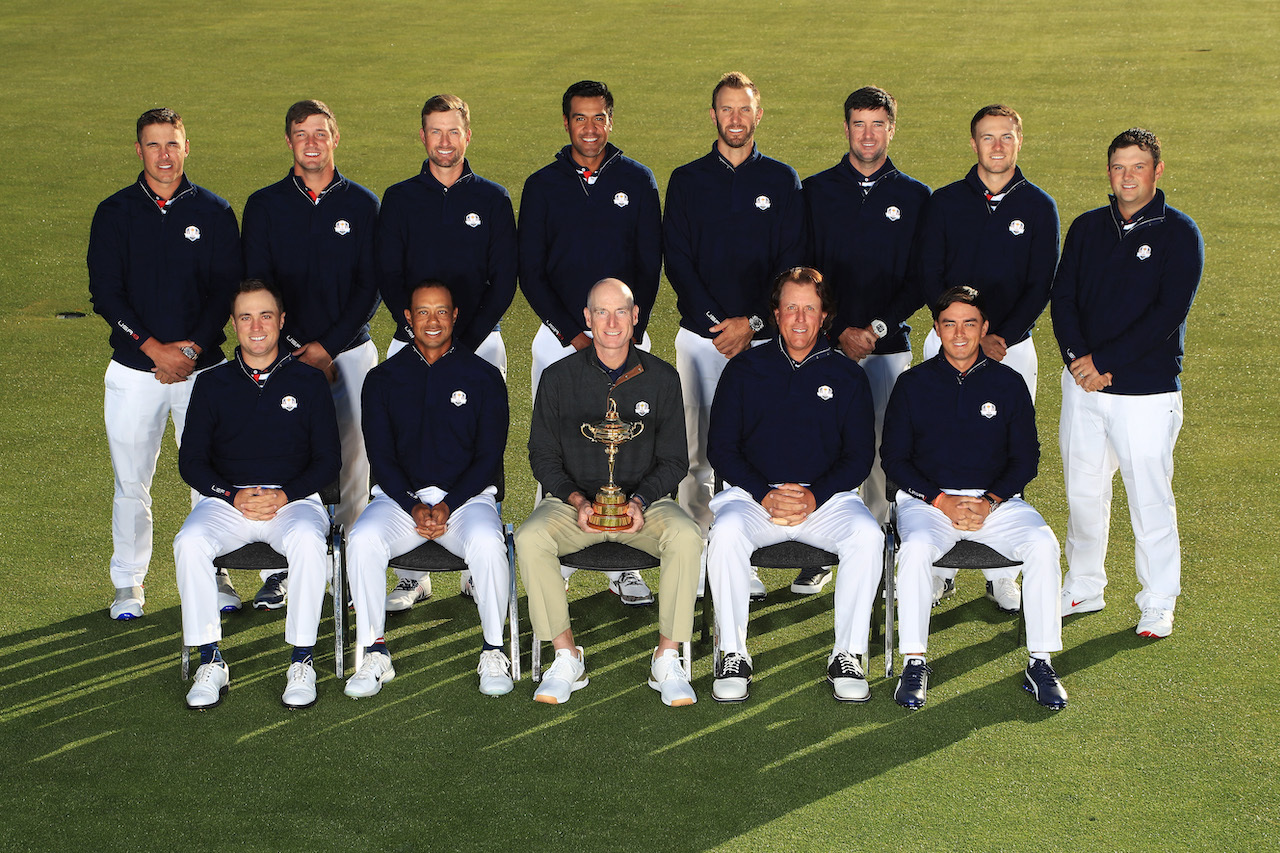 The 2018 Ryder Cup is being held at France's Le Golf National September 28-30. Team USA, led by captain Jim Furyk, are the defending champions but face a daunting challenge in Team Europe. The US have yet to win in Europe in the 5 previous matches held there, last winning in 1993. The match play event makes for high drama as each hole provides cutthroat competition. Furyk assembled his team from 8 automatic qualifiers, chosen for their performances over the last 2 years with extra weight given to results in major championships. These golfers are Brooks Koepka, Dustin Johnson, Justin Thomas, Patrick Reed, Bubba Watson, Jordan Spieth, Rickie Fowler and Webb Simpson. In addition, Furyk has four captain's picks that allow him to choose any American golfers he wants. Furyk has gone with Bryson DeChambeau, Phil Mickelson, Tony Finau and Tiger Woods. In addition, Furyk also appointed Davis Love III, Steve Stricker, David Duval, Zach Johnson and Matt Kuchar as vice-captains. The role of the captain and vice-captains is to not only choose the team but also decide on the pairings for foursome and fourball games. Interestingly, Furyk had named Tiger Woods as a vice-captain earlier in the year before Woods' postseason heroics convinced Furyk to put him on the team.
Team USA
---
Brooks Koepka
Ryder Cup Appearances: 1
World Golf Ranking: 3
PGA Tour Wins: 4
Majors Won: 3
Age: 28
Koepka enters his second Ryder Cup looking to defend an impressive 3-1-0 record. Koepka earned his qualification with strong play that included his second consecutive U.S. Open and the PGA Championship. Koepka is known for his swaggering pre-drive ritual that involves him lightly tapping the teed up ball with the heel of his driver before his swing and that sort of quiet confidence has carried Koepka through his entire career.
Dustin Johnson
Ryder Cup Appearances: 0
World Golf Ranking: 1
PGA Tour Wins: 19
Majors Won: 1
Age: 34
World Number 1 Dustin Johnson is competing in his 4th Ryder Cup with a 6-5-0 overall record, though he remains undefeated in singles. Johnson had a typically consistent year, winning 3 PGA Tour events, and will be looked at as one of the leaders on a very talented Team USA.
Justin Thomas
Ryder Cup Appearances: 0
World Golf Ranking: 4
PGA Tour Wins: 9
Majors Won: 1
Age: 25
Thomas enters his first Ryder Cup on the back of 2 career-defining seasons. Thomas won his first major championship in 2017 and has amassed 8 PGA tour wins in the past 2 seasons. He will look for a strong showing on his first taste of international golf since his amateur days. He will hope to add to his 2010 Junior Ryder Cup and 2013 Walker Cup wins by bringing the Ryder Cup back to the US.
Patrick Reed
Ryder Cup Appearances: 2
World Golf Ranking: 15
PGA Tour Wins: 6
Majors Won: 1
Age: 28
The baby-faced Reed has become a Ryder Cup legend in his 2 events, boasting an impressive 6-1-2 record. Known as "Captain America" since winning his 2016 singles match against Europe's undisputed best player Rory McIlroy in an adrenaline-fueled contest including finger wagging and crowd interactions. It remains McIlroy's sole single's Ryder Cup loss. Watching a fired up Reed will undoubtedly be a highlight of the tournament, as he inevitably seems to raise his game in high-stakes matches. Reed will also be buoyed by winning the 2018 Masters, his first major championship.
Bubba Watson
Ryder Cup Appearances: 3
World Golf Ranking: 14
PGA Tour Wins: 12
Majors Won: 2
Age: 39
Watson enjoyed a resurgent year, finishing the season with 3 wins. His experience in winning the WGC-Dell Technologies Match Play back in March should provide valuable experience as Watson looks to win his first Ryder Cup singles match at the 4th attempt. Watson is known for his powerful drives and easy-going demeanor, and will likely be a calming presence on his teammates.
Jordan Spieth
Ryder Cup Appearances: 2
World Golf Ranking: 10
PGA Tour Wins: 11
Majors Won: 3
Age: 25
At only 25 years old, Spieth is an unlikely Ryder Cup veteran entering his 3rd competition with a record of 4-3-2. Spieth will likely reprise his pairing with the fiery Patrick Reed who dominated their team pairing events in 2016 on the way to an American victory. Spieth comes into the competition looking to rediscover his form after a disappointing postseason saw him miss out on a place in the PGA Tour Championship.
Rickie Fowler
Ryder Cup Appearances: 3
World Golf Ranking: 9
PGA Tour Wins: 4
Majors Won: 0
Age: 29
Fowler is making his 4th Ryder Cup appearance after a typically solid year, including a 2nd place finish at the Masters. Fowler was a member of the Ryder Cup winning 2016 team where he beat Justin Rose in a singles match. Fowler also earned another point while paired with Phil Mickelson in foursomes over Europeans Rory McIlroy and Thomas Pieters. Americans hope Fowler can repeat his heroics this year.
Webb Simpson
Ryder Cup Appearances: 2
World Golf Ranking: 16
PGA Tour Wins: 5
Majors Won: 1
Age: 33
Simpson remained consistent on the PGA Tour this year, amassing six top-10 finishes and a comprehensive Players Championship win. Simpson has yet to win a singles match in his 2 Ryder Cup appearances, a record he will look to improve this year.
Bryson DeChambeau
Ryder Cup Appearances: 0
World Golf Ranking: 7
PGA Tour Wins: 4
Majors Won: 0
Age: 25
DeChambeau enters into his first Ryder Cup as a hot hand. After winning both the Northern Trust and the BMW Championship in the past month during the FedEx Cup Playoffs, the eccentric DeChambeau should be full of confidence. He is known for his use of irregular clubs, love of physics and signature "newsie" cap and brings a bit of unpredictability into the Team USA.
Phil Mickelson
Ryder Cup Appearances: 11
World Golf Ranking: 25
PGA Tour Wins: 43
Majors Won: 5
Age: 48
A living legend, the 48 year old Mickelson enters his 12th Ryder Cup hungry to end America's losing streak on European shores. He is also motivated to improve on his Ryder Cup record of 18-20-7, which is a reflection of the struggles America has had in the competition in the last 20 years. Mickelson, a captain's pick, comes into the competition on the end of one of his best seasons in recent memories, winning his first PGA Tour event since 2013 and collecting six top-10 finishes.
Tony Finau
Ryder Cup Appearances: 0
World Golf Ranking: 17
PGA Tour Wins: 1
Majors Won: 0
Age: 29
Finau was a basketball and golf prodigy early in life, and turned down scholarships to pursue professional golf. Finau can boast 3 top-10 finishes in majors this year, including tying for 5th at the U.S. Open. This consistency followed Finau into the FedEx Cup Playoffs where he also finished 3 of the 4 events in the top-10. It was this consistency that led to his inclusion as a captain's pick.
Tiger Woods
Ryder Cup Appearances: 7
World Golf Ranking: 13
PGA Tour Wins: 80
Majors Won: 14
Age: 42
Woods returns to the Ryder Cup after missing out on 2016. Woods is enjoying a resurgent career as he looks fully recovered from back surgery that held him out of nearly 2 seasons of golf. Woods finished highly in several events, including a 2nd place finish at the PGA Championship. Woods would win his 80th PGA Tour event at last week's Tour Championship, a performance that convinced team captain Furyk to move Woods from vice-captain to a full playing member of Team USA.
---