Are Golf Carts Street Legal in Texas? A Look at Laws & Regulations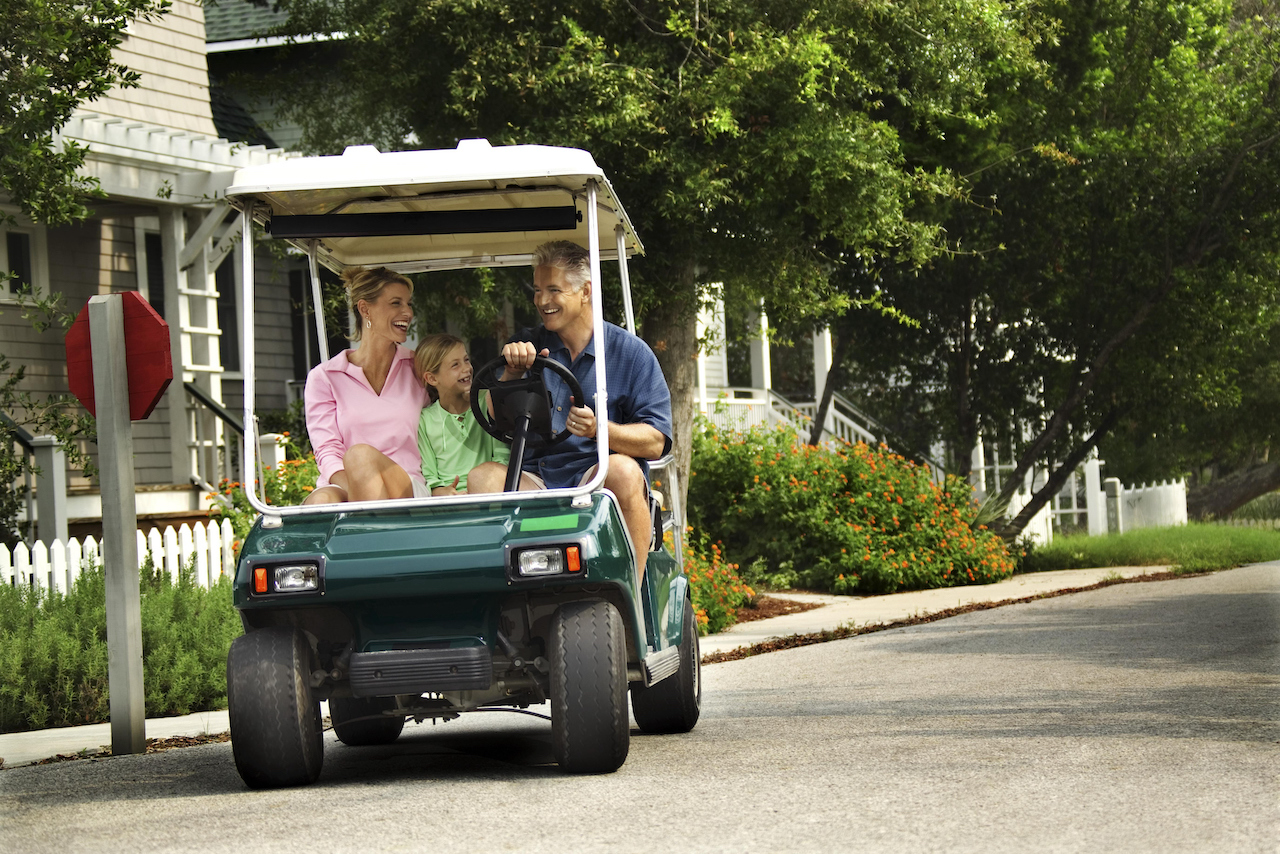 Many golfers enjoy the use of a golf cart on a course, but some people actually enjoy riding one off the course. Sometimes it's legal, but sometimes it's not. To ensure that you are operating your golf cart legally, certain requirements must be met for street-legal use in Texas.
Classification
To be classified as a golf cart in Texas, the vehicle must have at least three wheels and be specifically designed and manufactured to be operated on a golf course The typical maximum speed of the cart should range between 15 and 25 mph.
Street Legal
A golf cart may be legally driven on streets with a speed limit of no more than 35 miles per hour as long as it is properly registered and built to attain a maximum speed of no more than 25 miles per hour. The cart must also have a "Slow Moving" decal prominently displayed and be insured, which as of 2009 means minimum liability limits of $25,000 of bodily injury per person, $50,000 combined bodily injury limit for all occupants of a vehicle, and $25,000 to repair property damage caused by the insured.
Texas Street-Legal Golf Cart Checklist
| | |
| --- | --- |
| Feature | Requirement |
| Build | 3 or more wheels |
| Designed Use | Manufactured to be operated on a golf course |
| Speed | Maximum speed up to 25 MPH driven on streets with speed limit up to 35 MPH |
| Marking | "Slow Moving" decal prominently displayed |
| Insurance Min. | $25K bodily injury/$50K combined bodily injury (all occupants)/$25K property damage |
| Registration | Proper registration required |
Off-Road
Golf carts are permitted to be driven off-road without being registered. However, they must be operated on or within two miles of a golf course and only during daylight hours. They also may be driven on some beaches and in areas approved for their use by city or county ordinances, such as a communities for senior citizens
Registration
Golf cart registration for street use can be completed at a county tax office. You will be required to furnish proof of insurance, evidence of ownership and the completed application form that can be found in the resource area below. A list of county tax offices in Texas also appears in the resource area.