About Matt Kuchar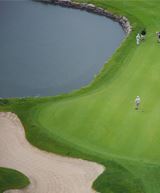 Given his success as an amateur, golf pundits believed that Matt Kuchar would be the next big thing on the PGA Tour. A U.S. Amateur winner and dominant college player, Kuchar finished in the Top 25 in both the Masters and U.S. Open as an amateur.
After turning pro in 2000, it took Kuchar less than two seasons to get a PGA Tour victory. He won the 2002 Honda Classic, but has not won on the Tour since.
Amateur Career
As an amateur at Georgia Tech, Kuchar was one of the hottest young golfers. He won the 1997 U.S. Amateur, which netted invites to the Masters and U.S. Open the following year. He finished 21st at the Masters and 14th at Open, giving more weight to the idea that he would have great success as a pro.
Throughout college, Kuchar was a consistent player and leader. In 1998, he won the Fred Haskins Award as the nation's top college player and was selected as the ACC Golfer of the Year. During college, he was selected to the All-ACC team four times and was a first-team All-America twice. He also represented the U.S. on the Walker Cup team in 1999.
Early Professional
Immediately after graduation, Kuchar worked in the financial world before making his PGA debut at the 2000 Australian Open. The following season, he played 11 events on sponsor's exemptions and earned $572,669, which would have ranked him 91st on the Money List. This was enough to earn his PGA Tour card for 2002, when Kuchar had four top 10 finishes, including his victory.
From there, his career was fairly steady, with ample top 10 finishes, allowing him to keep his Tour card. But by 2005, Kuchar game was failing him and in 2006, he played more than half of his season on the second-tier Nationwide Tour.
Recent Professional
Kuchar's turn on the Nationwide Tour in 2006 allowed him to earn back his Tour card and some confidence. He finished in the Top 10 in five events, including winning the Henrico County Open. He also played in eight PGA Tour events, but made the cut in only two. Kuchar's winnings on the Nationwide Tour were enough to get him back full playing privileges on the top tour.
Since rejoining the PGA Tour full time in 2007, Kuchar has been a steady player, finishing in the top 10 in nine events through mid-2009. More importantly, he was been high enough on the money list to keep his Tour card. Kuchar had his most lucrative money year in 2008, when he won $1,447,637, finishing in the top 25 eight times.
Statistics
Kuchar is among the better putters on Tour, and has averaged about 28 putts per round--or 1.76 putts per hole--in more recent years. Kuchar normally drives the ball between 275-280 yards on average and is slightly below the Tour average for driving distance. Kuchar has traditionally been just about at the Tour average for greens in regulation, hitting about 63 percent. His career scoring average in more recent years has been just below the Tour average.
In the Bag
Kuchar plays mostly Bridgestone clubs, though he carries a Callaway hybrid, a Tour Edge 3-wood and two Titleist Vokey wedges. His putter is a Rife Barbados. Kuchar plays Bridgestone B330S four-piece balls. Tour pros Fred Couples and Nick Price are among the other golfers who have Bridgestone as a sponsor.
Personal
A native of Winter Park, Fla., Kuchar resides in Atlanta with his wife, Sybi and son, Cameron, who was born in October 2007. Kuchar was born on June 21, 1978, is 6-foot, 4-inches and weighs 195 pounds.