Michigan's 10 Best Golf Courses You Can Play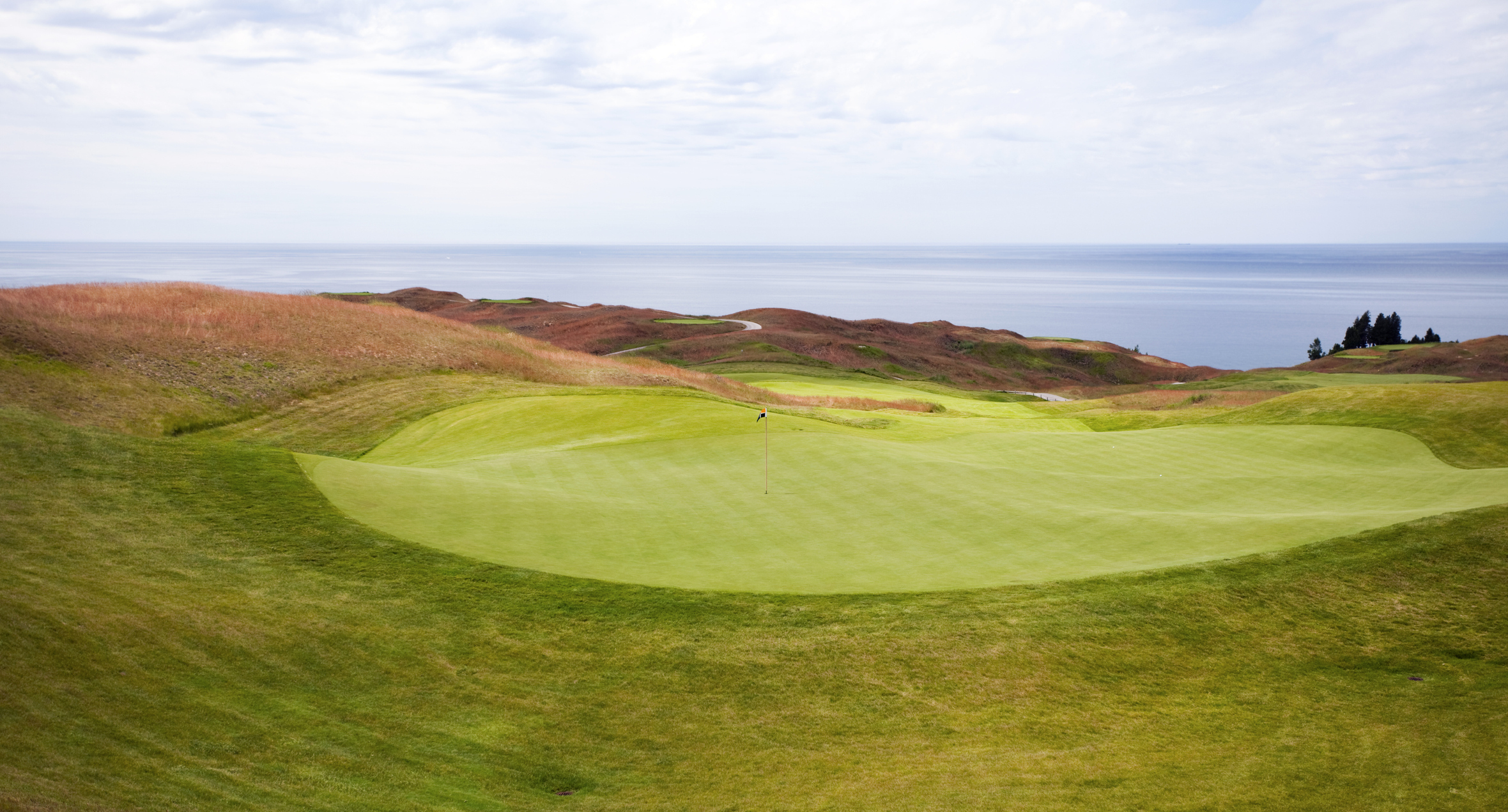 Between its upper and lower peninsulas, Michigan is home to some of the best golf in the mid-west. Michigan is easily accessible from its four bordering states and Canada, making it a popular golf destination during the summer and fall. Here are 10 resorts and courses that you simply cannot miss when traveling to the "Mitten."
Arcadia Bluffs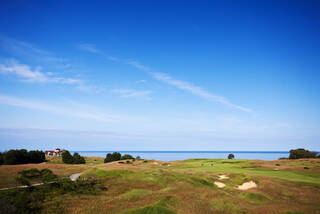 Arcadia Bluffs is a Michigan golf institution that you should be at, or near, the top of your list when booking your golf trip. Located in the lower peninsula and pressed against Lake Michigan, Arcadia Bluffs gives you dramatic scenery, incredible golf, deluxe accommodations, and multiple dining options. Arcadia Bluffs is only an hour's drive southwest of Traverse City.
Arcadia Bluffs is home to a pair of championship golf courses that will challenge you in every aspect of your game, and are both incredibly fun to tackle. The Bluffs Course is a links-style course cut right into the walls of Lake Michigan. Its natural grasses shape many holes and landing areas and greens are very player-friendly. On the Bluffs Course, the wind often dictates how difficult the course plays, but regardless of the breeze there are always treacherous bunkers and difficult green complexes to navigate. The championship tees play 7,300 yards with a 75.7 rating and 146 slope.
The South Course is a sneaky track that, on paper, is a bit more simplistic than Bluffs, but trust us, that's a front. This course gives you a ton of room to play with, just like the Bluffs, but the South Course is defended by a lack of trees, the presence of prevailing winds, and firm and fast conditions. The course stretches to 7,412 yards from the tips with a 75.6 rating and 132 slope.
Peak season at Arcadia Bluffs spans from June through October, with the Bluffs Course greens fee at $230 and the South Course at $160.
Harbor Shores Resort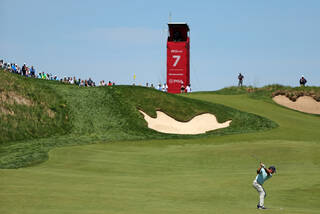 Benton Harbor is a great town in Michigan's lower peninsula that's easily accessible from northern Indiana and Chicago. If you want to experience a Jack Nicklaus signature course, make the trip to Harbor Shores Resort. This course hosts the KitchenAid Senior PGA Championship and is worthy of carrying the Golden Bear logo.
A day at Harbor Shores is a journey featuring Instagram-worthy views and varying terrain throughout your round. Holes 1-6 are more inland, 7-9 are surrounded by sandy dunes, 10-13 are heavily wooded, and holes 14-18 run along the Paw Paw River. It's unlike any other course you'll play in the U.S. The course plays 6,734 yards from the back tees with a 73.6 rating and 146 slope.
Harbor Shores' peak season is June-September when you'll pay $175 to play, but if you see some decent fall weather, you can actually get on for less than $100, which is a steal.
While staying and playing, we recommend The Inn at Harbor Shores, which is connected to the course. It's a modern hotel that has everything you need. While there, be sure to visit the neighboring city of St. Joseph, one of Michigan's charming beach towns.
Tullymore Golf Resort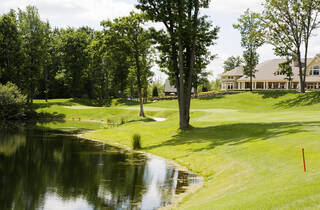 Tullymore Golf Resort is another dual-course facility that is a distinct experience you'll be glad you had. Tullymore sprawls over 800 acres of Michigan's tranquil wooded and wetland areas.
The Tullymore Course was designed by Jim Engh and opened in 2002. We love this layout because it has five par-3 holes and five par-5 holes, so there are plenty of opportunities to score on this course, and it makes for an interesting match play layout. Its terrain undulation is subtle in many spots, but there are a few more dramatic ups and downs. The back tees stretch to 7,234 yards with a 76.4 rating and 150 slope.
The St. Ives Course has more of the undulating drama as it was carved from glacial landscape. St. Ives was the original course on the property, designed by Jerry Matthews and opened in 1995. More so on St. Ives, you need to be sure of your distances and perhaps, use a rangefinder with a slope setting. The course plays 6,642 from the back tees with a 72.6 rating and 146 slope.
June-September weekend rates run $130 at St. Ives and $165 for Tullymore, but the stay and play rates are even better if you stay in one of Tullymore's beautiful cottages. Another option is to stay in nearby Grand Rapids, which is less than an hour southwest of the resort.
Grand Traverse Resort and Spa
If you're looking for a spot that allows you to check in and stay on property until you check out, Grand Traverse Resort and Spa is the place. Everything you need is on the property from golf, accommodations, dining, and activities. There's even a shuttle to the casino. The resort is near Elk Lake and is first-class all the way.
As far as golf courses go, Grand Traverse has three big ones that won't disappoint. If you can squeeze all three into your itinerary you will feel golf-fulfilled.
The Bear is a Jack Nicklaus design that is easily one of Michigan's best golf courses. The course incorporates Scottish themes, tiered greens, large mounds, and pot bunkers. It's not the course to miss fairways on. The Bear's back tees play 7,078 yards with a 76.1 rating and 150 slope.
The Wolverine is a little more playable than the Bear, but depending on which tees you choose, you can have a surprisingly difficult day. Gary Player designed the course, which has two distinct sides. The front is in the lowland surrounded by water and wetlands. The back is in higher terrain with more trees and hills to navigate. At 7,045 yards from the tips, the Wolverine is a fun test of your game.
Spruce Run is the resort's oldest layout and has seen several changes in the past 50 years from being a nine-hole course to one of the resort's most played tracks. Spruce Run travels along the Grand Traverse Bay and is next to the resort's hotel, so it provides some fantastic views during your round. At 6,204 yards, this par-70 is a great way to kick off your Grand Traverse experience.
All three resort courses run between $150 and $200 in peak summer months and if you're staying on property the convenience factor of having three courses should not be undervalued.
Island Resort and Casino
We make our way to the upper peninsula of Michigan and the Island Resort and Casino. This property is home to two incredible courses, Sweetgrass and Sage Run. If you're coming from the lower peninsula, you'll pass through Mackinaw City and ride Lake Michigan to the west. If you're looking for a golf trip where you can also hit the tables, this is the best option in the entire state and a great one at that. The resort is owned by the Hannahville Indian Community.
Course architect Paul Albanese designed all 36 holes on the resort's property and they serve as the perfect stay and play in the upper peninsula. Sweetgrass is an open layout where you don't get punished much off the tee, but strategically placed rolling hills that dot the fairways and challenging greens can turn any hole around incredibly fast. Sweetgrass has five sets of tees, so everyone can find the distance that favors their game. If you're looking to play the tips, they measure 7,275 yards. Sweetgrass is home to the LPGA Epson Tour's Island Resort Championship.
Sage Run is a fun contrast from Sweetgrass, with a links prairie-style layout that takes you through some more dramatic drop-offs and hard-cutting terrain. The greens at Sage Run roll a little more true, but it plays a bit longer. The tips at Sage Run measure 7,75 yards.
Incredibly, you can play either Sweetgrass or Sage Run for $85. True, the upper peninsula isn't the easiest destination to access, but Island Resort and Casino makes your journey well worth it.
Belvedere Golf Club
Belvedere Golf Club is easily one of the best golf courses in Michigan, and easily one of our favorites. If you don't believe us, we invite you to head over to their site and watch the welcome video from ESPN's Mike Tirico (a club member). If that doesn't convince you, nothing will. Legends such as Bobby Jones, Walter Hagen, Gene Sarazen, and Tom Watson have walked Belvedere's fairways. It's one of the purest experiences in golf and leaves you ready to plan your next visit.
The course opened in 1925 and was designed by William Watson. It has since been restored to highlight its original look and charm. The conditions are pristine from tee to green, but its green complexes and all that surrounds them are the meat of the course. You need to have a creative and versatile short game in order to score on this course.
Located in the northernmost part of the lower peninsula near Boyne Falls, Belvedere Golf Club is a private facility that offers tee times to the public most of the day. In-season a public golfer pays $135 to ride, however, if you're able to ditch the cart it's $110 and one of the most enjoyable courses to experience on foot.
Bay Harbor Golf Club
If you're playing Belvedere Golf Club, stay nearby and play your next round at Bay Harbor Golf Club. This course is situated on Little Traverse Bay and is a beautiful property that's quiet and scenic. The clubhouse is a massive 14,000 square foot structure that's perched up on one of the property's beautiful vistas. The Links Grill is the ideal spot to have a pre or post-round bite with stunning views of the golf course and water.
We encourage you to experience each of the three nine-hole layouts. Depending on the 18-hole combination for the day, you'll have a different set of challenges.
The Links is a Scottish-style nine that brings in the shores of Lake Michigan and both beauty and hazard. The prevailing winds that can blow are the true test of this side.
The Quarry has a much more industrial-style edge and forces you to carve through tougher doglegs and terrain in order to set yourself up with accessible approach shots to greens.
The Preserve is set within deep forestry before it brings you back into the lake setting. In the span of two hours, you feel like you've played two different courses on this side.
We highly recommend booking a full golf experience to take on these Arthur Hills gems, but if you only plan on paying a daily fee you'll spend around $180 to play the 18-hole combo for that day and around $50 to play the additional nine.
Eagle Eye Golf Course
It appears no "top state courses" list is complete without an absolute knockout from the great Pete Dye. In Michigan, Eagle Eye Golf Course is the product of Dye along with Chris Lutzke and it's consistently ranked as one of the best public courses in the U.S. The course is in Lansing, so it's further south than most courses on this list.
Eagle Eye has eight sets of tees, including some combo tees, to make for a number of distances that should appeal to all levels of players. Throughout this course, you'll have a healthy share of rolling fairways that reward local knowledge and accuracy. Placement from the tee box is key on just about every hole. Eagle Eye's island green, something Pete Dye is known for, is its signature. The 17th hole is only 146 yards from the back tees but the island in the distance, resembling Dye's 17th at TPC Sawgrass, is ever-so tiny.
If you're just looking to play a single round at Eagle Eye, plan on spending about $140 during peak season. The area offers some outstanding stay and play options which also incorporate the other courses that surround Eagle Eye such as Hawk Hollow, The Falcon (nine-hole course), and Woodside (12-hole course).
Forest Dunes Golf Club
If you think you know your local course forwards and backwards, The Loop at Forest Dunes has something to say. The Loop is a truly reversible 18-hole layout that houses 36 unique golf holes. The Red routing plays counter-clockwise and the Black routing plays clockwise, with the course setup alternating every day. The mastermind that is Tom Doak offers you two completely different courses and a must-experience for anyone who appreciates golf course architecture.
Of course, Forest Dunes also offers the original layout, the Forest Dunes Course, designed by Weiskopf in 2002. It is the epitome of a classic-style, tree-abundant layout. It's incredibly challenging in every aspect and when you add in its sandy waste areas, you have an entirely new perspective on making sure you hit fairways and greens.
If you're looking for a little more laid-back golf, the Bootlegger Short Course is a 10-hole short course where you can experience golf in its most casual form. Even groups of eight or more can be seen walking and enjoying themselves at the end of a long day on The Loop or Dunes courses.
Forest Dunes is easily accessible off of I-75 and is surrounded by the Roscommon State Forest area, which should give you a good idea of the terrain you'll experience throughout your round. The Loop and Forest Dunes cost around $160 during peak season and you can experience the Bootlegger for $49. The lower peninsula city of Roscommon probably isn't on your checklist of places to visit, but with Forest Dunes, Tom Doak and Tom Weiskopf give you plenty of reasons to make an exception.
Marquette Golf Club
Our final destination in our 10 best in Michigan is Marquette Golf Club, which is home to 36-holes of championship golf. It's one of the northernmost courses on our list, in the city of Marquette in the upper peninsula. The semi-private property opened in 1926 but continues to give golf enthusiasts reason to make it a destination.
In 2005, Marquette Golf Club made a lot of noise when it opened Greywalls. Mike DeVries designed this rugged, exciting course that you'll instantly marvel at. It's simply amazing how DeVries carved out this course among the natural terrain. With its inspiring views of Lake Superior and drastic elevation changes, you'll be distracted simply by your surroundings. Greywalls plays 6,828 yards from the tips with a 73 rating and 144 slope. It's your choice whether you want to tackle Greywalls first or second while at Marquette Golf Club, but we suggest having plenty of golf balls in the bag. At $180, Greywalls in peak season is a course you won't forget.
The original course is the Heritage course. William Langford designed the original nine holes and then in 1969, David Gill designed the back-nine. The unlikely duo combined to make one of the most classic-style layouts that still today brings you back to a time when the game was much more simplistic. It is a stark contrast to Greywalls in the best possible sense. Heritage is also given a year-round public price of $52, which you simply cannot beat.
The Michigan Golf Scene
It's easy to see why Michigan has become one of the premier golf states in the U.S. Despite not having a 12-month season, Michigan packs a ton of superior destinations into its borders and gives many warmer states a run for their golf tourism money.
Michigan's golf history dates back to the late 1800s when its first course, Les Cheneaux Golf Club, opened in 1898. The course is still open today and is a staple in the Michigan golf landscape. Perhaps no course in the state receives as much attention as Detroit Golf Club, which hosts the Rocket Mortgage Classic on the PGA Tour.
As far as professional golfers from Michigan, what the state lacks in quantity it makes up for in quality. Walter Hagen was born in Rochester, New York, but called Traverse City home until he passed away there in 1969.