Milwaukee City Guide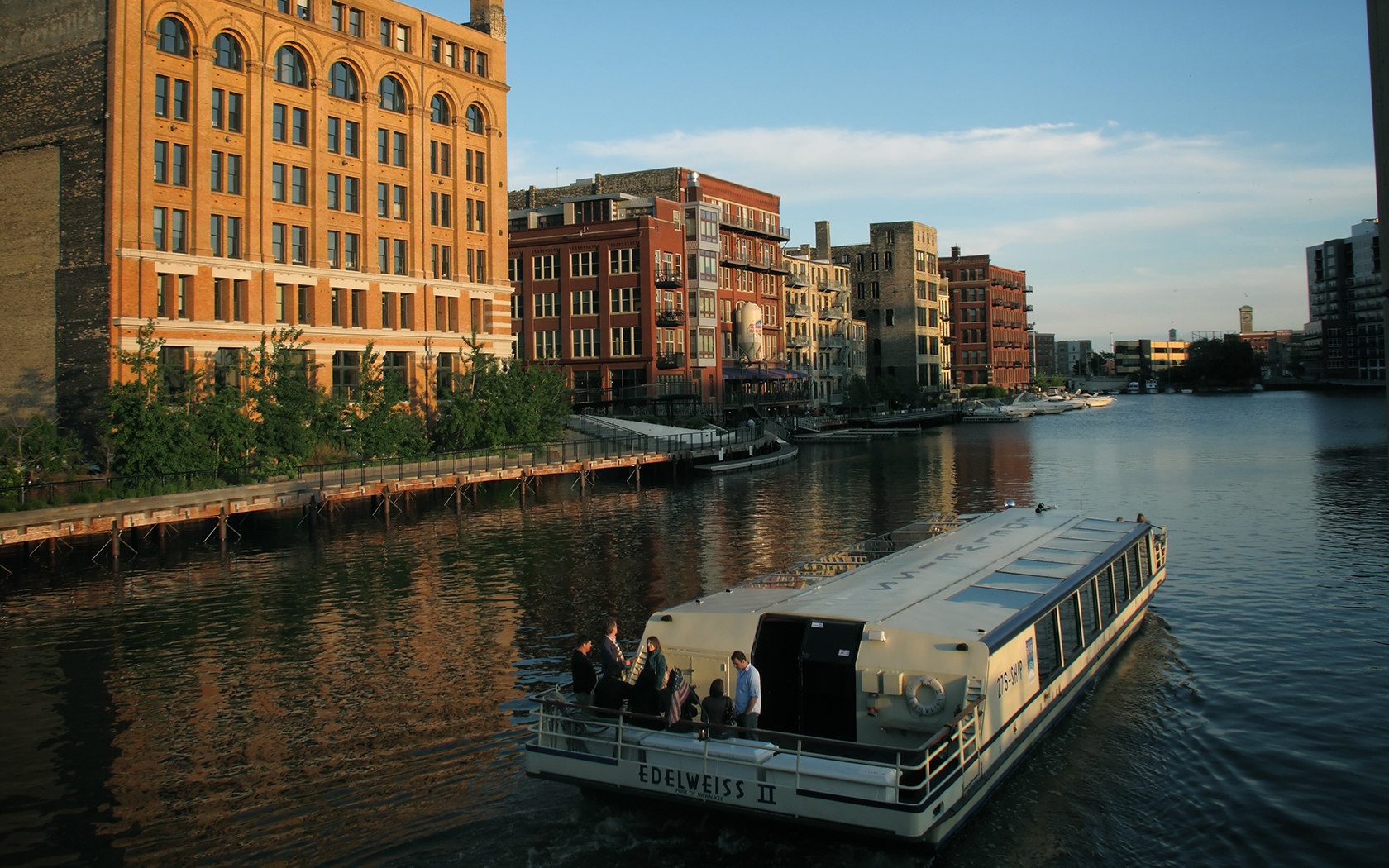 Milwaukee is one of the Midwest's best kept secrets. Though the city is often overshadowed by Chicago, located less than 100 miles to the South, Milwaukee is a beautiful and thriving old city built on industry, diverse immigration, and of course breweries. The city also has miles of beautiful lakefront restaurants, bars and shops. It is also home to a vibrant golfing scene. This is GolfLink's guide to Milwaukee.
Sightseeing
There is much to do and see in Milwaukee. Explore the city's iconic River Walk to get a feel of the city and enjoy all the architecture, including the kitchy life size statue of the Fonz from Happy Days. Then consider going on a brewery tour, and see just what made Milwaukee famou. There are plenty of options, from Pabst and Miller to craft brewers like Milwaukee Brewing Company and Lakefront Brewery. Another good place to visit and satisify your cravings is the Milwaukee Public Market, home to numerous businesses offering everything from fried fish to Vietnamese sandwiches, with numerous other shops selling a variety of wares sprinkled in as well. If you're feeling more of a stroll through a museum, look no further than the Milwaukee Art Museum located right on Lake Michigan. And if you're there in the summer, do yourself a favor and enjoy the annual Summerfest music festival that has been serving up great music for years.
Restaurant Guide
St. Paul Fish Company is renowned for its delicious seafood served in generous portions. Go for a Friday Fish Fry, something of a Wisconsin tradition at many of the area bar and grills, or enjoy the best lobster roll you can get outside of New England. Brunch is for Sobelman's, home to one of the city's most beloved Bloody Mary's (served with a fried Cornish hen, if that's your style). For pizza, head to Zaffiro's for Sicilan style pizza, or head to Glorioso's Italian Market for delicious deli and pasta options. Milwaukee is also well known for its numerous bakeries where the city's rich Eastern European heritage comes through in a variety of pastries. Keep your eye's peeled for these small bakeries in the Milwaukee Public Market.
---
Milwaukee's Best Courses
In between sightseeing, go and check out some of the Milwaukee area's best courses, where you can find everything from beloved munis to U.S. Open hosts.
Washington County Golf Course

6439 Clover Rd, Hartford, WI 53027
http://www.golfwcgc.com/
A local favorite, the Washington County Golf Course is an affordable option for travellers visiting Milwaukee. The course was designed by Arthur Hills and is a classic parkland style with relatively wide fairways. Heavy hitters will enjoy this, as the 7,048 yard course encourages golfers to air it out. The course's difficulty varies greatly depending on the wind, and the long rough must be respected if you want to enjoy your day on the course. The course also has a great practice area so arrive early to your tee time.
Fire Ridge Golf Club

2241 County Hwy W, Grafton, WI 53024
https://www.fireridgegc.com/
A sterner test than Washington County Golf course, the 7,016 yards of Fire Ridge Golf Club will force you to use your entire bag. The course, designed by Kerry Mattingly and Gregg Kuehn, uses a variety of tricks and obstacles to keep you honest, including water on 11 holes and blind shots. The course rolls with the terrain and golfers should expect uphill and downhill holes. The course is beautiful, with ample greenery and wildlife on the large property.
Johnson Park Golf Course

6200 Northwestern Ave, Racine, WI 53406
https://johnsonparkgc.com/
One of the area's oldest munis, Johnson Park Golf Course in neighboring Racine was first opened in 1931. The course is kept in good condition by Green Golf Partners and has practice facilities, pro shop, and carts available. The course borders the Root River, and was recently upgraded with over 1000 new trees planted in and around the course to increase the difficulty. This course is perfect for squeezing in a quick game or enjoying the relaxed feel of a muni, while still enjoying good pace of play and conditions.
The Bog

3121 County Rd I, Saukville, WI 53080
http://www.golfthebog.com/
The Bog is one of the area's best kept secrets, though that secret has begun to trickle out. The course was designed by Arnold Palmer and can be played from 5,110 to 7,221 yards, making it enjoyable for many different skill ranges. The course plays through wetlands and forests, with elevation changes and rolling hills throughout. The course is built for shotmakers, and a competent short game is required to score low. The course has hosted many of Wisconsin's top amateur events, and golfers will also enjoy the bar and restaurant after a hard fought round.
Brown Deer Park

7625 N Range Line Rd, Glendale, WI 53209
https://mke.golf/browndeer/
Brown Deer Park is often considered Milwaukee's best loved muni, and was host of the PGA Tour's Greater Milwaukee Open for 15 years until the tournament closed in 2009. The course was also home to Tiger Woods' PGA Tour debut at the 1996 tournament, where the future great finished T60 but not before scoring an ace during his final round. The course is an American parkland course and was designed by George Hansen back in 1929 and is well cared for as the pride of Milwaukee's public courses. The course also provides full facilities and will provide a great time for any golfer.
Erin Hills

7169 Co Rd O, Hartford, WI 53027
https://erinhills.com/
And number 1 on our list, and any list of Milwaukee metro area golf courses, is the wonderful Erin Hills. The course was designed by Michael John Hurdzan, Dana Fry and Ron Whitten. The course famously hosted the U.S. Open in 2017, won by Brooks Koepka, and will appeal to any golfer looking to play one of the best public courses in the nation. The course is a hulking 7,735 yards from the tips and plays across rolling Wisconsin prairie. The course seems, at first glance, open. But golfers will quickly realize that the routing and strategic bunkers bring ample challenge to provide a true test of golf without gimmicks.