ECCO Golf Shoes That Golfers Swear By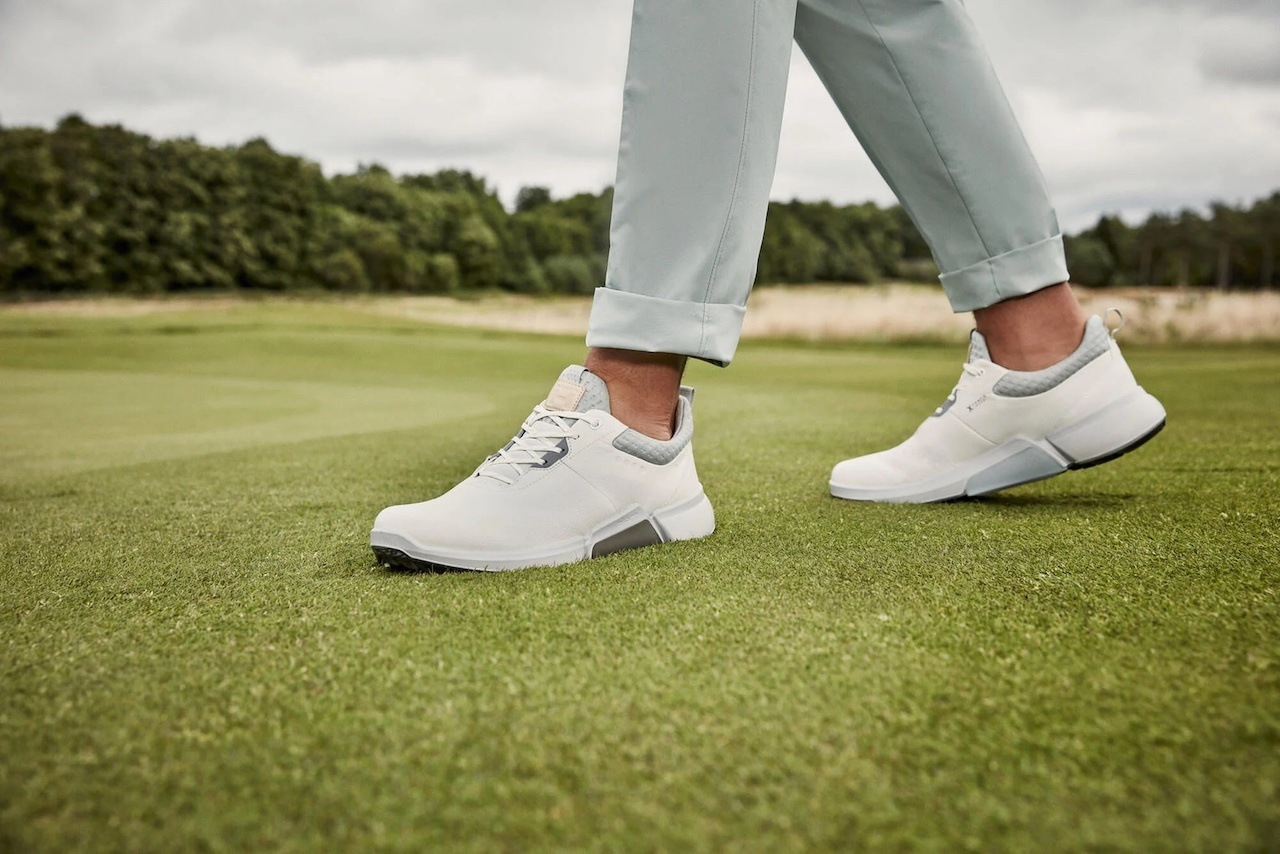 When it comes to golf shoes, ECCO is in a league of its own. There are brands that get more wear on professional tours, yes, but when it comes to quality and repeat buyers ECCO has made quite a name for itself in a category that's very competitive. Here are the different ECCO Golf models and what makes each one unique.
ECCO was founded in 1963 and is known as one of the best shoe companies in the world. ECCO makes everything from dress shoes to athletic shoes. In 2010 the company began its explosion onto the golf scene.
Fred Couples, arguably one of the most popular golfers ever, took on Augusta National Golf Club at the 2010 Masters wearing what many thought was a casual shoe. That shoe was actually the original ECCO Street golf shoe. It perked the interest of many and helped reimagine golf shoe design by bringing together upscale materials with a more comfortable and trendy design.
Today, ECCO is highlighted by its BIOM technology which is integrated into many of its shoes. BIOM stands for "biomechanical optimization" and aims to help your feet move more naturally by guiding them to activate shock absorption and motion. Here are models that feature that technology in addition to ECCO's other models.
ECCO BIOM H4
Made from premium ECCO leather, this BIOM H4 is one of the flagship models from ECCO. They have 100% waterproof technology from GORE-TEX so your feet will stay dry if you find yourself in the rain or long, wet rough. ECCO MTN GRIP outsole gives superior stability and rotational support and is also very durable.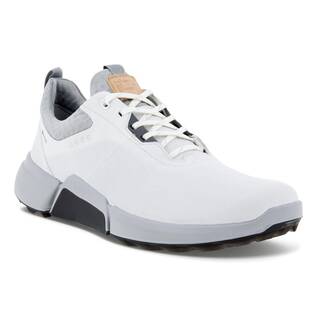 ECCO FLUIDFORM Technology provides a lightweight, ergonomically advanced sole which makes the BIOM H4 very flexible.
This model is available in four different colors for men and women. If you prefer laceless shoes, ECCO offers the BIOM H4 with BOA Fit System which is a closure device for a snug fit. The BOA version comes in two colors for men and women.

ECCO BIOM G3
ECCO arguably perfected the spikeless golf shoe so it's easy to overlook the fact that the company also produces an equally great spiked golf shoe. The BIOM G3 offers all of the ECCO technology for the traditionalist that prefers to have spikes. They have the BIOM technology, GORE-TEX protection, and ECCO FLUIDFORM, along with ZARMA-TOUR spikes which don't clog and offer great traction.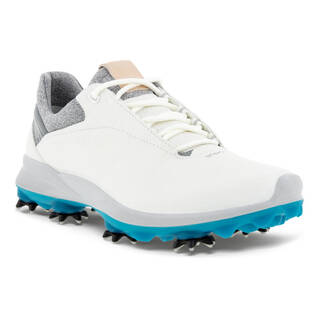 The BIOM G3 model comes in three color combinations for men and two color combinations for women.
ECCO S-Three
The S-Three model from ECCO blends together all of the necessities for golf and adds in the appeal of looking more like a casual, everyday shoe.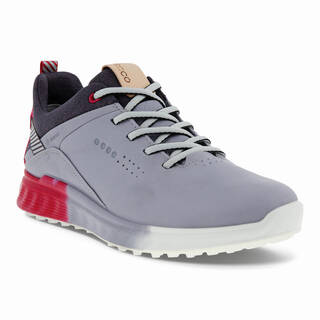 The outsole is not only GORE-TEX protected but it also has an E-DTS traction system which consists of 100 TPU traction bars for superior grip. It also has a removable, washable OrthoLite insole to help extend the life and breathability of your shoes.
The S-Three offers the most colors of any golf shoe in the ECCO lineup with seven options for men, plus two additional colors in the BOA version. The women's version has six colors in the standard laced model and two additional with BOA.
ECCO BIOM Cool Pro
The BIOM Cool Pro brings in a Euro styling to go along with the ECCO technology. These are made from lightweight yak leather and have ECCO TRI-FI-GRIP which offers support through three different zones to enhance stability, durability, and rotational support. This model also features a GORE-TEX surround, so it's 100% waterproof.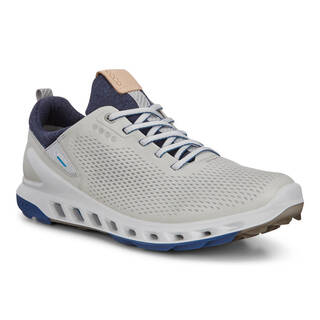 Ladies may find this model to be the most versatile in colors with five options to choose from. The men's version has three colors.
ECCO BIOM Hybrid
The BIOM Hybrid is the most familiar style because it has many of the same aspects as the original ECCO Street shoes that Fred Couples wore in 2010.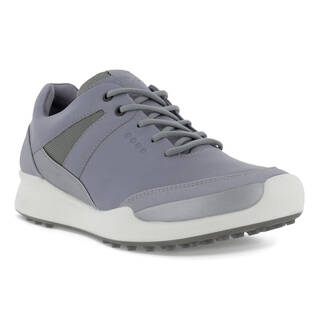 You can basically wear these shoes anywhere. The golf course, the clubhouse, on a date, maybe even a wedding (probably not your own). They're made from yak leather with some really fun detailing on the sides. They also have ECCO HYDROMAX technology to keep your feet dry in wet conditions.
The Hybrid also has the E-DTS traction system, ECCO FLUIDFORM Technology, and a removable comfort-fiber inlay sole. If you're going to make your maiden voyage with ECCO golf shoes, this is a can't miss choice at $150. Men have four color options and women have three.
ECCO Core Shoe
The Core is one of the only models from ECCO that does not have BIOM technology. It doesn't make them inferior to the other models by any means. Made from the same yak leather and many of the other ECCO shoes, the Core is a sleek design with E-DTS TWIST outsole which offers multi-directional traction and highlights high-abrasion areas of your foot.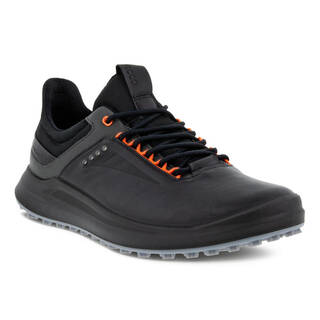 This model also has ECCO FLUIDFORM Direct Comfort Technology and the removable OrthoLite insole. The Core is available in three color options, but not in women's.
ECCO Strike Shoe
If you're a traditionalist in the sense that you want a spiked shoe as well as a familiar style (as close to a saddle shoe as possible) then the Strike model is your best bet.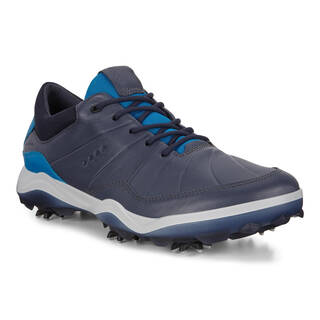 The Strike features lightweight yak leather, water-repellent with ECCO HYDROMAX Technology, ECCO FLUIDFORM Technology, and ZARMA-TOUR spikes, all of which are seen among other ECCO models. The Strike has four color options without a women's model.
Conclusion
Buying new golf shoes can be as simple or as difficult of a process as you make it. If you are committed to finding a golf shoe that's going to give you quality and comfort, ECCO needs to be under consideration. Are they on the high end of the price scale? Yes. ECCO golf shoes will cost you anywhere from $150- $260, depending on the model. Are you getting a shoe that will last you years and still feel the same as your first round? Also, yes.