Top Flite D2 Distance Golf Ball Review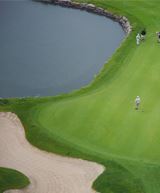 Specs
The Top Flite D2 Distance golf ball is a unique two-piece ball. It features dimple technology to deliver longer and straighter shots. The dimple appears as an "O" inside each dimple. On one side of the ball, there is a unique crosshair alignment. This is designed to assist in lining up putts. You will see "D2" stamped in the middle of the circle. On the other side of the ball, it is marked with "distance" in red lettering. The ball feels softer than older Top Flite models. The D2 Distance ball features a slightly firmer cover than the other D2 balls. This is designed to increase ball speed off the club face.
Field Use
This is not the Top Flite golf ball people expect. The ball should put the label "Rock Flite" behind them. While it is a slightly firmer cover, it is much softer than what golfers are familiar with from the Top Flite brand. When hit, the ball travels at an average trajectory. With short irons, it is possible to back up the ball a few feet on the green. While there are higher spinning golf balls on the market, it has a nice feel around the green. The ball does a fantastic job of staying on the intended path. There is not much movement and it is easy to hit this ball straight. Distance is a big plus. The ball picks up a few yards compared with other balls available. Off-center hits and pure shots travel roughly the same distance.
Pros and Cons
It performs well for a distance ball. In comparison with other top balls, it is a solid 5 to 15 yards longer. You potentially could pick up a half to full club longer in length. The ball performs well with short irons, but it does not hold greens well with long irons. It seems the ball does not spin very well with long irons. The ball travels fairly straight with the lack of spin. For touch shots around the green, the ball is average. The durability of the ball is decent. A few shots with short irons potentially can scuff the ball slightly.
Bottom Line
Top Flite is one of the most common golf balls on the market. Top Flite has come a long way in developing a more versatile ball. The target market is mainly a player with a higher handicap or slower swing speed. It has a nice feel for a distance ball. It seems to jump off the club face and goes fairly straight. This is a decent golf ball and will perform very well against the other distance balls. While you won't see many single-digit handicap players using this ball, if you are looking for a cheap ball, it is a great choice. A common stereotype with Top Flite balls is they are too hard and have no feel. If you give this ball a try, you might be pleasantly surprised.