Tiger Woods: The Dramatic Timeline Between Masters Starts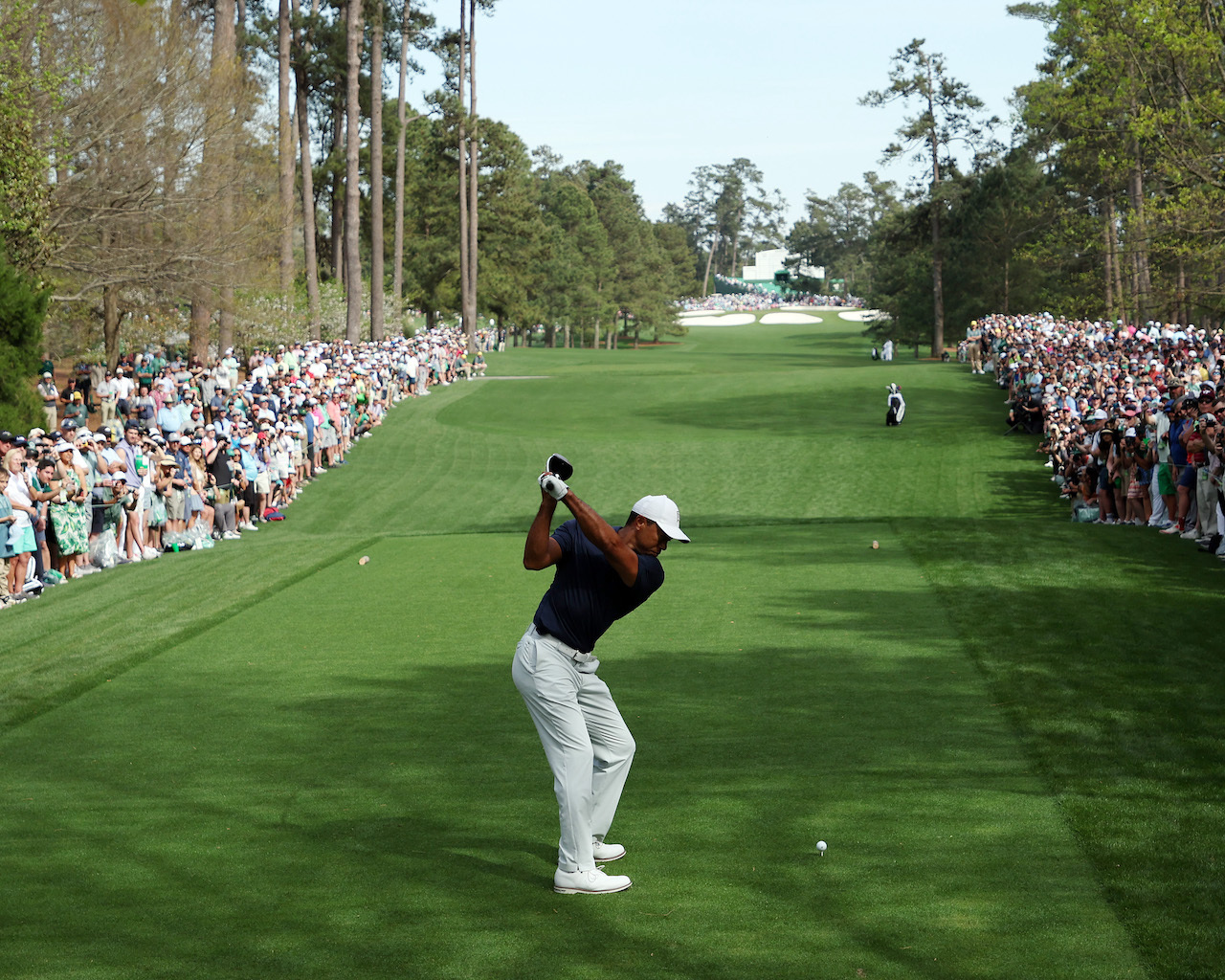 Tiger Woods will compete in the 2022 Masters, fittingly his first start in a competitive golf tournament since the November 2020 Masters. It's an outcome fans have been clamoring for since Woods dropped a three-second swing video back November 2021, but despite the frenzy, Tiger's return was still uncertain for much of that time. 
Given the seriousness of the injuries he sustained in his February 2021 car accident, many fans doubted Tiger would ever compete at the highest level again. Here's the dramatic timeline of Tiger Woods, from the 2020 Masters to the 2022 edition.
November 12-15, 2020: The Masters
Tiger competed in the COVID Masters in November of 2020. He was the defending champion for 19 months before Dustin Johnson dethroned him in one of the most unique Masters of all time.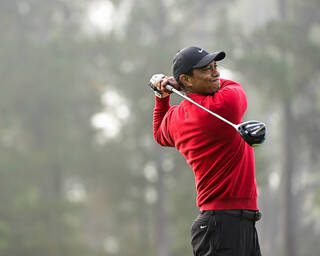 Two things stand out about the 2020 Masters as it relates to Tiger Woods. First, it was his last competitive tournament heading into the 2022 Masters. Second, this was the year Tiger made a septuple-bogey – that's right, a 10 on a par 3 – on the 12th hole, before playing the final six holes in 5-under-par, including birdies on each of his last four.
Despite a 10 on the scorecard, Tiger shot 4-over 76 for the day, was 1-under par for the tournament, and finished T38, 19 strokes behind DJ, who won at 20-under.
December 23, 2020: Another Back Surgery
Another year, another back surgery for Tiger. On January 19, 2021, Tiger publicly acknowledged that the fifth microdiscectomy surgery on his back had recently taken place. Rory McIlroy later indicated that the operation happened on Dec. 23.
In his statement acknowledging the procedure, Tiger said "I look forward to begin training and am focused on getting back out on Tour."
February 23, 2021: Tiger Woods' Car Accident
On Tuesday, February 23, 2021, around 7:12 a.m., Tiger Woods was involved in a single-car crash in which his vehicle hit the median then veered into a bush, hit a tree, and rolled over in a suburban area in Southern California. Woods was extracted from the SUV, a Genesis GV80, which was credited by some for helping save Tiger's life.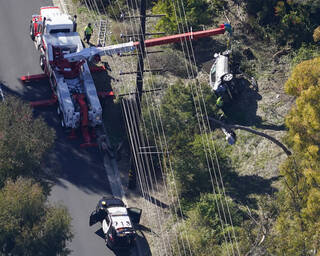 It was later reported that Tiger was driving around 84 mph at the time of the accident, which took place in a 45 mph speed zone.
First responder Deputy Carlos Gonzalez told reporters "It's very fortunate that Mr. Woods was able to come out of this alive."
April 23, 2021: Tiger's First Post-Accident Progress Report
Two months after the life-threatening crash, Tiger posted his first Instagram update, a photo of him and his dog, Bugs. Tiger was on crutches in the photo, with his right leg in a boot from his foot all the way up to his knee.

November 9, 2021: Justin Thomas Hints at Tiger Return
The golf world had no insight into Tiger's health as it related to a return to professional golf until Justin Thomas had this to say on a November 9 episode of the No Laying Up podcast regarding a potential Tiger return: "I mean, I know that he's going to try. I just, I don't see him ever playing if he can't play."
If that tiny nugget gave golf fans a glimmer of hope that there's still a chance to see Tiger Woods on a golf course again, what happened next set the golf world ablaze.
November 21, 2021: Making Progress
"Making progress" was all Tiger had to say to caption a three-second video of him hitting a golf shot to turn the golf world into obsessive swing analysts.
Every element in the video, from the sleeve on his right knee to the launch monitor to the size of the bucket of balls and divot pattern were analyzed. Not to mention what it meant for Tiger's return to golf. Certainly one of the most media-trained athletes in history wouldn't drop this appetizer unless he knew there was a main course coming, right?
December 17-19, 2021: PNC Championship
Tiger Woods officially returned to the spotlight when he and his son Charlie competed in the 2021 PNC Championship, a so-called "hit and giggle" exhibition on the PGA Tour schedule.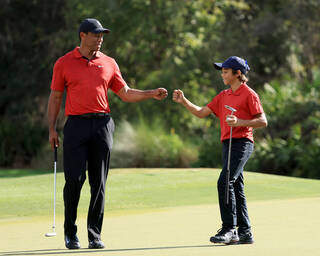 Tiger and Charlie made birdie on 11 of their final 12 holes to shoot a final round 57 and give eventual champions John Daly and John Daly II a scare before coming up two strokes short.
The result of the tournament was not the focus. Seeing Tiger Woods play golf, have fun, and make birdies on TV over three consecutive days was more than enough to give golf fans all the optimism needed to believe in another Tiger Woods comeback.
February 19, 2022: Tiger's Interview with Jim Nantz
During the third round of the 2022 Genesis Invitational, Tiger sat down with Jim Nantz for an extended interview. During the interview, Tiger confirmed what he had hinted at previously, saying "I'll never play another full schedule again. My body will never allow me to do that. I can pick and choose to play here and there. And hopefully, it will be good enough with my practice sessions at home that I'll be able to be good enough."
March 2, 2022: Tiger Wins PIP & Trolls Phil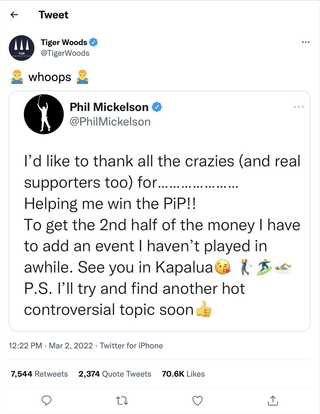 Tiger Woods won the grand prize of the first-ever Player Impact Program, a cash prize implemented by the PGA Tour to reward the tour's most influential players. Despite not playing a competitive round in 2021, Tiger edged PGA Champion Phil Mickelson to take home the $8 million top prize, then had some fun with an overconfident Mickelson on social media.

March 9, 2022: Tiger Inducted Into the World Golf Hall of Fame
Tiger was inducted into the World Golf Hall of Fame on Wednesday, March 9, 2022, on the eve of the Players Championship. His daughter, Sam, introduced him in a heartfelt speech before Tiger took the stage for just over 16 minutes to accept his award and thank those who helped him succeed.
Other inductees included Tim Finchem, Susie Maxell Berning and Marion Hollins.

March 29, 2022: Tiger's Jet Goes to Augusta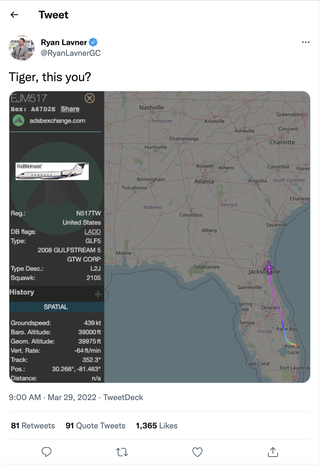 It's not possible for Tiger Woods to secretly visit Augusta National in the days leading up to the Masters when the whole world is waiting to see if he's going to play. When Tiger's private jet left Stuart, Florida heading north, the golf world once again lost its mind.
Tiger indeed visited Augusta National to test his body on the hilly course but remained silent on his intentions.

April 4, 2022: Tiger's Plays Practice Round; Gametime Decision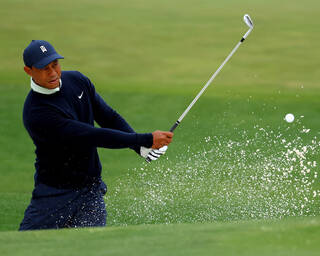 On the Monday of Masters week, Tiger teed it up for a 9-hole practice round for the second consecutive day, drawing a Sunday-like gallery while playing alongside Fred Couples and Justin Thomas. Despite the reps and all the attention, Tiger remained coy on his intentions, saying his status for the Masters would be a "game-time decision."
April 5, 2022: Tiger Announces He's Playing The Masters

After the private jet tracking and fanatical practice rounds, Tiger confirmed what golf fans worldwide had hoped for weeks, that he would in fact compete in the 2022 Masters.
Tiger took his commitment one step further when asked if he believes he can win the Masters, which would be his sixth, and 16th career major, this week, answering confidently "I do."