Pro Golfer Secrets: Justin Thomas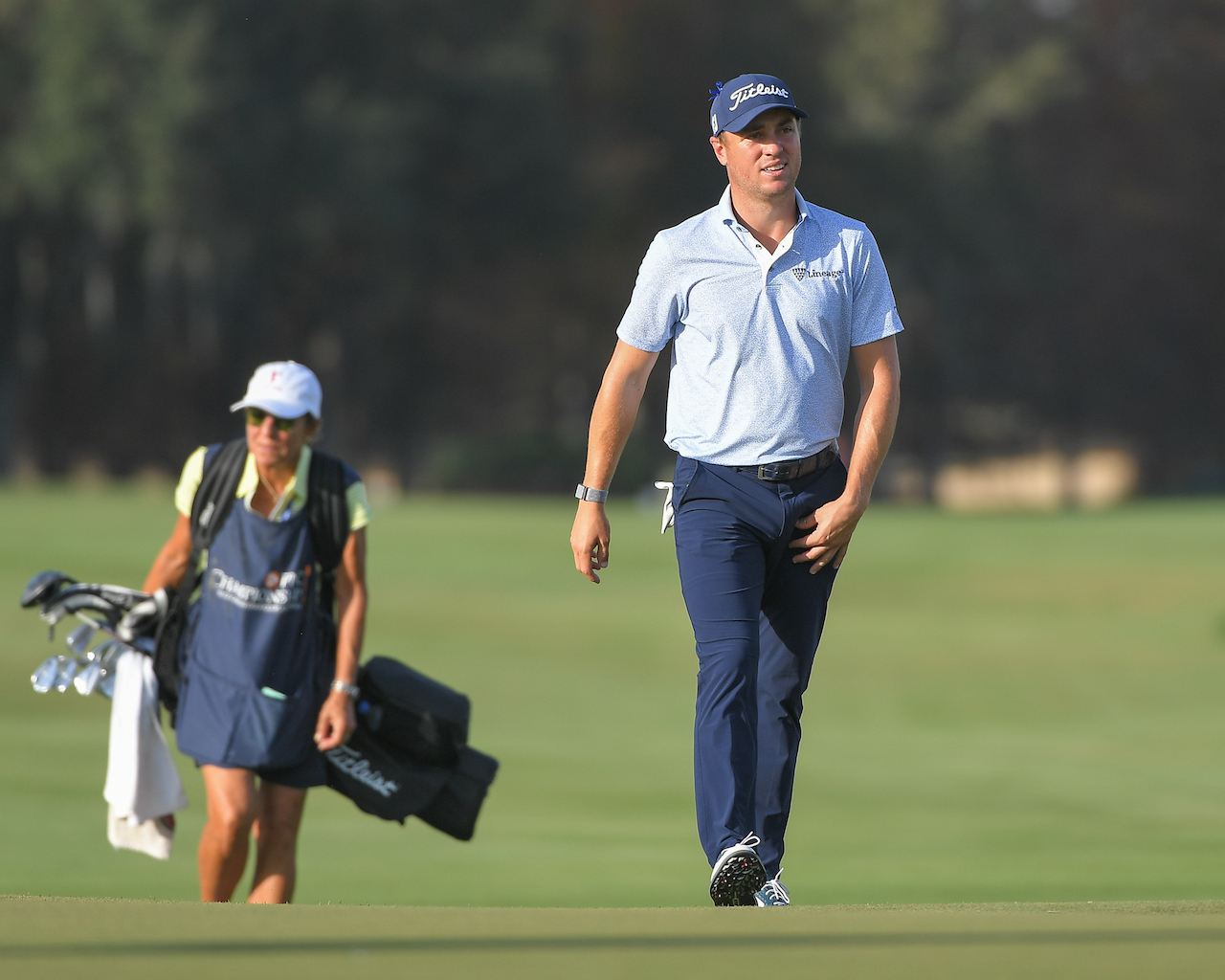 2017 FedEx Cup winner and PGA Tour money leader Justin Thomas is one of the rising young stars of golf. The son of a PGA professional at his home course of Harmony Landing, this Goshen, KY native enjoyed a breakout 2017. Thomas joined the PGA Tour in 2015 and is known for his long drives and incredibly fast swing speeds despite his relatively slight 145lb. frame. In fact, Thomas routinely drives over 300 yards and can even claim a handful of drives over 400 yards. Thomas' putting abilities compliment his driving abilities, making him one of the most well-rounded golfers on the PGA Tour.
Accomplishments
By age 24, Thomas already counted 7 PGA Tour Wins, including a major, with 5 coming in the 2017 season. This makes Thomas only one of 4 players to have won 5 tournaments including a major in a single season before age 25; the others were Jack Nicklaus, Tiger Woods, and fellow young gun Jordan Spieth. In addition to his PGA Tour wins, Thomas was also included on the 2017 President's cup team, finishing with 3 wins, 1 loss and 1 draw in route to an American victory. In addition, Thomas has also managed 2 aces in his short PGA Tour career. Before turning professional, Thomas had a hand in giving the University of Alabama's first national championship in golf and at 16 became the 3rd youngest player to make the cut at a PGA Tour event at the 2009 Wyndham Championship.
Equipment and Sponsors
In addition to apparel and other corporate sponsors, Thomas enjoys sponsorships from FootJoy golf shoes and Titleist clubs and balls. His Titleist Tour Staff Bag is filled with Titleist clubs, including the Titleist 917D2 driver with an 8.5 degree loft. His fairway woods include both the Titleist 917F2 (15 degree loft) and the 915Fd (18 degree loft). Thomas uses a Titleist 716 CB 4 iron, while he uses a Titleist Prototype 718 MB Iron to complete his set of 5-9 irons. Thomas uses four wedges: 2 of the Titleist Spin Milled SM6 Wedges with lofts of 46 and 60 degrees and 2 Spin Milled SM5 Wedges with lofts of 52 and 56. A Scotty Cameron X5 Putter rounds out Justin Thomas' bag.
Secrets and Tips
Thomas has mentioned several tips for achieving the kind of speed and accuracy off the tee for which he is known, and many involve a focus on the fundamentals. Thomas credits his father Mike Thomas as his sole swing coach and who is responsible for teaching him the proper technique to achieve maximum distance and control.
Flexibility
Thomas credits his swing in part to superior flexibility. This allows even slighter golfers to generate enough torque to provide great distance off the tee and fairway. Thomas recommends focusing on the hip and shoulders when stretching to increase flexibility. For instance, Thomas suggests standing scissor kicks as a way to loosen up the hips before a round of golf, noting that he does "about 20 for each leg" before teeing off on the first hole. He also stressed the importance of pulling your shoulders back as far as possible on your backswing keeping your hands as high and wide as possible. This technique will allow you to create maximum speed during your downswing.
Simplicity
Simplicity drives Justin Thomas' swing. Instead of focusing on every minute detail of your body mechanics during your downswing, Thomas encourages golfers to focus instead only on pulling up your trailing hip up and backwards. This will increase the amount of loft and also encourages you to fully rotate your hips during your swing. Remember, most of your power lies in proper rotation of your hips and shoulders.
Accuracy
Accuracy in the golf swing can be the difference between an easy approach and hacking through the rough. The key is to hit the ball with the center of the clubface. Also, your swing path is important to eliminate hooks and slices from your swing. Thomas recommends a simple drill to assure accuracy and a straight swing path. Start by lining up to practice your drive, then place a ball on either side of your shot. You should look down and see three balls in a vertical line as you get ready to swing. Then practice your drive being sure not to either of the balls next to your target ball. This is designed to create a straight swing path. The drill should be repeated until you are consistently hitting straight balls.