Will Dustin Johnson Repeat as Masters Champion?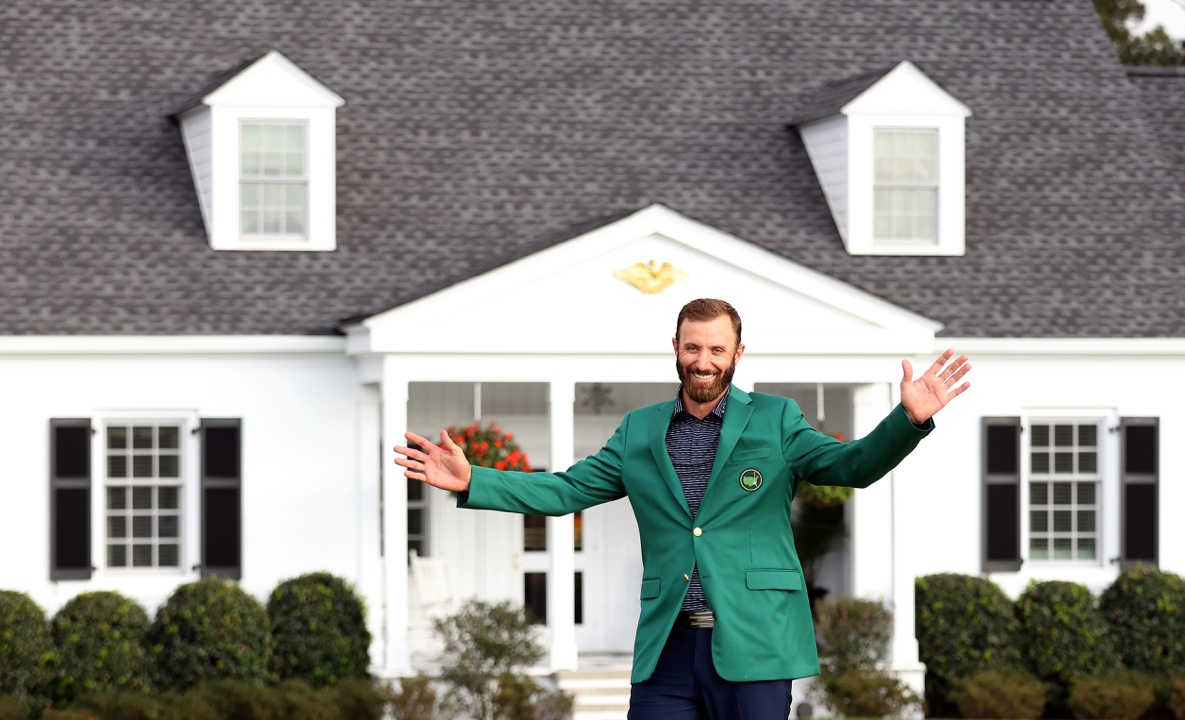 It has been just five months since Dustin Johnson slipped on the green jacket after winning his first Masters Tournament. Can the 36-year-old become just the fourth golfer to win back-to-back Masters? The tournament kicks off Thursday and Johnson is again the favorite to win.
A Look Back at the 2020 Masters
Johnson dominated the 2020 Masters, which was pushed back to November because of COVID-19 restrictions enforced last spring. In his record-shattering performance, Johnson shot a 20-under-par 268, two shots better than the previous record shared by Tiger Woods (1997) and Jordan Spieth (2015). Johnson set another Masters record by hitting 60 of 72 greens in regulation.
His scorecards were nothing short of spectacular, with bogey-free rounds of 65 on the first and third days. Johnson had two eagles during his Masters run, both on the par 5, 575-yard second hole. Consistency was key; Johnson finished with 20 birdies and just four bogeys over the four rounds.
What Advantages Does Johnson Have Heading Into the 2021 Masters?
Johnson knows Augusta National well, playing in the Masters 10 times, dating back to his debut in 2009. In those years, Johnson has only missed the cut once (2014) and has finished in the top 10 in the last five Masters.
The world will long remember Johnson's performance in 2020, but many might not recall that he finished runner-up just one year earlier. In 2019, Johnson was edged out by champion Tiger Woods by one stroke and finished in a three-way tie for second place.
Johnson grew up just one hour from Augusta National in Irmo, South Carolina and, from an early age, attended Masters practice rounds with his father, Scott.
With 8-1 odds, Johnson is the favorite to win the 2021 Masters. He has played well this season, finishing in the top 10 four times since last September. In addition to the Masters win, Johnson was sixth at the 2020 U.S. Open.
Perhaps the most noteworthy stat? Johnson has played 11 consecutive sub-par rounds at Augusta.
What Will Johnson Need to Do to Defend His Masters Title?
Johnson showed composure in the final round in November, with a clutch birdie on the par 3 sixth hole after back-to-back bogeys that dropped his lead to one stroke. That same calm demeanor on the course will serve him well as he attempts to defend his title.
Playing conditions were wet and soft in November, nothing like the typical Masters course in April. Johnson was effective at picking the ball with less spin on his irons and his placement was spot-on. Expect a drier, firmer course this week, one with the bounce typical of Augusta National in April. Johnson will have to adjust as spin and greenside placement come more into play.
Other Players to Watch
Spieth is one of the hottest golfers coming into the Masters and is considered a favorite, along with big-hitter Bryson DeChambeau, who is looking to avenge a disappointing performance last fall. Jon Rahm, Justin Thomas and Rory McIlroy are also projected to contend for the 2021 Masters title.
Image: Jamie Squire/Getty Images Sport via Getty Images