Best Winter Golf Gloves for a Strong Cold-Weather Game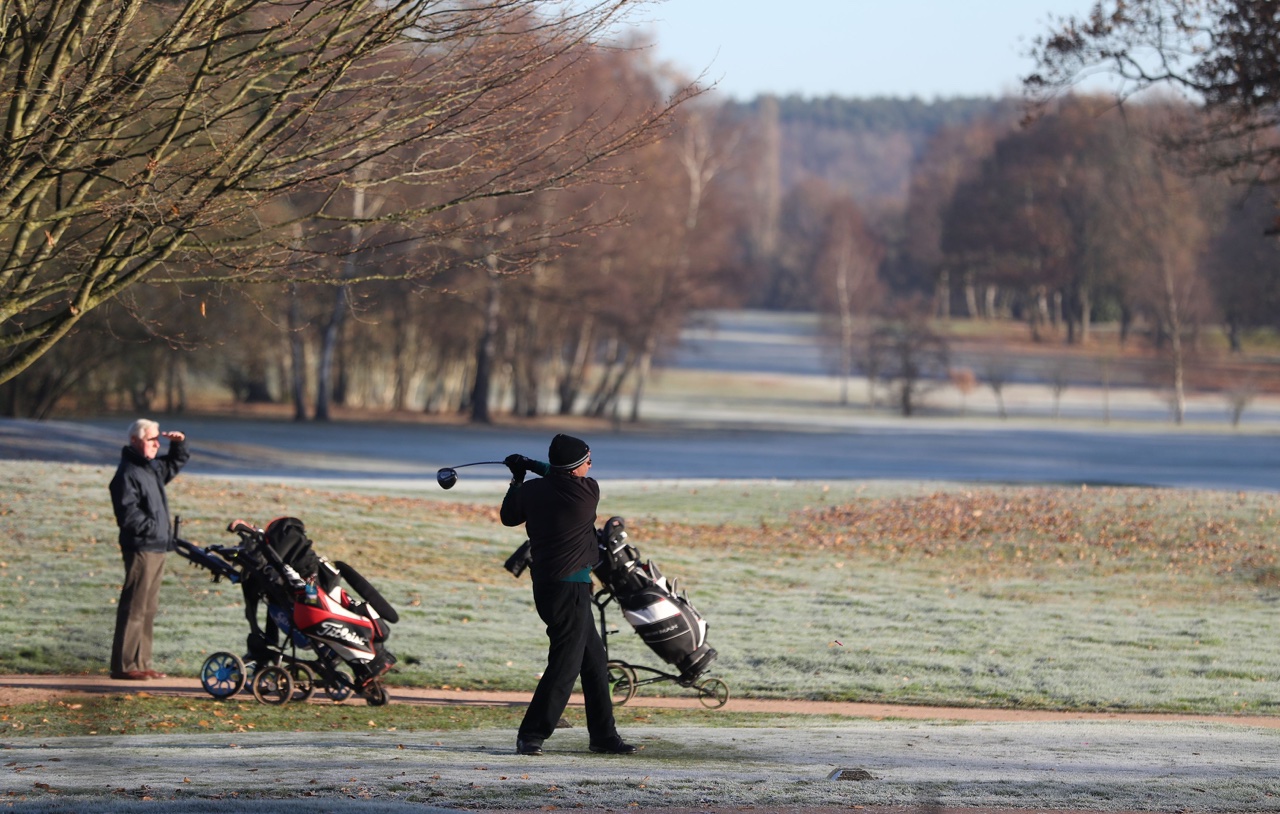 There are many serious golfers who won't let cold weather stop them from playing 18 holes. In the Northeast, East, Midwest and West, many golfers will overcome chilly temperatures to play through late fall into winter.
For golfers who refuse to let winter weather keep them off the course, winter golf gloves are a crucial piece of equipment. In addition to helping golfers grip the club, winter golf gloves also absorb the shock and sting that comes with off-center strikes in nasty weather conditions.
Winter vs. Weather Golf Gloves
While winter gloves and rain, or all-weather, golf gloves are similar, the two should not be mistaken for one another. Winter golf gloves are designed to keep your hands warm and dry without losing the ability to feel the club. Winter gloves are often made of knitted or thermal material that players can wear on one or both hands.
On the other hand, all-weather golf gloves are ideal for maintaining a solid grip in wet conditions. These gloves are more water-resistant than any other material, one of the biggest differences between winter and all-weather gloves. The lighter synthetic material makes the all-weather gloves more breathable and the fibers will actually help golfers grip the club when the glove gets wet.
There are also mittens players can wear for winter golf, but they're geared more duration between shots, and aren't ideal to wear while swinging.
What to Look for in a Winter Golf Glove
The first thing to consider when browsing for winter golf gloves is whether or not you'll have the ability to control the club with the grip you want. Cold weather challenges players, and thinned shots can send a painful sting through fingers and hands. The ability to feel that club even with a glove on is important.
Next, make sure you can swing your club properly with your winter gloves on, because they'll be thicker than a normal golf glove and you don't want to lose control of the club.
Lastly, the sizing can also be a bit different than regular golf gloves because at times they're made with different materials. Try on the glove before buying. The glove should be snug with no loose material that can affect your control of the club.
There are alternative options like hand-warmers, but if you want to keep that feel, winter gloves may be your best bet.
Top 5 Winter Golf Gloves
There are many options for winter golf gloves for those brave golfers who aren't afraid of the cold weather. Here are GolfLink's five best winter golf gloves.
FootJoy's Stasof and WinterSof Winter Gloves
FootJoy has two options for winter gloves on the market in the WinterSof and Stasof gloves. The company designed the Stasof glove with feel and warmth in mind. This glove is made up of weather-resistant leather and warm fleece.
Players won't have to worry about the grip because it's designed with performance in mind. The leather palm is made of leather, for a secure grip, while the back of the glove is made up of fleece for warmth. The Stasof gloves are sold in pairs for $50 on the Foot Joy website.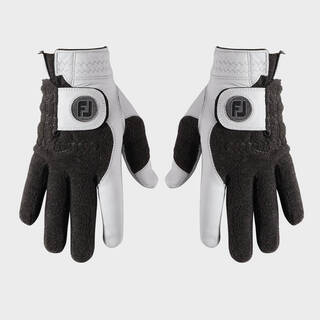 The WinterSof is another option from FootJoy and check in at less than half the price of the Staff, at $22. This glove's autosuede knit palm also appears on their RainGrip glove, so it'll offer a good grip regardless of the conditions.
Pros:
These gloves are all around the best on the market because they will keep your hands dry and warm, not to mention FootJoy's reputation for gloves speaks for itself
Extended cuffs on the WinterSof provide additional warmth
Cons:
The Stasof is on the more expensive side, and while FootJoy makes up for it by offering the WinterSof, it's not the same glove
There are no extended cuffs on the Stasof
Reviews on the FootJoy site state that sometimes the Stasof glove's stitching comes apart quicker than it should and the gloves don't last. Customers also said the sizing wasn't always true to size and it didn't feel like it was a good winter glove if it's colder than 55 degrees
Mizuno ThermaGrip
The Mizuno ThermaGrip glove keeps the golfers' hands dry and warm when playing in harsh conditions. The glove features Mizuno's Breath Thermo technology, which traces moisture on the skin and converts it into new heat. The leather palm always stays soft and supple and repels water to help ensure a good grip on the club. It has a snug Velcro closure to keep the hand dry and secure.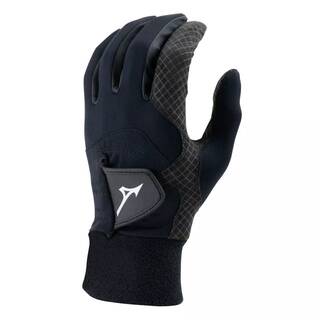 Pros:
The technology this glove has is great for staying warm regardless of temperature
The ThermaGrip glove is extremely comfortable, with an extended fleece-lined cuff to help keep those wrists warm too
At just $22.00, you don't have to break the bank to stay warm on the course with the ThermaGrip glove
Cons:
The ThermaGrip glove only comes in one color, black
In the reviews, some players said their hands got cold by the end of their round
Cobra StormGrip Winter Gloves
Another option to wear on the course during the winter months is the Cobra StormGrip Winter Gloves. These gloves are comfortable and sleek-looking, made from the StormGrip suede that gets better when wet. Cobra developed a durable winter glove that'll keep your hands and wrists warm without losing the ability to feel the club.
Pros:
Great grip for wet weather and you're still able to use your phone without having to take the glove off
At $24.00 for a pair, it doesn't break the bank, yet looks sleek and stylish
Tailored elastic cuff helps keep out the cold wind and keeps your hands dry
Cons:
Not as warm as some of the others listed
Better for rainy conditions than super cold conditions
No ball marker attachment
HJG Love Winter Performance Gloves
Golfers should also consider the HJG Love Winter Performance gloves. They're designed with the ThermoTex fleece material that provides warmth yet will retain flexibility so golfers will have a secure and comfortable grip. The glove also has a WeatherTan Cabretta leather palm specifically designed to provide insulation for frigid temperatures.
Pros:
A reinforced wind block and fully lined wrist cuff that provides additional warmth for golfers.
The Winter Performance gloves are sleek and look really fashionable yet warm
Listed at $20.00 on Amazon, this glove is a great price
Cons:
Not ideal in wet conditions
Not made in cadet sizes
TaylorMade Golf Cart Mittens
Golf Mittens can also be beneficial for cold-weather golf. They're great for riding from hole to hole and in between shots, but not for use while swinging the club. The TaylorMade Golf Cart Mittens are a great choice because you can fit your winter gloves in them and they'll give you double the warmth. TaylorMade designed them with a water-resistant nylon shell and a Thinsulate interior lining, so your hands will stay dry.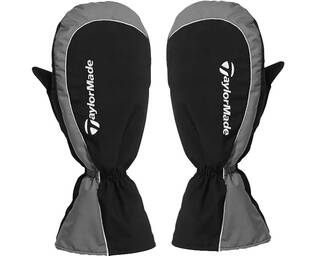 Pros:
Designed for windy, wet, and snowy conditions, so they're great on and off the golf course
Warm Thinsulate lining is ideal to keep hands warm between shots
At $34.99, they're an excellent price
Cons:
Sizing can be small, so double-checking and trying the gloves on before buying is a great tactic
No pocket for hand warmers to add extra warmth
Worth Purchasing
While winter golf is not for everyone, those who don't mind teeing it up over the cold months can enjoy those winter rounds more with the right pair of winter golf gloves.
Feature Image: Andrew Matthews/PA Images via Getty Images