SkyTrak Golf Overview: Play and Practice Your Way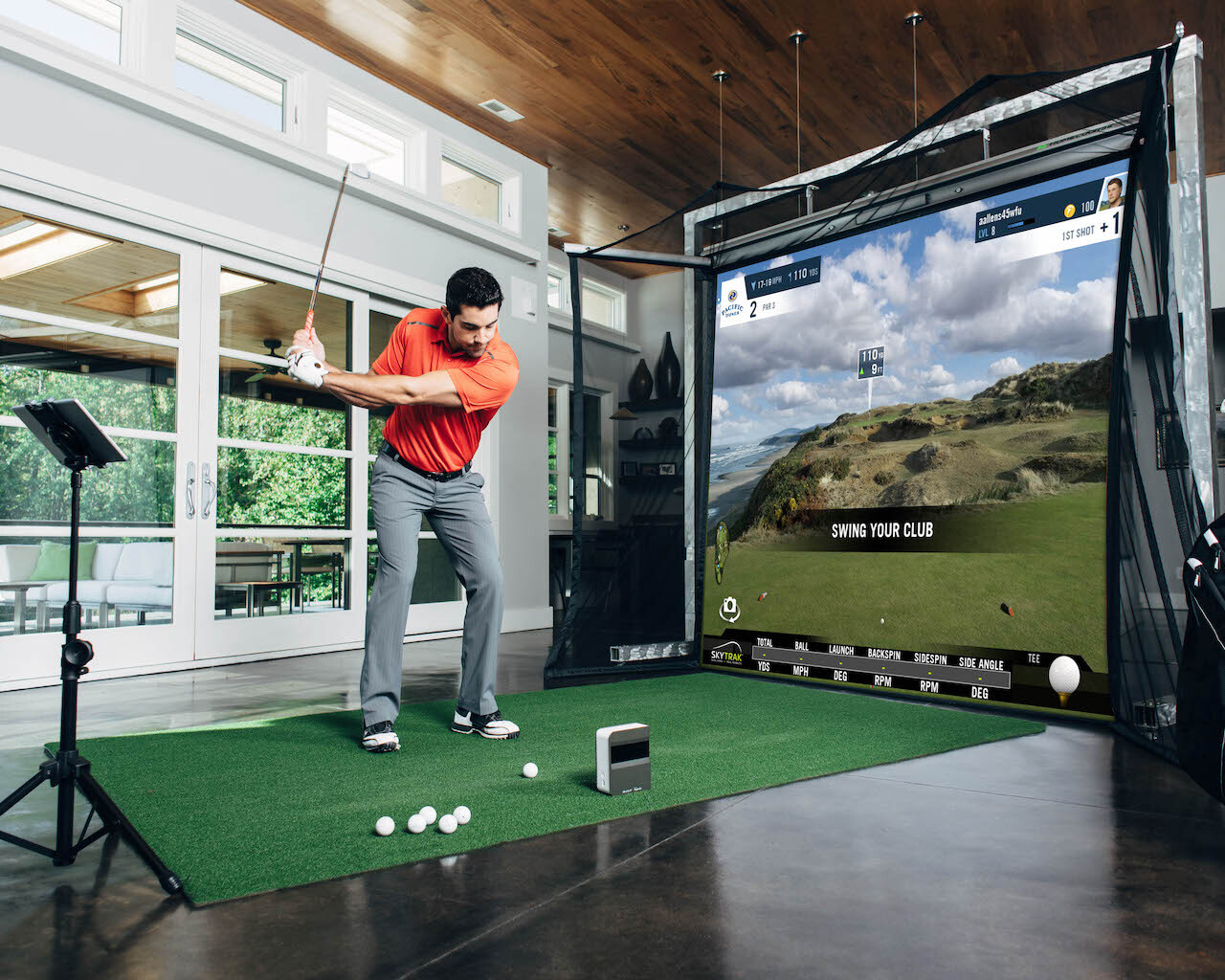 SkyTrak Golf is among the most popular golf simulator manufacturers today. Professional and amateur golfers, as well as club fitters and instructors use SkyTrak's products to get precise information. Let's take a look at SkyTrak and all of its products, technology.
About SkyTrak Golf
SkyTrak released its first launch monitor in 2015 and instantly offered some of the best accuracy and reliability in golf shot data. SkyTrak has released updated versions of its launch monitor since then, and its current lineup offers a launch monitor with the compatibility to play simulated golf. That's a big reason SkyTrak appeals to everyday consumers looking for a personal launch monitor in addition to golf professionals who use it daily.
Products
These are the current products that SkyTrak offers.
SkyTrak Launch Monitor
SkyTrak's launch monitor connects to compatible iPad's, Android devices, and PC's via the free SkyTrak app. Once you're connected, your simulator setup should include a hitting mat and a net at a minimum in order to fully experience the launch monitor and your shot results. The built-in WiFi hotspot means you'll never have to worry about connection issues.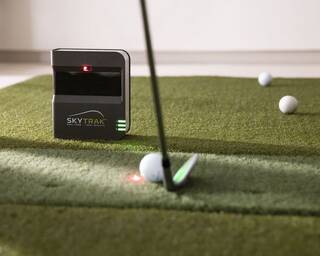 Once you have the unit set up you immediately begin hitting balls at the SkyTrak 3D Practice Range. This simulated driving range has moveable targets and after each swing, you'll immediately receive data that includes ball speed, clubhead speed, shot shape, launch angle, spin rate, carry distance, and much more. The SkyTrak launch monitor also has Shot-Tracer, so you'll always be able to see the path of your golf ball from the moment it leaves the clubface.
The SkyTrak launch monitor uses high-speed cameras to capture all of its data, as opposed to other launch monitors that use lasers. The cameras are considered to be the most accurate option available in launch monitor technology. The unit also has its own built-in, rechargeable battery. So you'll never have to worry about wires getting in the way.
Simulated Golf
The SkyTrak launch monitor unit allows you to play simulated golf. This does carry an additional cost, either a yearly basic subscription or an expanded subscription. The main difference between the two subscriptions is the number of courses you can play, with the expanded version topping out at 90 golf courses.
Simulated golf is powered by E6 Connect, which is regarded as one of the best golf simulator programs in the world. The E6 Connect courses include Pebble Beach, Olympic Club, St. Andrews, Bethpage Black, Pinehurst #2, and Chambers Bay, to name a few. The graphics are crystal clear and include details such as multiple tee boxes, stat tracking, stimp readings, and customizable weather conditions.
Price and Subscription
To add simulated golf to your SkyTrak launch monitor, you have the choice of an annual subscription or a lifetime subscription for a one-time fee. Here's the cost breakdown of the different SkyTrak items mentioned above:
SkyTrak Launch Monitor: $1,995
Basic Simulator Subscription (Yearly): $300
Enhanced Simulator Subscription (Yearly): $600
Lifetime Simulator (enhanced) Purchase (IOS): $1,500
Lifetime Simulator (enhanced) Purchase (PC): $2,500
Accessories
In addition to the technology, there are some additional accessories, some of which are necessary while others are optional.
SkyTrak offers two different net options, a basic version with side barriers for $265 or a larger version with automatic ball return for $730.
Hitting mats, ranging from $449- $1,199, are also available from SkyTrak. The size you need depends on how much space you have.
Why Should You Consider SkyTrak?
SkyTrak is one of the most respected names in golf technology today. The fact that the company is seen in retailers, simulator golf studios, and homes says a lot about the versatility SkyTrak products offer.
The pricing of everything detailed in this article is highly competitive, and there are certainly other launch monitors that cost more but produce less than SkyTrak. The company also offers warranties so you can always be sure that your purchase is protected.