Inside Michelle Wie West's Putting Technique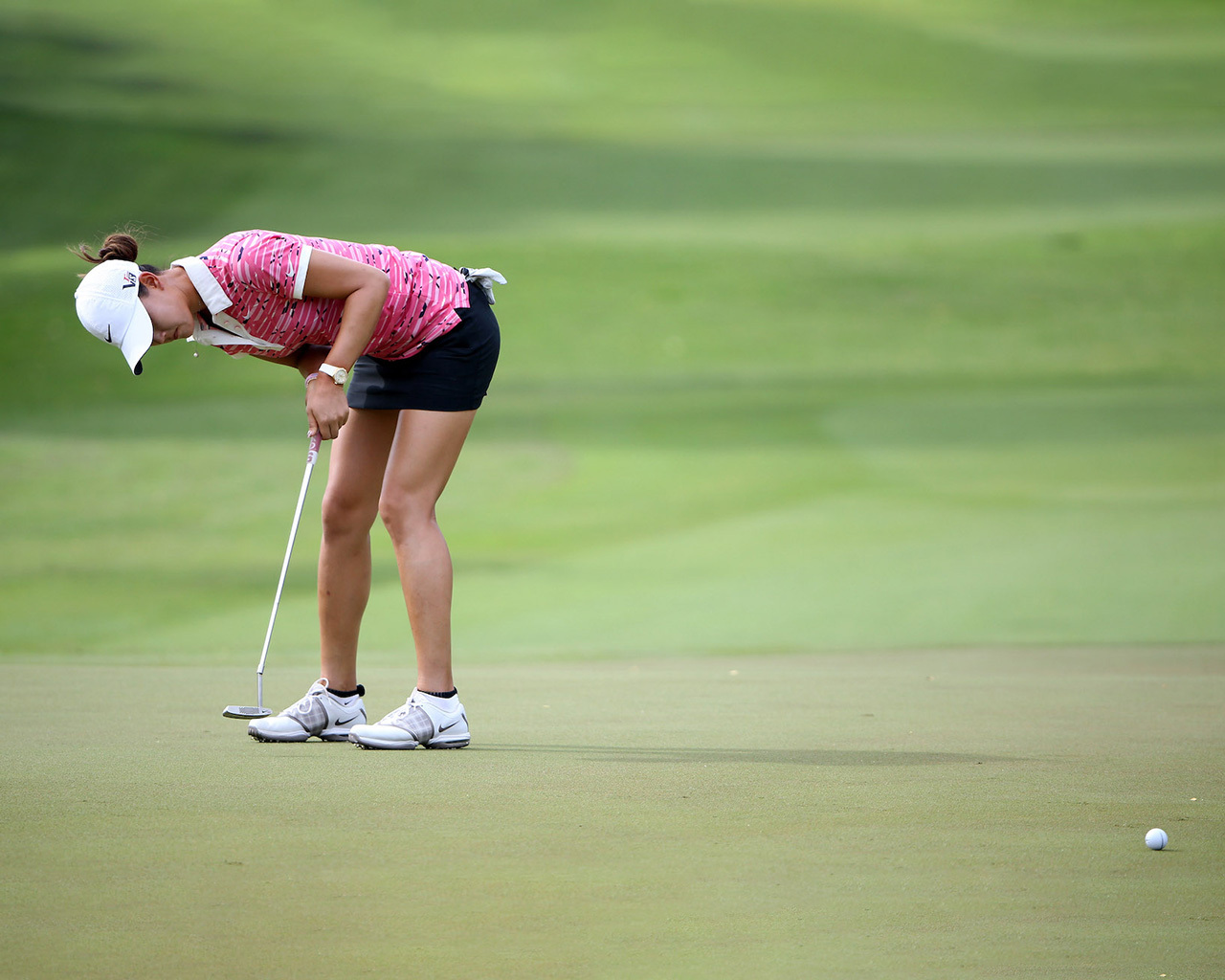 Michelle Wie West owns one of the most unique golf resumes in history. Wie burst onto the golf scene as a young phenom, registering countess "youngest to ever" accolades as pre-teen and teenager. Despite the fact that Wie is one of the most recognizable women's golfers of the last quarter-century, her putting has held her back from reaching a Hall of Fame-caliber career. To improve her performance on the green, Wie created the tabletop putting method, a unique technique with an unorthodox posture.
Michelle Wie's Early Career
Michelle Wie had an extremely successful junior golf career, and by the age of 10, she was competing against adult women on the national stage, becoming the youngest player ever to qualify for the U.S. Women's Amateur Public Links Championship. 
Wie, who was born in 1989, constantly made headlines on the golf course as a young teenager. She became the youngest player to qualify for an LPGA event in 2002 and the youngest to make a cut at an LPGA event by doing so at 13-years old in the 2003 Kraft Nabisco Championship, an LPGA major championship at that. Later in 2003, she became the youngest person ever to win an adult USGA event by winning the Women's Amateur Public Links, and the youngest to make the cut in the U.S. Women's Open.
At just 14 years old, Wie competed in the 2004 Sony Open on a sponsor's exemption and turned in a remarkable performance. Although she missed the cut by a stroke, Wie's second-round 68 was the lowest score ever by a woman, much less a junior, in a PGA Tour event. She beat 47 men and tied another 15 in the tournament.
Just days before her 16th birthday, Wie turned professional late in 2005.
Michelle Wie Professional Struggles
Despite her incredible success on the golf course, Michelle Wie struggled to rack up professional wins. In her first eight years as a professional, Wie had only two LPGA wins entering the 2014 season.
Part of the reason Wie struggled to break through was her putting. In 2012, before she put the tabletop technique into play, she ranked 119th in putts per Green in Regulation. 
Wie began using the tabletop in 2013, and the unorthodox method received much criticism for its strange looks.
"I had the severe putting yips," Wie admitted to No Laying Up in 2019. "I was putting so badly, I had so much anxiety over putting and I just felt like I was really far from the ball."
Wie Invents the Tabletop Putting Method
Wie's solution was to bend over from the hips 90 degrees, which helped her feel closer to the ground.
"It doesn't matter what you look like," Wie told Golf Channel's Golfing World in 2015. "There are a lot of different swings out there. I have no need to look cool out there. For me, it's just what feels comfortable, what I can get in the hole."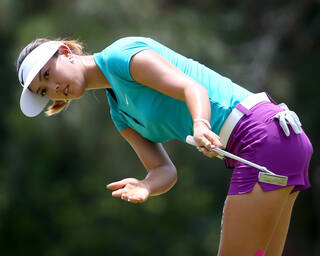 Despite the critics, Wie stuck with it and won twice in 2014, including her first and only major championship triumph, the 2014 U.S. Women's Open at Pinehurst. There isn't much in golf that looks cooler than winning the U.S. Open. 
Wie employed the tabletop stance until 2017, when she switched to a claw putting grip. To date, Wie has five LPGA wins, including one major.
Tabletop Putting
Is the tabletop putting method right for you? Truthfully, probably not. It requires some serious flexibility and glute strength. But if you've got some awful putting demons and nothing to lose, or if you just want to give it a spin, here's how to tabletop putt.
Bend at the hips 90 degrees. Your back should be parallel to the ground and you should be able to rest a drink on it. This is the tabletop part of the technique.
Keep your elbows tucked into your sides and let the putter hang straight down, almost as though it's an extension of your chest. 
Be careful not to anchor the butt of your putter into your chest, as this would result in a penalty.
Once you are in the proper position, you will notice the ball looks very close to you. This is the result Wie was looking to accomplish with this technique. 
From there, execute a straight back, straight through putting stroke, with the feeling that the putter shaft and your chest are connected.
To Tabletop or Not to Tabletop
At the end of the day, Wie recommends using whatever putting technique you feel comfortable with. While most people won't find the tabletop method to be particularly comfortable, it can be fun to experiment with, and if you're looking to shake things up on the putting green, the tabletop is guaranteed to be a departure from your current method.
There is no shortage of putting strokes or techniques, which makes it one of the most fun aspects of the game. Why not give the tabletop a try?