Indoor Putting Greens to Help You Practice Like a Pro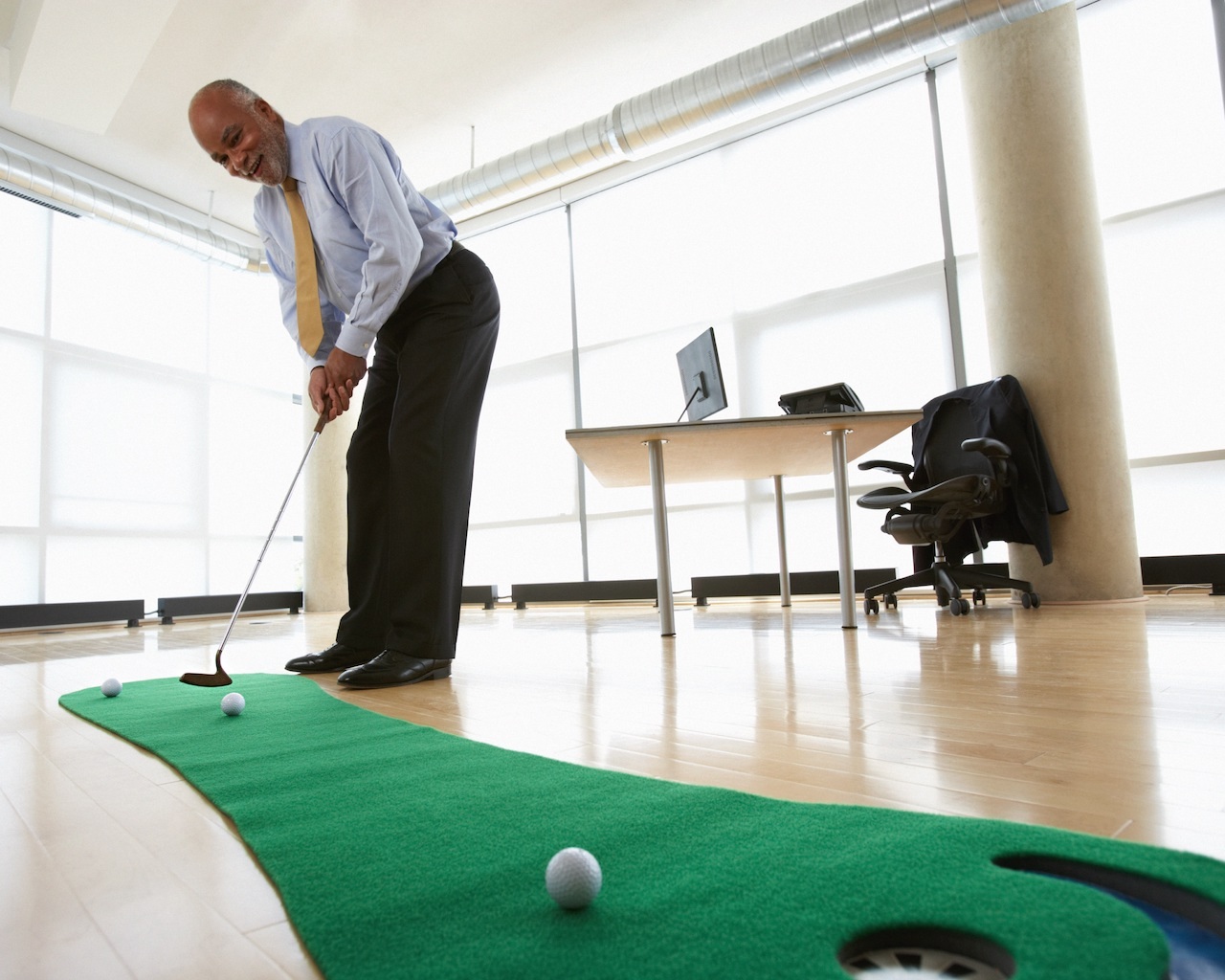 With so many putting greens available it's easier than ever to practice your putting at home. The days of carpet putting are over and more golfers are finding fun ways to improve their game with greens that fit their space. Here are some at-home putting green options from basic to custom, along with some fun games and drills once you get yours unrolled.
Golf is full of all kinds of training aids, but an indoor putting mat is one of the best putting training aids out there because of its simplicity and ability to replicate the actual game. If you've made the decision to purchase a putting green for your home or office, it's important to assess a few things before you make your purchase.
How Much Space Do You Have?
The single most important part of purchasing a putting green for your home is measuring how much space you have. With so many options available you can find just about anything to fit your space whether you live in a studio apartment or a sprawling estate.
Take a look at the space where the putting green will go. Is it long and narrow? Short and wide? Take into account doors that will swing open into the space as well. You don't want to make your purchase, unbox it, and realize it's not going to fit the area you had in mind.
Other important things to note are kids and pets. What is this putting green going to get in the way of? If it's a going in high traffic area of your home, consider a putting green that's easy to pack up and store away.
How Often Will it be Used?
If you envision this putting green staying out all year using it daily, you certainly don't want to purchase a one that's more novelty than functional. Also, consider how easy it is to pack and store away if it's not going to stay out.
For people in cold weather climates who don't have access to a golf course, let alone a putting green, for multiple months, consider the fact that your putting green will be out and used more in those cold months.
When doing your research for a practice putting green, look at user reviews and see if any of them mention wear and tear. That could be the deciding factor in your purchase.
What's Your Budget?
The amount of space you have could dictate your budget because smaller spaces won't allow for as many options. Take into account how much you want to spend on this purchase, though. As you'll see below, there are some great options available and you can essentially customize a putting green to your specifics.
Some Top Options
Here are a few of our top picks of the best indoor putting greens that will help you perfect your stroke from home.
Perfect Practice Putting Mat
It's always a good selling point to have Dustin Johnson on the box and to have pictures of the two-time major winner using the mat in his house. The Perfect Putting Mat from Perfect Practice really is a great option to have in your home, and because it's easy to store, it's also a great option as an office putting mat as well. It comes in three sizes to fit your space. Compact (8'), Standard (9' 6"), and Extra Large (15' 6").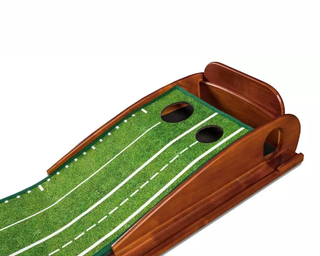 With a wood frame, the Perfect Putting Mat looks sleek by design but it also serves a purpose. It has two hole sizes, standard and reduced, for an extra challenge. It also has an automatic ball return whether you make or miss your putt.
You'll really like the Train Track Alignment because it allows you to better understand how you align on the green and gives you instant feedback. When it comes to feel, this indoor putting mat has Crystal Velvet Trueroll Technology, so there's no skipping. The mat runs at a 10-14 on a stimpmeter depending on the surface underneath.
Maxfli Putting Mat
This putting mat from Maxfli is a great option if you have a little more width available to you as it sits at 3 feet wide by 9 feet long.
Not only does it have three regulation-sized holes, but it also has three marked starting points on the opposite side of the mat. It also comes with three foam pieces which allow you to create breaks and raise the area around the cups to test your green-reading ability and give yourself some new challenges.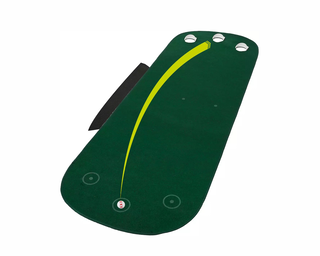 The mat has an anti-slip bottom so you can place it on hardwood flooring with no worries. The premium turf feels and rolls pretty close to an actual green. One of the big advantages of the Maxfli Putting Mat is that it easily rolls up and can be stored away after your practice session.
Birdie Ball Putting Green
Birdie Ball is the ultimate option for your personal at-home putting green. First, it's important to know that Birdie Ball putting greens are not just pieces of artificial turf, they are an aerated foam that is designed to give an authentic feel, grain, and roll. Put simply, it's the closest thing you'll find to the real deal.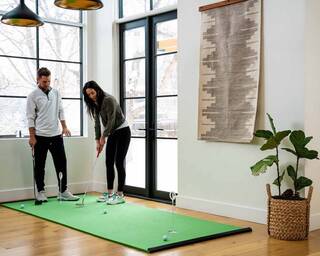 Birdie Ball offers a variety of size options to fit your space and you have the choice of what stimpmeter speed you'd like, ranging from 9-13. You also get bumpers for the entire perimeter of the green, so you'll never have to chase down your misses. The holes are regulation size and can be plugged if you'd like to concentrate on one spot. The green includes additional foam to create your own breaks and make it as wicked as you'd like. Birdie Ball greens can also be rolled up with ease and will always lay flat the next time you set it up.
If you don't find the size you need in a stock green, you can easily build your own to your specific dimensions on the Birdie Ball website. They also offer a durable outdoor putting green if you'd like to take your practice outdoors.
The DIY Route
If you're handy and would rather go the do it yourself route, there is always the option of building your own putting green to practice with at home. Although, with so many great options available now it would probably be more of a passion project than a performance upgrade and money saver.
Practice Makes Perfect
It's one thing to purchase your putting green but your dollars will not be well spent unless you practice with some purpose. Seeing that you're at home, enjoy some stress-free practice with these putting games.
Conclusion
Too often amateur golfers spend their practice time swinging away on the driving range. Take some of that time and devote it to your putting and watch your scores go down. what better way than to do it in the comfort of your own home with your own personal putting green?