Do Golf Hoodies Hit the Mark? Pros, Cons and Top Picks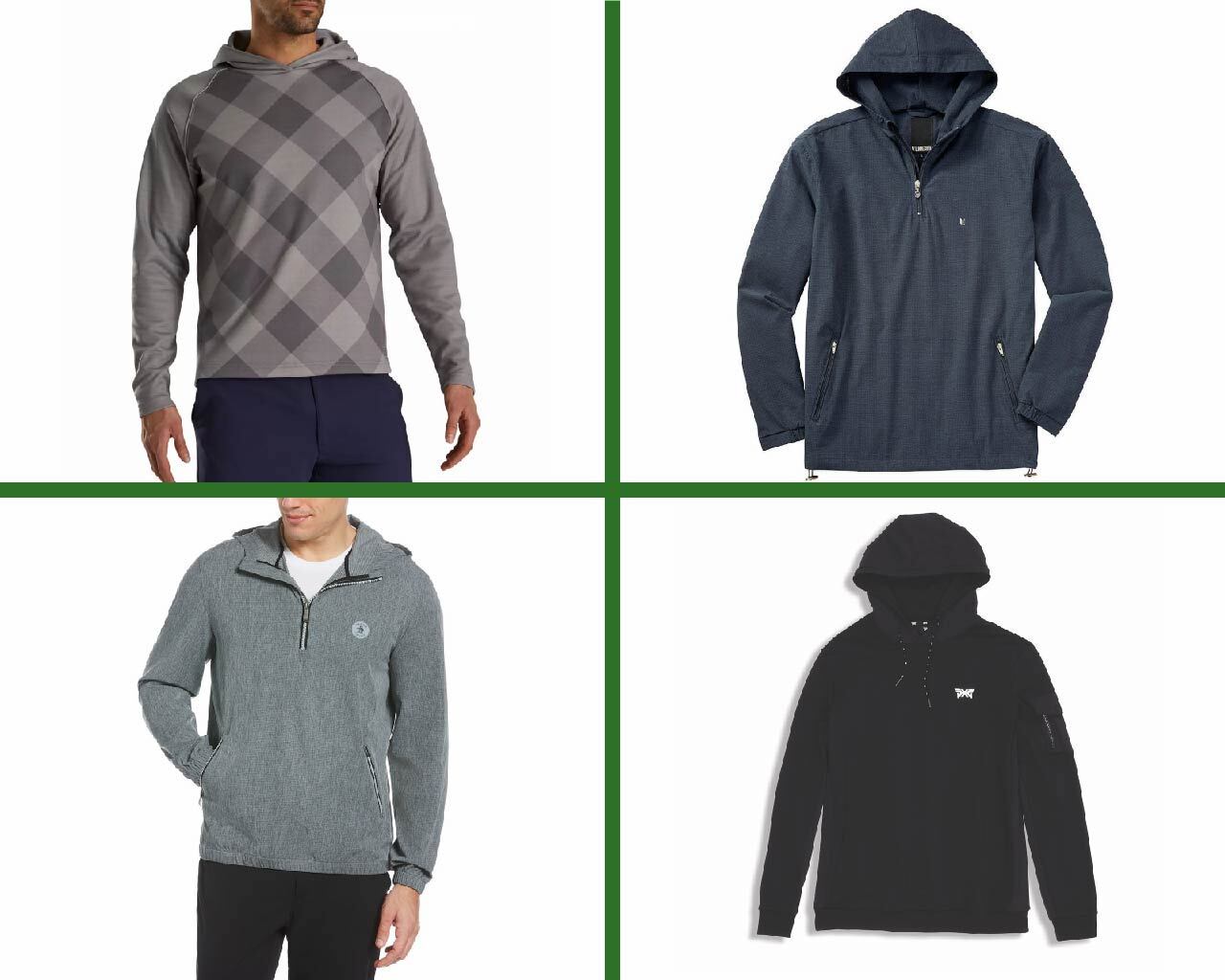 Golf fashion is anything but universal. Aside from varieties in patterns, cuts, and colors, you also have traditional golf attire competing with progressive golf outfits. So when hoodies began popping up on PGA Tour players and younger golfers in 2020, it marked the beginning of a new market in golf apparel. Much to the discomfort of traditionalists, that is. Do golf hoodies hit the mark? Here are some pros, cons, and top picks if you're looking to give one a try.
Pros of Golf Hoodies
Golf hoodies bring a lot to the table. Here are the top reasons to consider adding one, or a few, to your wardrobe.
They're Stylish
Even though we've incorporated hoodies into our regular wardrobes for years, pairing a stylish golf hoodie with a pair of golf pants or shorts and complementing golf shoes can leave you looking fit for the course.
Golf Hoodies are Lifestyle Apparel
Hoodies can easily go from the golf course to a casual lunch or dinner. Perhaps, even casual work environments.
Hoodies Layer Easily
Slipping the right kind of hoodie over a polo can be just the right combo you need for a chillier day on the course.
They Have a Hood
Part of the appeal of a hoodie on the golf course is the option to pop that hood up if it's a little cool, which can eliminate the need to carry a winter hat.
Advanced Materials
With the increased popularity of hoodies on the golf course, advanced materials are being incorporated by companies to allow their hoodies to adapt to a golf swing.
Cons of Hoodies on the Golf Course
There are always going to be golfers who cringe at the sight of a hoodie on a golf course. Here are a few things to consider before you take the plunge.
Not All Hoodies Are Created Equal
Some hoodies just aren't intended for golf. Bulky, fleece hoodies are a prime example of a garment that will not allow you to swing properly.
Hoodies Take Some Getting Used To
If you've never played golf in a hoodie, you might have some feeling out to do. Getting used to the extra material hanging around the back of your neck could take a few holes.
Not Ideal For Rain
Some hoodies have a water-resistant element to them, some don't. You'll want to leave those that don't in the golf bag, or the closet, on rainy days.
Price
If you want a truly high-end hoodie that's intended for golf, it will cost you a little more than what you paid for that 100% cotton one that you've worn a thousand times. Many golf hoodies come with a price tag starting around $100, and some easily exceed that mark.
Best Golf Hoodies
Based on style and functionality, here are some top hoodies for golf for you to consider.
UNRL Crossover Hoodie II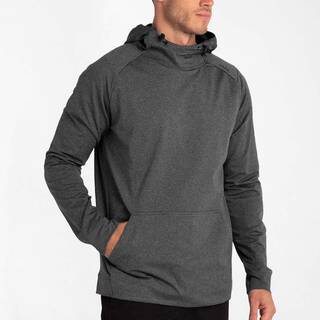 UNRL came onto the golf apparel scene with a full head of steam. Producing high quality polos, outerwear, and marketing some big-time partnerships.
The Crossover Hoodie II might just be the most versatile hoodie for golf. It's perfect for the course and casual work environments. It's mid-weight with a stylish high neck, and don't undervalue its stretch wrist cuffs, which allow you to roll your sleeves up if it starts to warm up. It's also available in eight colors.
Penguin Quarter-Zip Hooded Golf Windbreaker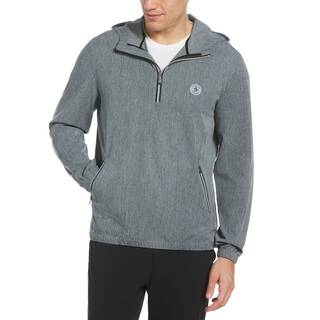 The iconic Penguin logo, worn by legends of the game for decades, is now available on the latest in golf style and function. We call that a win-win.
The Quarter-Zip Hooded Golf Windbreaker from Penguin successfully marries the trendy look of a hoodie with the wind resistance and breathability you want while on the course.
It's 92% polyester, 8% elastane, zip closure pockets, and the hood that lays mostly flat.
Linksoul Boardwalker AC Hooded Windbreaker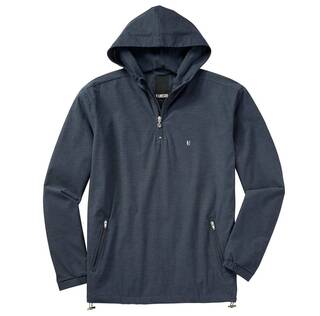 Linksoul always brings a bit of its west coast styling to its garments and the Boardwalker AC Hooded Windbreaker is no different.
This hoodie is just as useful on the golf course as it is closing out a summer evening on the beach in Malibu. It has a linen texture to it and is 92% polyester and 8% spandex. It's a half-zip, but when fully zipped to the top it encloses your entire neck. It's perfect whether you're walking or riding. It's also available in three neutral, classy colors: black, navy, and grey.
RLX Paneled Stretch Hoodie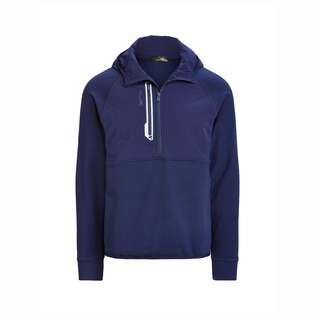 You knew this whole golf hoodie thing was serious when Ralph Lauren had its players wearing them.
The golf division of the renowned Polo brand, RLX produces this Paneled Stretch Hoodie that is all-American and so incredibly sleek.
The four-way stretch fabric allows for maximum flex in your swing. Meanwhile, the contrasting chest panel has a zipper pocket, perfect for a scorecard if you're a walker. Available in French Navy and Soft Grey.
Footjoy Tonal Plaid Fleece Pullover Hoodie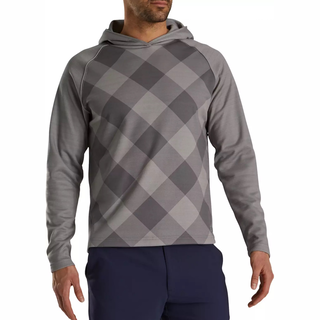 The design screams golf, and the brand is part of the fabric of golf. The Tonal Plaid Fleece Pullover Hoodie from Footjoy is a statement hoodie, if there is such a thing.
Fleece, yes, but it's a moisture-wicking and flexible performance fabric. This is a true hoodie, with no zippers, and it's easy to pull on and off with a polo underneath. The argyle design looks great in both colors offered; navy and grey.
PXG Side Pocket Hoodie
PXG is widely known for producing some of the most innovative golf equipment in recent years. The PXG apparel line follows the same path with exciting designs that pop.
The Side Pocket Hoodie is a great piece that has a no-frills look. Jet black, polished, ready for you. This hoodie offers next-level comfort, with a stretch fit and neoprene hood and sides. It also has a pilling-resistant lining made from recycled yarn. The side pocket on the left arm is as useful as it is cool.
Conclusion
If you live in a climate that requires a hoodie at some point in the year, which is just about everywhere, why wouldn't you try to incorporate one into your golf apparel? Hoodies specifically designed for golf are a great addition to your golf apparel repertoire and can be multi-functional. Will you end up having to spend around $70 at the absolute minimum? Yes. Will one of these hoodies listed become a staple in your closet? Also, yes.
Hoodies on the golf course appear to be something that will be around for quite some time, and maybe it's about time.