Srixon ZX4 Irons Review: Game Improvement Irons With Speed
With a sleek design and excellent distance, Srixon ZX series irons have been in high demand in the golf world since their release earlier this year. The ZX4 irons most recently joined the ZX5 (players clubs) and ZX7 (players distance clubs) in the popular lineup.
The ZX4 irons are game improvement clubs and are so forgiving that Srixon is calling them their "most forgiving set yet." The irons were officially launched in North America on March 5, 2021.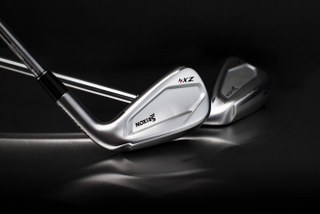 What Makes ZX4 Irons So Forgiving?
One look and you'll notice that ZX4 irons are much thicker than the other clubs in the line. Each of the ZX4 irons is hollow, from long to short, but the clubs still have the brand's signature forged feel. The hollow construction allows golfers to hit straighter shots that stay on target. Since premium, high-density tungsten is added to the base of the mid and long irons, shots are easier to control with a lower center of gravity and higher launch.
Also contributing to the ZX4's desirable feel is the special V-shaped sole that effortlessly strikes through the turf, even on mishits. The clubs are effective at absorbing vibrations which creates a softer feel that golfers often desire.
ZX4 Irons Produce More Ball Speed
Golfers immediately took note of the increased ball speed in the ZX5 irons, and the technology behind it is also found in the ZX4 irons. Known as MainFrame technology, this new club face design creates a variable thickness pattern made up of cavities, grooves and channels. Prototypes of the design were sent through thousands of artificial simulations until the fastest was chosen. The MainFrame produces an excellent COR (Coefficient of Restitution), or in simpler terms, energy transfer between the ball and clubhead.
The forged steel face is light and strong for a good feel and above-average distance with each shot.
What Golfers Use Srixon Irons?
Since the ZX4 irons are game-improvement clubs, you likely won't ever see them on the Tour. Still, the Srixon brand is becoming more popular among professional golfers and many are now using the Japanese brand's clubs in competition.
Hideki Matsuyama used Srixon Z-Forged irons (4-PW) when he won the 2021 Masters Tournament in April. Matsuyama hit 69 percent (50-of-72) of greens in regulation at the Masters, fifth best among golfers competing in the tournament.
Shane Lowry, who won the 2019 Open Championship, currently uses a mix of Srixon U85, Z585 and Z785 irons. Other professional golfers representing the Srixon brand include Keegan Bradley, Graeme McDowell, Ernie Els, Larry Mize and Ashleigh Buhai.
How Much Do Srixon ZX4 Irons Cost?
Srixon ZX4 irons are available with a steel or graphite shaft. The clubs retail for $1,200 (steel) and $1,300 (graphite)
Specifications (In Degrees)
| | | | | | | | | |
| --- | --- | --- | --- | --- | --- | --- | --- | --- |
| Head | 4 | 5 | 6 | 7 | 8 | 9 | PW | AW |
| ZX4 | 21° | 23° | 25.5° | 28.5° | 33° | 38° | 43° | 49° |
| Lie | 60.5° | 61° | 61.5° | 62° | 62.5° | 63° | 63.5° | 63.5° |
| Length | 38.5" | 38" | 37.5" | 37" | 36.5" | 36" | 35.5" | 35.5" |
Header Image: Mike Ehrmann/Getty Images Sport via Getty Images