Hank Haney - Biography

Hank Haney developed his desire to teach while majoring in education at Tulsa University, where he graduating in 1977. In the years since, Hank has enthusiastically set out to be a great instructor of the golf swing. He has steadily built a reputation as an instructor, not only to the club level player, but to touring pros as well.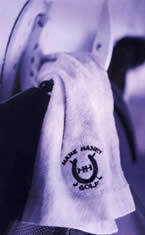 Hank began his career studying under well-known pros such as Jim Hardy and John Jacobs. After working as either the Head Pro, Director of Instruction or Director of Golf at several large golf operations (PGA West in La Quinta, California, Stonebridge Golf and Country Club in Dallas, Texas, Sweetwater Country Club in Houston, Texas, and Pinehurst Golf Schools in North Carolina), Hank Haney opened his own golf instruction center in 1991. Hank Haney also operates 4 teaching facilities in the Dallas, Texas area.
The Hank Haney Golf Ranch at Vista Ridge, located in Lewisville, Texas is a complete teaching and practice facility. Hank and Jim Fazio Jr designed and built a 9-hole golf course. In addition, the Ranch features a video teaching center, covered hitting stalls, a 175-yard grass tee, and a short game area with several approaches.
Hank Haney works with his students to develop an accurate plan to improve the flight of their golf ball. By giving cause and effect analogies, coupled with physical hands on examples, the student and instructor can create a relationship that will produce positive results. The correct swing plane is the basis of Hanks philosophy.
Hank has taught more than 200 touring professionals from the PGA, LPGA, and European, Japanese, and Asian tours, including 1998 Masters and British Open Champion Mark OMeara.
Hank's signature golf course design came to fruition in a collaborative effort with Jim Fazio on the award winning Texarkana Golf Ranch in Texarkana, Texas. He has also designed the Hank Haney Golf Ranch in McKinney, Texas with famed course architect Pete Dye.
Hank is a member of the advisory staff for Golf Digest Magazine, where he has been featured on the cover numerous times, and is on the Teaching Professional Pro Panel. He is also on the advisory staff of the Acushnet Golf Company (Titleist Golf Division), Adams Golf and the PGA National Teaching Committee. He has written articles for numerous publications including Golf Digest, Golf Illustrated Magazine and the Dallas Morning News. Hank has an instructional video, Golf for Winners, a collaboration with PGA tour member and top 10 all time PGA TOUR money winner Mark OMeara, which is sold in the U.S. , Canada, Japan, and Australia. In 1986, 30 episodes of Hank Haneys Special Golf Lessons aired on Japanese television. In 1999, Hank published his Hank book entitled The Only Golf Lesson Youll Ever Need.
Hank's peers honored him in 1993 when he was recognized as the National PGA Teacher of the Year. He has received Teacher of the Year awards for the North Texas Section of the PGA each year from 1989 to 1993.
My philosophy as a teacher is to teach my students to become their own best teacher by getting them to understand the flight of the golf ball and how it relates to the swing, with emphasis on swinging the golf club on their own correct swing plane.
Awards
PGA Teacher of the Year (USA) - 1993
PGA "Harvey Penick Award for Teaching Excellence" - 1984
North Texas PGA Section "Teacher of the Year" - 1989, 1990, 1991, 1992, 1993
North Texas PGA Section "Horton Smith Award" - 1990
North Texas PGA Metro Chapter "Horton Smith Award" - 1991, 1992
Gulf Coast PGA Chapter "Teacher of the Year" - 1984
Federazione Italiana Golf "Top Teacher" - 1989, 1990
NCAA Division I Golf Coach of the Year - 1998
Golf Digest Top 25 Teacher, 1984 - 1992
Golf Digest Top 10 Teacher, 1993 - 1999
Golf Digest Number 4 Teacher, 2000, 2002
Golf Digest Number 6 Teacher - 2001
Golf Digest Number 5 Teacher - 2003, 2004
Golf Magazine Top 100 Teacher, 1984 - 2004
Golf World's Top 50 Golf Personalities Worldwide - 2000
D Magazine (Dallas) "The Best of Dallas" - "Best Golf Instructor" - 2003
More Information on this Instructor