Jane Blalock - Biography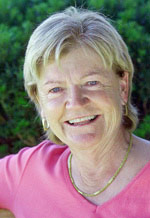 The Jane Blalock Company, Inc.
The Jane Blalock Company (JBC) is a Boston-based sports management company, with a national reputation for producing top quality, innovative golf events. The JBC staff is comprised of marketing and event management professionals dedicated to producing first-class events that meet the diverse goals of our clients. By capitalizing on the talents and creativity of each staff member, JBC has been able to create an impressive portfolio of customers and properties.
JBC has worked with many of the key corporations in America to design golf events that meet their strategic marketing and entertainment objectives. Whether it is Gillette Company looking for a national grassroots retailer tie-in event or Cadillac's desire to showcase a particular style of automobile and to market to a narrow sector of the public,
JBC has the expertise to create special events that meet your specific business goals. We have an impressive list of clients that represents all sectors of the corporate community.
Jane Blalock founded JBC in 1987. Jane was the winner of 29 LPGA tournaments during her fifteen-year professional career. She is the author of two books - one published in 1976 entitled The Guts to Win", as well as Gimmies, Bogies and Business, which debuted in 1997. She is a commentator for ESPN and NBC as well as a renowned business speaker. In 1995, JBC received the Susan G. Komen Breast Cancer Foundation's Volunteerism Award for its role in joining the LPGA and the Gillette Company, through the Gillette LPGA Golf Clinic Series, with the Foundation.
While JBC produces events that meet the hard-core marketing and business goals of its clients, there is another special component to many of the events. JBC has been able to combine both the philanthropic and business interests of many clients by creating relationships with a number of non-profit organizations across the country.
The Gillette Company, through the Gillette LPGA Golf Clinics, has a strong tie to the Susan G. Komen Breast Cancer Foundation. Through the 1998 series, over $2 million was donated to this special organization. The goodwill that Gillette has received through this affiliation cannot be adequately measured. It is through the creation of special relationships like this that companies are able to go far beyond the traditional tangible benefits of marketing.
LPGA Golf Clinics for Women Background
Created in 1991, the LPGA Golf Clinics for Women were the first of its kind targeted at professional women with a dual purpose: to help professional women become more at ease with golf as a sport and as a business tool, as well as to raise awareness and funds for the Susan G. Komen Breast Cancer Foundation.
Format of the Day
These one-day instructional clinics occur in 14 major cities across the country from March-August featuring the best female instructors golf has to offer. Clinic teachers are certified by the top-notch LPGA Teaching and Club Professional Division. The 120 participants, who each pay $225 to attend, experience an intensive day of on and off the course instruction beginning at 7:30 a.m. and concluding at 5:00 p.m. More Information on this Instructor