How to Make an Indoor Putting Green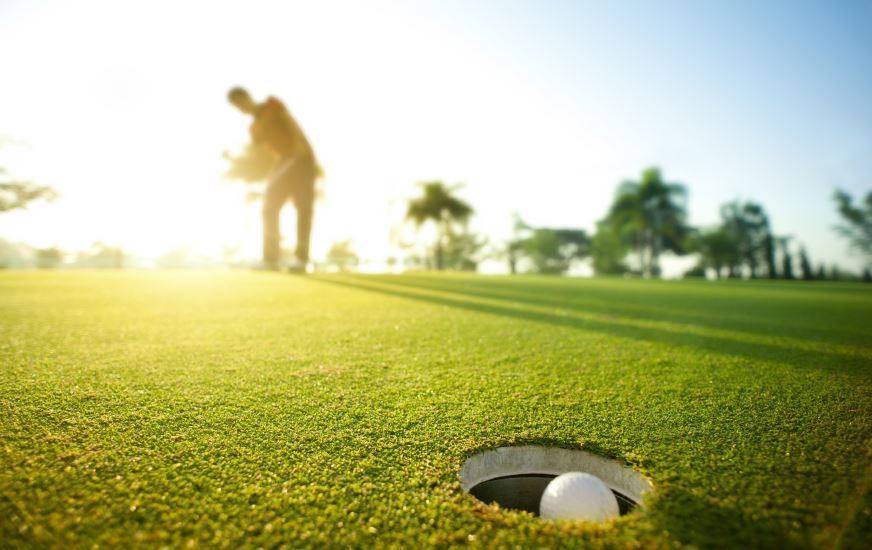 A sound putting game is the best way to quickly shave strokes off your game. The more time you can spend putting a ball, the more natural and consistent your putting stroke will become as you build up muscle memory. Consistency in your stroke is the most important factor for accurate putting, as even a misread putt will finish in tap-in range if you have proper distance control, which can only come through a consistent stroke.
Instructions
Difficulty: Moderately Easy
Cut the plywood plank to your desired size. A four-foot wide, 15-foot long piece of wood provides a decent length for practicing your putting stroke and is wide enough to enable you to putt from on the mat keeping your feet level.
Draw a circle 4.25 inches in diameter on the plywood for your hole using the compass and pencil. Be sure there is at least one to two feet of room on all sides of the hole, so you can see how far past the hole you are putting if you over-hit the ball.
Drill a hole large enough for the jigsaw blade to fit in inside the circle.
Cut out the circle using the jigsaw.
Lay the turf flat on the ground and lay the plank atop the turf.
Fold the turf back over the plywood plank on all four sides and pull it tight before securing it with staples near all four edges of the plank. Staple the turf every three to four inches. You can further staple the turf to the underside near the end of the turf to keep the excess turf from flapping or you can remove excess turf with the knife.
Cut out the portion of the turf covering the hole you cut. The inch-thick plywood will provide a deep enough hole to accurately reflect whether a putt would fall or lip out on the course.