How to Support Pro Golf Players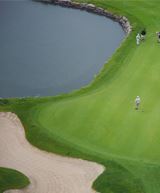 Golfers are among the most popular athletes in the world. Golf is an individual support. Golfers don't wear helmets or face masks, and they are easy to recognize. Many individuals who see pro golfers on tour like them because they smile and interact with fans during the middle of the final round of the tournament. If you relate to a player who you see on television or in person, you can support this player.
Instructions
Difficulty: Moderate
Write to the PGA Tour and tell them you are a fan of a certain player. They can give you the tournaments that player likely will participate in during the upcoming season. That will give you a chance to see that player perform in person or on television.
Check out the player's website. You can learn more about his interests on and off the course. This will give you an opportunity to check out the player's personality. If you admire the player's talent, you might want to check out the section on the website that might deal with playing lessons.
Start a fan site for the player. Read as much as you can to research the player's career and off-the-course interests. Build a website you can share with other fans. Let the player know through the PGA Tour and his website what you have done. Perhaps he will give you time to conduct an interview that you can post on the website.
Go to one of the tournaments your favorite player is participating in and follow his group around the course. If it is early in the tournament and the golfer is not Tiger Woods, you might be able to walk with him and wish him luck and lend him your support. If your golfer is in contention on Sunday, bring a sign that shows your support.
Stay within the bounds of good taste and decency. Golfers, like other athletes, appreciate the support of their fans. But nobody wants their privacy invaded, so you don't want to crowd in their life if you are not specifically asked.
Tips & Warnings
Keep a scrapbook of your favorite player's on-course achievements as well as other interesting stories that have been written about his life away from the golf course.