How to Buy Pro Golf Apparel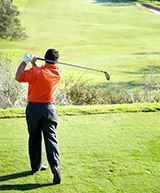 When competing at golf, the most important aspects of the game are building a repeatable swing and maintaining a focused demeanor during the round of golf. However, there are many aspects of the game that can help a golfer improve. That includes clothing. Buying pro golf apparel will not only help a golfer look good, it will also help a golfer feel good about his game.
Instructions
Difficulty: Moderate
Buy golf shirts that are breathable and have a wicking material that helps evaporate moisture and keeps it away from the skin. At the end of a round, during the heat of summer, this could be the difference between finishing your round on a positive note and struggling down the stretch.
Go for a top-of-the-line golf glove. Many golfers opt to play with any glove that they can find, including one that has been sitting in their bag for months. This is not in your best interest. A stiff, out-of-shape glove will cramp your game---and your hand. A high-quality glove that is kept in good shape will help you get a better feel for your club.
Don't try to save money when purchasing golf shoes. A good pair of golf shoes will help your feet stay comfortable walking 18 holes, and they will also help you get a good foothold when playing in the bunker. You may be able to find a good pair at a decent price, but high-quality shoes are a must.
Keep comfort in mind when purchasing golf clothes. You may want to be fashionable, but it's important to be comfortable in the late stages of a round. Quality clothes that are soft and don't irritate the skin will go a long way toward helping you enjoy your round of golf.
Go to your local pro shop when you are getting ready to buy golf clothes. You don't have to buy at the pro shop---the prices tend to be exorbitant---but you can get a good idea of the kinds of clothes you want to buy.
Tips & Warnings
A pro-style golf glove and high-quality golf shoes will help a golfer play his best game.
Set a clothing budget before you start shopping, and don't go over it.
Resources