How to Build a Golf Net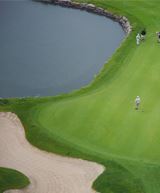 Building your own golf net can be a way to save money and give yourself the ability to practice more from your house or personal areas. This makes it more convenient to practice and will save a lot of money over a long period.
Instructions
Difficulty: Moderate
Connect the scaffold tubing so it reaches to about 6 to 8 feet and is about 4 to 6 feet wide. The scaffold tubing is easy to handle.
On the bottom of each corner, connect a 2-foot long piece of scaffolding tubing perpendicular to the top of the net. Put spikes on each end of these supports to keep the stand in place. Hammer the spikes into the ground where you want to place the net.
Attach the net to the scaffolding tubing. Use net that is about 20 mm with no knotting. This will allow for a proper shot and so the net will last longer and not break. When connecting the net, use plastic vices to lock the net. Lock the net on each side to keep it secure.
Take a few swings to make sure the net functions properly and the balls are contained. If it is how you would like it, then you are done. But if you want to change the net's size or make it looser, add a larger net and try again.