How to Find, and Use, Your Dominant Eye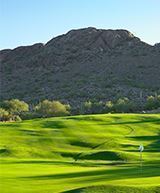 About three in four people are right eye dominant. This means that you tend to see the golf hole to the right of where it really is. You will tend to push putts to the right of the hole until you adjust your putting stroke. If you are not aware of the optical illusion produced by eye dominance, you may miss many putts. To mitigate this problem, you can take a simple test to determine which eye is your dominant one.
Instructions
Difficulty: Moderately Easy
Set a golf ball on the grass in your yard.
View the golf ball through the toilet-paper tube so you can see it with both of your eyes through the center of the tube.
Close your left eye. If you continue to see the golf ball in the middle of the tube, you're right eye dominant. If not, you are left eye dominant.
Place your dominant eye directly over your putting line when aiming putts on the golf course to minimize the amount of aim error incurred with your shot.