How to Hit the Perfect Chip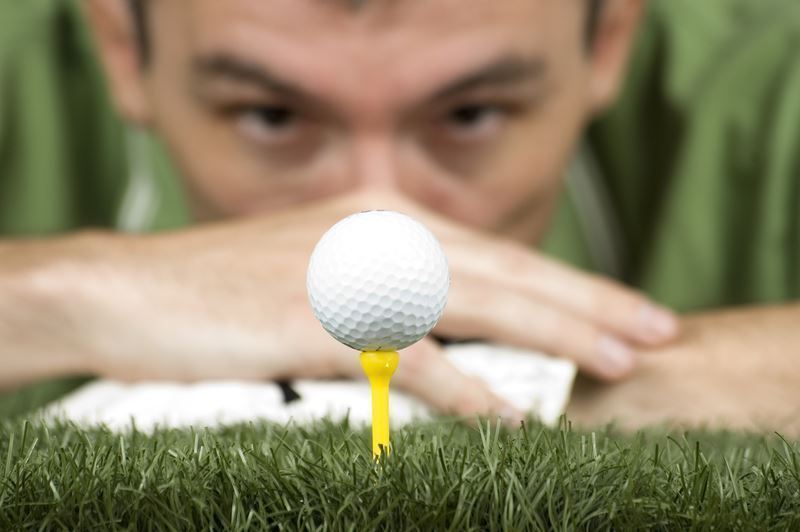 Learning to chip correctly is one of the most important parts to scoring well in the game of golf, as a good chipper can cut five shots off of his score per round. While you must build a repeatable swing that you can use on the tee, from the fairway and in the short rough, you must also learn how to handle the action around the green. Chipping is not difficult, but you have to learn to trust your ability to read the shot and then execute it without error.
Instructions
Difficulty: Moderately Easy
Take your 9-iron and walk up to the ball confidently. When you are chipping you almost always have the opportunity to put the ball on the green and close to the flagstick. This is an opportunity to be savored and not feared.
Play the ball midway between your front leg and your back leg when you are on level ground. If you are chipping from 20 yards or closer, take your 8- or 9-iron and treat this chip shot like an elongated putt. Take the club back to the middle of your calf and then strike the ball smoothly. Finish your swing when your club gets to the middle of your shin.
Keep your head down. You may be anxious to see how close you can get the ball to the hole, but don't make the mistake of lifting your head until you have finished your stroke. Lifting up too soon may cause you to hit the ball a bit too high.
Take your 7-iron when you are chipping from 50 yards or more. While most golfers will hit a pitch shot from this distance, you may want to chip when the fairway is hard and sun-baked in the middle of summer and there are not hazards guarding the green. This kind of shot is called a "bump-and-run" and can leave the golfer in a position to sink a short putt for a birdie.
Practice chipping at the driving range. This is a relatively easy swing, but you need to familiarize yourself with the way the club strikes the ball. It can feel awkward, but you will get used to it with practice.